Blog
The AI Effect on the Future of Work
August 13, 2019
4 Minute Read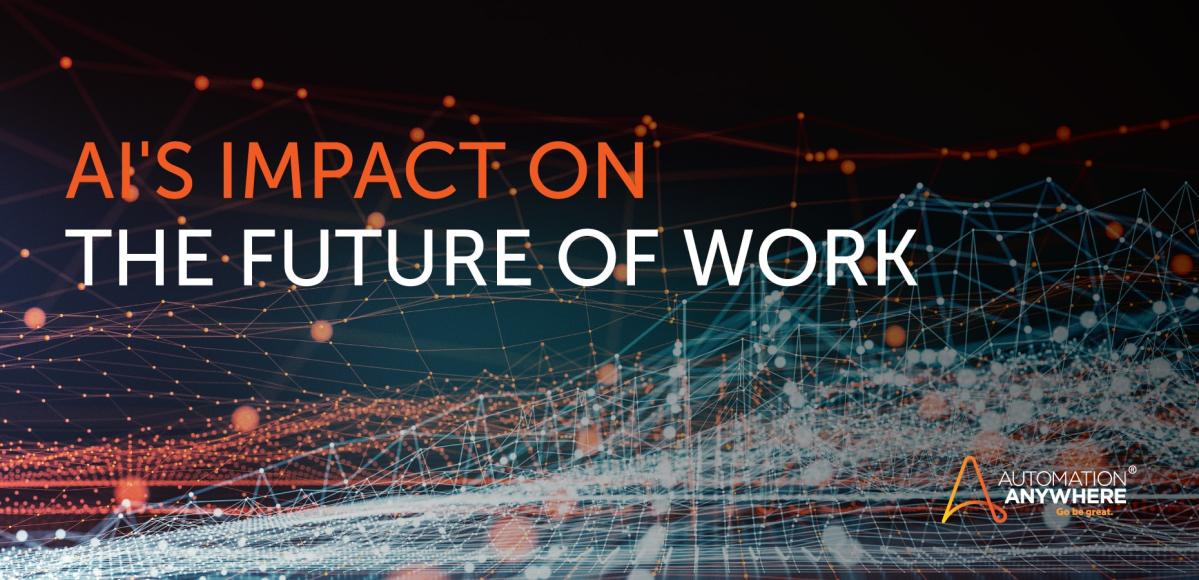 How is the future of work going to differ from the way we work today? As we evolve the nature of work from repetitive tasks to the more conceptual and creative, is there a path forward we should embrace to accelerate our goals?
Our co-founder, Neeti Mehta Shukla, spoke to Wharton Business Radio about what the future of work looks like and how our company philosophy is helping make that future better for workers.
The Automation Anywhere vision is to make work more human, in part by removing anything that's repetitive and mundane from workers' daily to-do lists. With software robots in the workplace, businesses gain key benefits, including adding more value to existing processes, increasing capacity for knowledge work, and delivering better customer service while boosting competitive strength.
Bots enable work processes to deliver a significant leap in productivity. For example, in the banking industry, bots are delivering 200% more productivity and mortgage approvals in just 24 hours.
Entering the age of automation democratization
Traditionally, automation was a long process. You had to: a) map out a process; b) write code for that process; and c) create software that would help you automate the process — it was a long, drawn-out affair.
Thankfully, that process has changed. Now, with our democratization of automation, we're putting automation in the hands of anyone who wants to use it. It's become easy and effective to implement software bots into your workflow systems. You get better productivity, lower costs, and error-free transactions — and free yourself to do better work, specifically knowledge work.
Our artificial intelligence (AI)-powered Digital Workforce technology allows you to automate in a way anyone can easily learn. You no longer need to be a software developer, work in IT, or know how to code. Simply open the software and let the bot record your process as you complete it from beginning to end.
Or, you can train a bot that includes AI by having it learn all the exceptions in your process. The AI effect can help your bot workforce learn by itself and improve its results. Infused with AI and machine learning (ML), these cognitive bots are creating patterns for themselves, effectively "learning," every time you make an exception, so that accuracy improves over time.
The future of automation in business
All industries in the near future will leverage software bots as an integral element of their workforce. As Robotic Process Automation (RPA) integrates both AI and ML to redefine the future of work, all companies will use this technology to remove the tedious aspects of repetitive, mundane work while raising productivity and providing a more delightful customer experience.
We have approximately 2,800 customer entities and 1,600 enterprises working with us. Almost 70% to 90% of all top companies, in all top industries, are working with us. These include 90% of all top healthcare companies, 85% of the world's top technology companies, 85% of the world's banks and financial services companies, and 85% of the world's top telecom companies.
We also have Bot Store — similar to a familiar app marketplace — where you can share or sell the bots you've created with the world. There are thousands of bots you can use in various industries, including banking, bots for end-to-end processes, bots that manage certain compliance regulations, and even some that are more generic.
The bot workforce is extremely customizable. It's here to serve all your business needs and to facilitate your growth.
During the next five to 10 years, RPA technology will continue to improve. People who are trying to get rid of repetition and mundane aspects of work will challenge us to bring newer solutions to the table. As we create new technologies for the future of work, the Digital Workforce will integrate even further with legacy systems and the next generations of software. We believe society will be better off when people are happier at work.
Powered by RPA and AI, we're creating better systems, medicines, customer services, and products. And with it, we're making work more human. Listen to Neeti's full interview with Wharton Business Radio online to learn more about the role of automation in the future of work.
See the future
of your work.
About Automation Anywhere Staff