Blog
What Does It Really Take to Automate?
May 27, 2020
3 Minute Read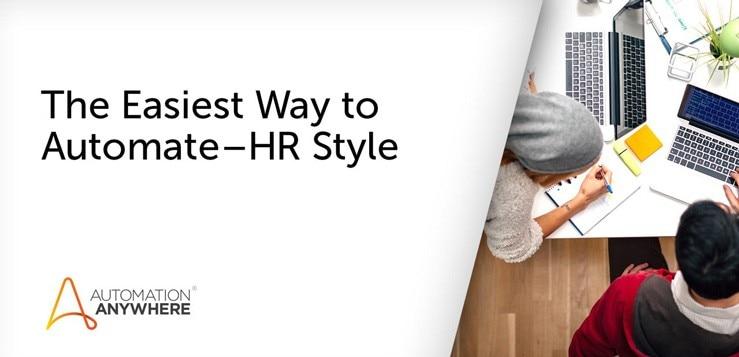 At Automation Anywhere, we talk about how easy it is to build a software robot, or bot, to automate business processes — something almost anyone can do. And to prove that claim, we put our human resources (HR) group to the test…or training. They're experts in supporting our employees; however, being a Robotic Process Automation (RPA) technical wizard is not one of their job requirements.
Last November, everyone in our Bay Area HR group went through RPA training using the Enterprise A2019 platform. Offered through Automation Anywhere University, the RPA training was designed to teach the group how to build, edit, and run a bot. But it accomplished much more than that.
The more than 30 participants walked away with the knowledge to create a custom bot to be used as they wished, including helping them automate their HR administrative tasks. The training also gave participants the hands-on experience into how the technology works and all the related benefits so that they could speak from that experience when meeting with customers and candidates.  

What has the HR group built?
Most of the created bots are business oriented. But some team members ended up building bots that help with many personal needs, demonstrating how easy it is to automate tasks for work or life in general. One bot was created to send a "Happy Birthday" message. Another team member used a bot to pull NASDAQ information into a table for viewing stocks. Another bot signs up its creator every Monday for a popular exercise class happening on Fridays.
On the business side, a bot was designed to send its creator text alerts so that meetings will not be missed. One participant wanted a bot to open a daily report and highlight updates to save time.

From the simple to the complex
Some bots have been created for simple tasks. As one participant said, "I always forget my password. So, with my bot, every time I turn on my computer in the morning, it automatically signs me into Okta."
Other bots have been created for more complex duties. According to the creator of an HR application bot, "It's a compensation- and internal-equity-checking bot that recruiters can use prior to making a job offer. "Compa-Bot" (that is its name) can help ensure pay equity across the company. Currently, this is done manually by a recruiter and HR business partner, requiring back and forth communication. Ultimately, "Compa-Bot" will save a lot of time and increase accuracy and compliance."

The group's response to the training and building?
"It was exciting to see the bot work on my screen!"
"This has been a really great learning experience, and it helps shift the way we look at work. The benefits of automation come to life. Imagine how much time can be saved and used for more meaningful work such as managing relationships versus managing data. I can't wait to be more proficient and really dive into other processes that could potentially be automated."
If even the most non-technical people in our group know how to create a bot and make their work easier, faster, then we can truly claim that anyone can automate. We can help your people—all your people—do the same. Just ask our HR experts.
About Automation Anywhere Staff