Blog
How to Kick-start Your Intelligent Automation Journey
December 10, 2019
5 Minute Read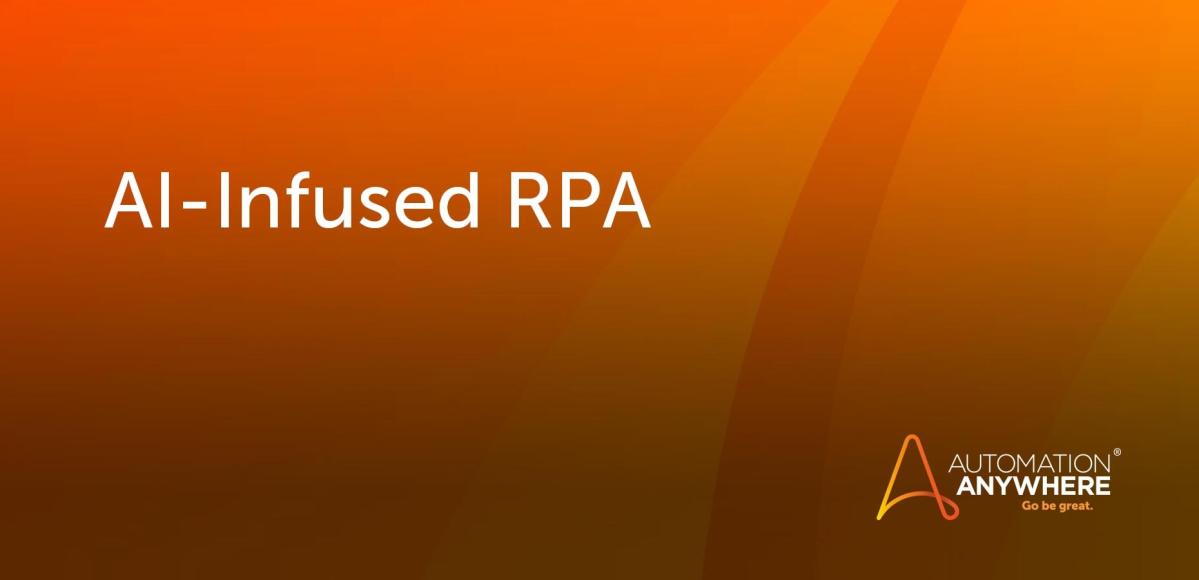 As a famous saying goes, "To master a new technology, you have to play with it." At Automation Anywhere, we practice that philosophy every day. We believe the best way to accelerate technology adoption and the process of building creative solutions is by allowing a wider range of users to experience that technology. 
That's what's behind the latest Automation Anywhere Community Edition, the free version of Enterprise A2019, the first purely web-based, cloud-native intelligent automation platform. Community Edition includes Robotic Process Automation (RPA), smart analytics, and Document Automation — an artificial intelligence (AI)-driven document processing solution for end-to-end process automation.
The inclusion of IQ Bot in Community Edition makes intelligent automation more accessible than ever — and available to everyone for free. IQ Bot enables you to automatically classify and extract data from a variety of complex document types.
This latest release offers many user-requested features, including automatic extraction for repeated tables with similar structure, AI-enhanced checkbox validation, added API support, and expanded UI support for English, Chinese (simplified and traditional), French, German, Japanese, Korean, and Spanish. 
How IQ Bot works
Using AI technologies, such as computer vision, machine learning, and fuzzy logic, IQ Bot enables end-to-end automation of document-centric processes, offering more value than traditional optical character recognition (OCR) solutions.
With features such as intelligent classification for multipage documents, industry-leading data extraction even from low-resolution documents, and prebuilt support for the most common document types, IQ Bot makes it easy to extract information from invoices, purchase orders, bank statements, credit memos, utility bills, and others.
The self-learning ability of IQ Bot improves straight through processing (STP) as it learns from human-in-the-loop corrections to avoid similar errors and get more accurate over time.
Build your first, AI-powered bot 
Getting started with IQ Bot on Community Edition A2019 is effortless. The Document Automation Community Edition Quick Start Guide and a series of how-to-videos will guide you through the entire process of building your first IQ Bot. Once you sign up for Automation Anywhere Community Edition, you can produce a bot in three steps:
1. Create a learning instance
A learning instance essentially contains the information (such as the type, language, etc.) needed to process a user-defined set of documents. Click Launch IQ Bot on the home page to begin formulating your learning instance.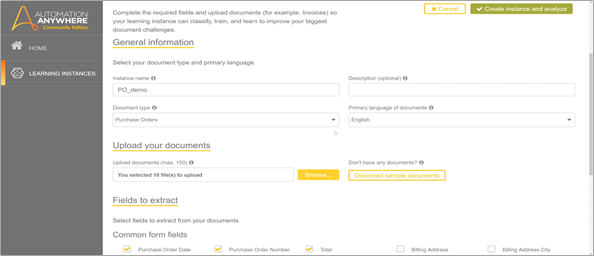 Upload your documents for training and watch the IQ Bot machine learning algorithms in action as they intelligently analyze and classify the documents into logical groups.
2. Train your learning instance
When your first group of documents is ready, use the split-screen comparison interface to verify that the extracted results match the uploaded documents. Review the mapped results and make corrections as needed. The corrections you make will impact how the data from other documents in the group is extracted.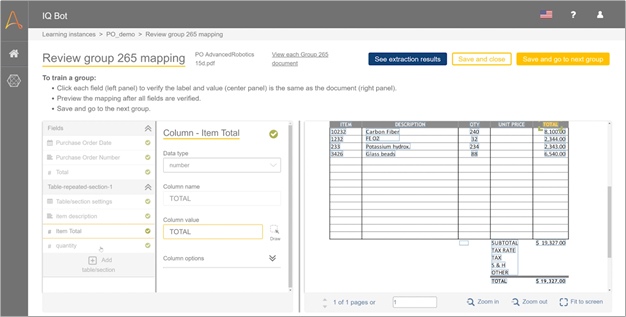 Perform a final verification of all documents in the group using the See extraction results command. Make any necessary modifications until the expected results are attained. Repeat this process for each document group.
3. Set it into production
Once the bot training and verification are complete, set the learning instance into production, and it will be ready to use in your RPA workflows.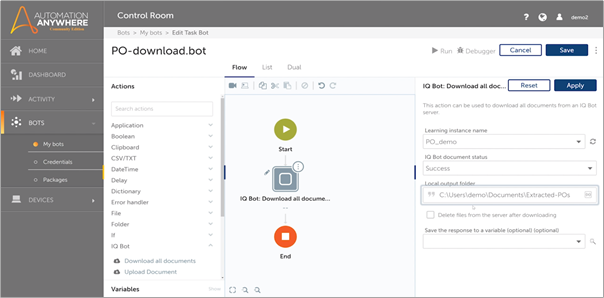 You can use the drag-and-drop IQ Bot action in the RPA Bot Creator to automate the data extraction process. The Upload document action uploads your documents to IQ Bot, and the Download all documents action seamlessly downloads the extracted results from different document types and exports them as CSV files.
The benefits of a cloud-native platform 
As companies shift to a digital-first approach, cloud and AI adoption continue to grow at an incredible pace. On Enterprise A2019, Community Edition is fully web-based and deployed in the cloud. Cloud automation means anyone can access IQ Bot in Community Edition from any device anywhere they have an internet connection.
All of the data classification and extraction are done in the cloud, alleviating the need for additional infrastructure to handle the AI processing. You'll always be working with the latest version as product enhancements and new features will be automatically delivered via the cloud when they're available.
Build, learn, engage, and succeed
Community Edition allows anyone to test the implementation of RPA and intelligent automation faster and see the impact of productivity improvements. Automating specific departmental processes frees the workforce from mundane tasks so they can focus on high-value activities.
RPA developers gain access to an industry-leading platform with a flexible architecture that fits their unique coding needs, from no code to low code to custom code. You can drag and drop intelligent data extraction capabilities directly into your workflows and advance collaboration as RPA and AI are integrated into this single platform. 
If you're a student or a technology enthusiast, Community Edition gives you a playground for hands-on practice to see RPA and AI in action and to build critical skills in this rapidly evolving technology segment.
You can boost your RPA and IQ Bot experience further by leveraging courses and professional RPA certification through Automation Anywhere University. Additionally, you can explore A-People, the largest online community of RPA professionals.
Together, Community Edition, Automation Anywhere University, and A-People provide a robust ecosystem to ensure success throughout your automation journey.
About Ashwini Sathe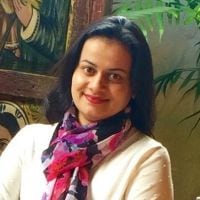 Ashwini Sathe is a product marketing manager for IQ Bot. She has strong experience in leading and managing diverse product launch and product adoption initiatives.
Subscribe via Email
View All Posts
LinkedIn