Blog
"Now & Next: The State of RPA"—Your Guide to the Cloud-Native Era
August 2, 2021
5 Minute Read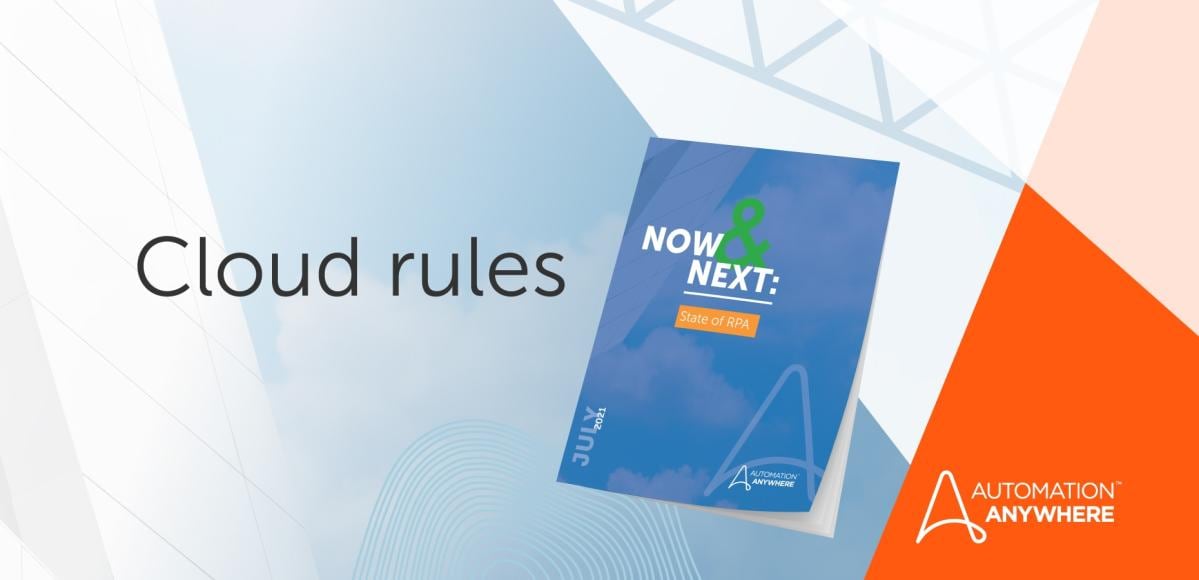 Data from our latest Now & Next report shows a dramatic move to the cloud. The pandemic may have accelerated the move, but the world was trending this way even before COVID-19 hit.
The reasons are obvious: cloud offers business resiliency, flexibility, and cost savings, and it eliminates the capital expense and the operating expense—not to mention the human resources—required to support infrastructure for on-premises systems.
RPA is a core pillar of the great cloud migration. So attractive are enterprises finding the combination of cloud and RPA, that in the most recent Automation Anywhere "Now & Next" report—the second in a semi-annual series—we found this movement of RPA to the cloud to be even more dramatic than expected. In March 2021, five times as many new customers are opting for cloud rather than on-premises deployments. And in 2021, IDC named Automation Anywhere a leader in cloud RPA, with 54% of the market—more than all other vendors combined.
The survey also found that on-premises RPA deployments will drop precipitously within 12 months to approximately one-fourth of what they are today.
Training needed to accelerate cloud RPA even more
Acquiring additional RPA expertise and skills and easier implementation through low-code/no-code tools were cited by nearly half (45%) of respondents as to how to accelerate RPA adoption even more. This indicates that much more training—for dedicated RPA developers, citizen developers, and business users—is needed to spread RPA further throughout an organization.
Automation Anywhere University (AAU), which provides RPA courses and education, continues to experience growth with more than 1.5M trainings completed. Certifications are increasing at more than 100% annually with more than half a million (555,000) active learners in the program. There are more than 100 online classes with 150 academic partners teaching RPA to students bound for professional careers. Momentum continues to build month after month.



Citizen developers on the rise
Businesses are also actively encouraging citizen developers to get involved in RPA initiatives. Compared to six months ago, far more organizations broadly encourage citizen developers or allow them to participate in select business areas.
Automation Anywhere has seen this with our customers, signaling that true citizen bot builders and bot designers, who are non-technical resources, are being empowered to solve problems for themselves and their teams. Many organizations see this as an important step on the road to scalability and democratizing automation.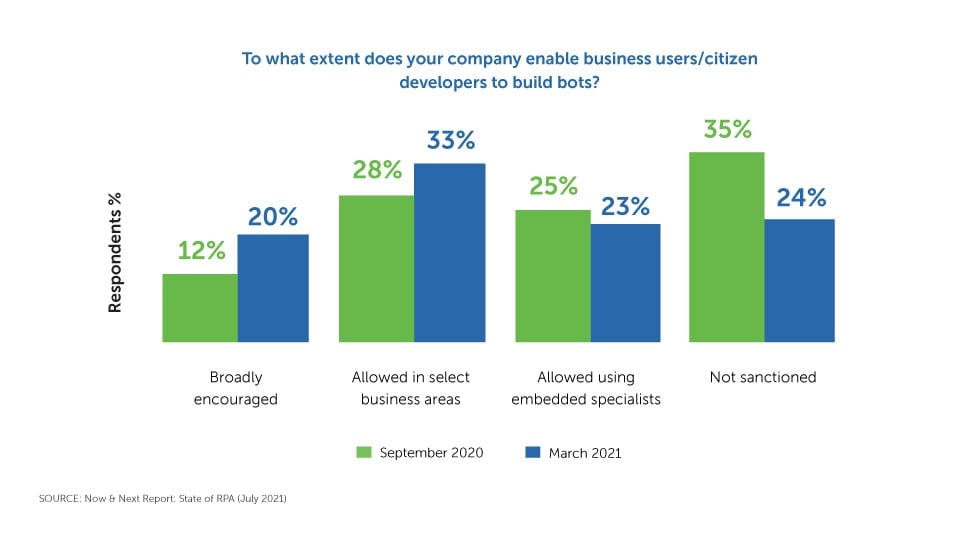 As ROI stays high, support for RPA rising through the organization
When enterprises were surveyed about the top benefits of RPA, productivity improvement came out on top. The average return on investment (ROI) remained the same impressive 250% as it was in our previous survey, keeping RPA at the top of the list of technologies that can deliver substantial and rapid payoffs. High-performing businesses exceeded that mark by a considerable degree, achieving an average of 380% ROI on their RPA investments, representing a 5% increase over results reported in our last survey.
We're seeing more support for RPA at higher levels of the enterprise. Front-line workers are still the least supportive of RPA. But managers obviously see the productivity improvements, and like it, because support by managers jumped up (or increased). Support by directors (vice president level) was even higher. In addition to RPA improving productivity, the reason for backing the technology may also include that higher-level managers and directors see RPA as a way to address the urgent business mandates they face today: to cut costs, improve operational efficiencies, and boost innovation, among others.

Key differentiators for top performers and ROI
Top performers (top 10% of businesses that responded) differed from other respondents in that they are more likely to: 
Invest more in AI/machine learning over the next 12 months
Depend more on business units to lead their RPA efforts
Achieve significantly greater productivity improvement

Our latest report is now available
The Automation Anywhere® "Now & Next: State of RPA" report for summer 2021 delivers many more insights, best practices, and trends for organizations currently deploying or planning to deploy Robotic Process Automation (RPA) and Intelligent Automation (IA).
For this report, we surveyed hundreds of executive-level enterprise technology decision-makers across nine industries—including VPs, CIOs, or equivalent leaders—from Global 2000 and Fortune 500 firms as well as smaller organizations to find out the current status of RPA. Despite—or perhaps because of—COVID-19, businesses are deploying RPA across more business functions more extensively, whether measured by bots deployed, processes automated, or applications integrated. In addition insights from NHS, Salesforce, and GM Financial demonstrate how businesses in the real world have realized the potential of intelligent automation.
This signals to us that after the initial shock of the pandemic, businesses realized that digital transformation was essential for survival in the new normal—and that automation was a vital aspect of digital transformation. And businesses are thinking big when it comes to RPA. Enterprises have now collectively implemented nearly 3 million bots around the world, with leading businesses deploying tens of thousands of bots throughout their organizations.
Want to learn more? Download "Now & Next: The State of Cloud RPA" now for more insights.
Get Your Copy of the Report.
About Catherine Calarco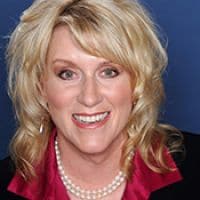 Catherine Calarco, vice president of innovation evangelism at Automation Anywhere, has more than 20 years of global leadership in life sciences, digital medicine, and technology. She's known for driving significant B2C/B2B revenue growth and developing innovative, award-winning digital health
Subscribe via Email
View All Posts
LinkedIn