New study reveals Automation Anywhere has more market share, more than all other competitors combined
Automation Anywhere, Inc. a global leader in Robotic Process Automation (RPA), today announced it now ranks as the world's top public cloud RPA platform with a 54% market share and Automation 360, its cloud-native, AI-powered RPA platform continues to be the preferred choice for customers deploying automation via the cloud.
This assessment comes from the global research firm IDC, which released its market share report for Cloud RPA entitled, "Worldwide Intelligent Process Automation Market Shares, 2020: Solid Growth Across Cloud Segments, June 2021". It ranked Automation Anywhere #No. 1 with 54% market share – more than all other competitors combined.[1]  This dominant market share position demonstrates that customers see significantly more value in Automation 360, the first cloud-native RPA platform in the market today, compared with "on prem solutions" hosted in the cloud from its competitors.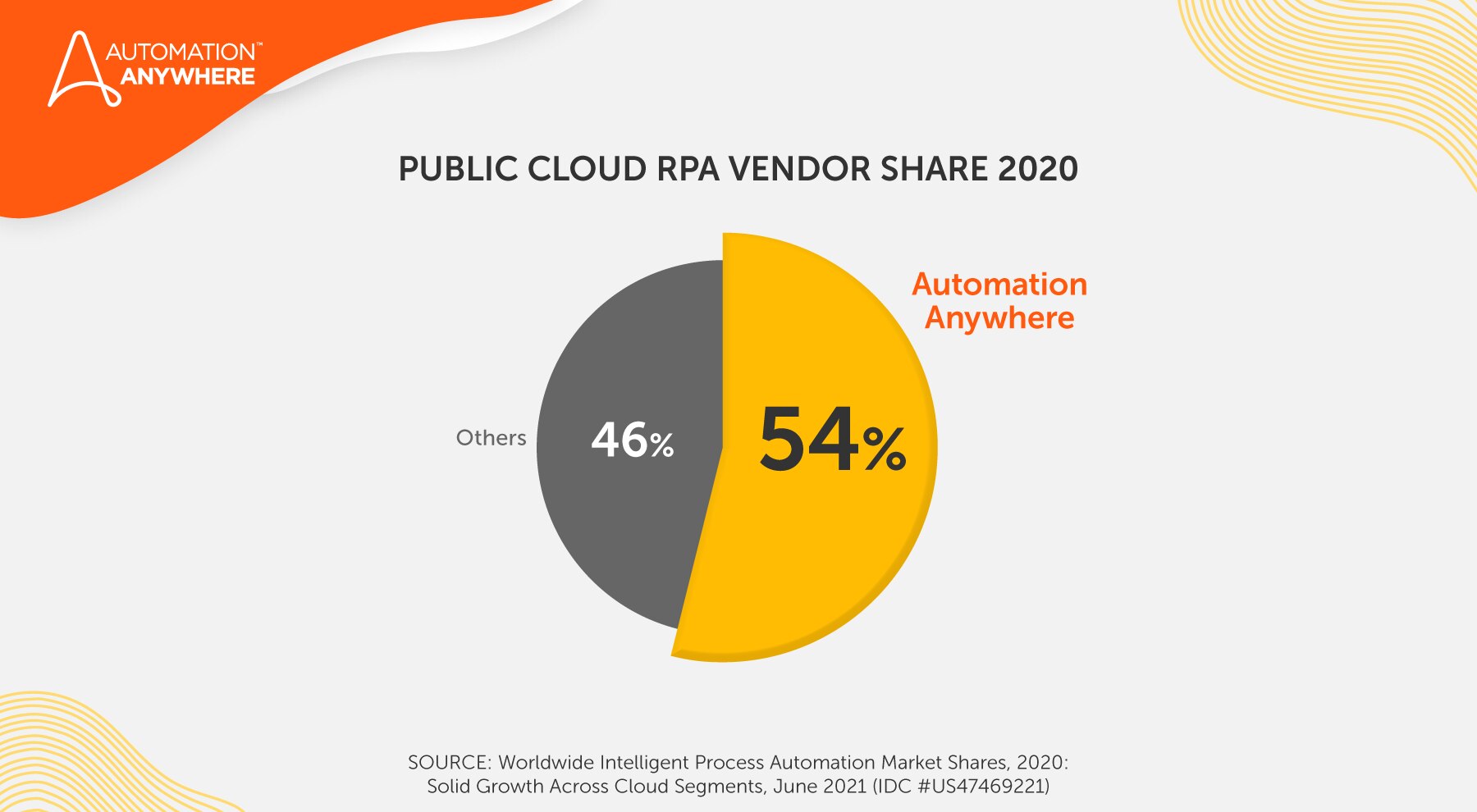 Automation 360 has been architected from the ground up to be cloud-native and web-based, with a multi-tenant and microservices architecture. For customers, this means they can scale faster, and don't have to worry about downtime or costly upgrades. Recent competitive studies show that Automation 360 can automate processes 3X faster and at one-fifth the cost of on-prem solutions hosted in the cloud from other RPA vendors. 
"IDC's analysis is validation of what we're seeing in the market today, and why new customers are choosing Automation 360 Cloud," said Mike Micucci, Chief Operating Officer at Automation Anywhere. "Much like Netflix listened to their customers' pain points and changed the category by investing in data streaming, we have also pivoted to a more productive, agile and business resilient operating model for intelligent automation via the cloud and it's bearing fruit."
Automation Anywhere's own data shows that nearly two-thirds of its new customers chose its cloud-native RPA offering in the last year.
"It's clear that more organizations around the world are turning to automation in the cloud, and we continue to see a strong, upward trajectory," said Maureen Fleming, Program Vice President, Worldwide Intelligent Process Automation Market Research and Advisory Service at IDC. "Whether enterprises adopt RPA as a cloud service or purchase software and deploy on public cloud infrastructure, trends in 2020 favored cloud adoption, and we expect that trend to continue over the next several years."
Automation Anywhere, Automation 360 and AARI are trademarks/service marks or registered trademarks/service marks of Automation Anywhere, Inc. in the United States and other countries.
[1] IDC, Worldwide Intelligent Process Automation Market Shares, 2020: Solid Growth Across Cloud Segments, June 2021 (IDC #US47469221)