Blog
Intelligent Automation Powered by Enterprise A2019
October 4, 2019
5 Minute Read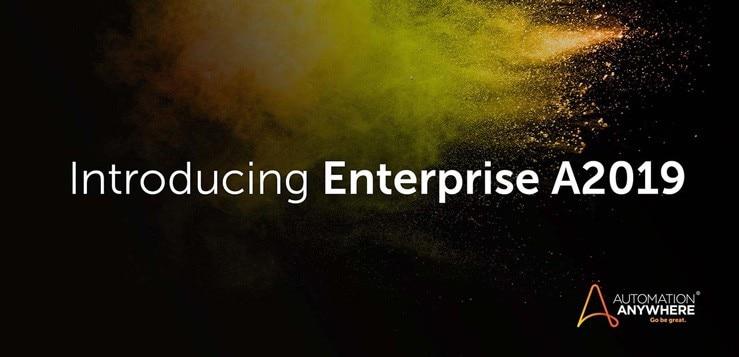 Today, Robotic Process Automation (RPA) is recognized as "the fastest-growing segment of the global enterprise software market," according to Gartner. As amazing as this growth has been, we believe the true potential of business process automation has yet to be realized.
The most significant hurdle so far has been the technically complex nature of the typical RPA product available in the market. A cumbersome user experience combined with inflexible delivery models have been keeping businesses and users from truly leveraging the power of intelligent automation.
Our mission from the outset has been simple: Any process that can be automated should be automated. This clear vision has driven us to innovate and develop products that are designed for easy and fast adoption by users at all skill levels — not just the expert RPA practitioner.
And that's what's behind Automation Anywhere Enterprise A2019, the latest version of our industry-leading RPA and Digital Workforce platform. It not only makes RPA highly accessible to the citizen developer, but it also provides unprecedented power and flexibility to the specialist developer. At the same time, it offers IT, managers, the ability to deliver RPA across the entire business securely and with a substantially reduced cost of ownership.
Enterprise A2019 employs a radically unique approach to RPA, delivered through three key areas of enhancements — all industry firsts:
A purely web-based RPA platform — ease of use, for all user levels, on all devices, across multiple operating systems
Cloud automation (RPA as a Service) — for near-infinite scalability via the world's leading cloud platforms
AI-driven intelligent automation — artificial intelligence (AI) and machine learning that's infused throughout the platform
Instant-on RPA
Business users' perceptions of what is possible with intelligent RPA will be forever changed when they log in to Enterprise A2019. With a single click or drag-and-drop motion, they can automate those parts of any job that don't require human creativity, problem-solving capabilities, empathy, or judgment.
We make this possible through an easy-to-use graphical interface. Just as with popular smartphone apps, business users click or tap on buttons and drag and drop icons. No coding required, no special downloads to install, and no commands to memorize. In many cases, business users simply do their jobs, and bots learn by following them — immediately and precisely — step by step.
Time to value from a business user logging in to creating a bot? Just four minutes.
Low-code, no-code, bring your own code
For developers, we've architected Enterprise A2019 so the same software runs in the cloud or on premises. That means you don't need to re-create your stack if you operate in a hybrid environment — as one in four companies does today, according to Flexera. You can deploy intelligent automation from on premises to the cloud in its entirety, or as individual services via its web-based interface.
When developing Enterprise A2019, we also realized we needed to start thinking about embedding AI into RPA from the start. It's not good enough to retrofit AI after a process has been automated. To fully exploit the capabilities of integrated AI and RPA, you need to consider and understand user intent as they proceed through a workflow.
We offer the only RPA platform with its own cognitive capabilities built in (Document Automation), and the only one with built-in analytics. But that's just the beginning. With Enterprise A2019, you can also easily integrate AI and advanced analytics capabilities from third-party vendors into your bots.
A cloud-native architecture
For IT, we've done something really exciting: built Enterprise A2019 using a cloud-native architecture. This is an RPA industry first.
"Cloud-native" is radically transforming the way we think about developing, deploying, and managing applications. Today, nearly half of all companies say 31% to 60% of their IT systems are cloud-based. Thus, they're naturally looking for ways to optimize and take advantage of the cloud. Deploying applications that use a cloud-native architecture is clearly the way to go.
So, we built Enterprise A2019 from the ground up to leverage all the amazing capabilities of the cloud. How will this help IT?
Greater reliability
Better scalability and provisioning
Enhanced performance
Faster development cycles
No need to stop everything for massive software upgrades — enhancements and updates will be delivered seamlessly via the web
Bank-grade security — data is kept isolated, and all security and privacy laws are strictly adhered to (We'll review more about Enterprise A2019 security features in our next blog.)
Intelligent automation that boosts agility, competitiveness
Finally, executives will see the benefits of RPA multiply exponentially by deploying Enterprise A2019. Because it couples RPA with AI and advanced analytics, executives finally have true intelligent automation at their fingertips.
The cloud-native architecture of Enterprise A2019 allows executives to adapt swiftly to changes in the market, no matter how unexpected. They win the kind of efficiencies and economies of scale that were previously unheard of. And they manage a workforce that is vastly more productive, and much happier, as employees can apply their uniquely human skills to more meaningful work, leaving the drudgery to the bots.
See our ground-breaking
RPA + AI platform.
About Kashif Mahbub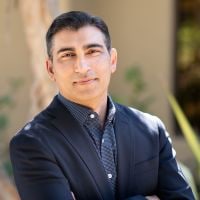 As VP of product marketing, Kashif Mahbub culls his more than 15 years of experience in product marketing, product management, and sales enablement strategy and execution to lead product marketing efforts, channel and partner development, and demand generation. 
Subscribe via Email
View All Posts
LinkedIn