Blog
The New World of Work: Survey Shows Businesses How to Prepare
June 22, 2020
5 Minute Read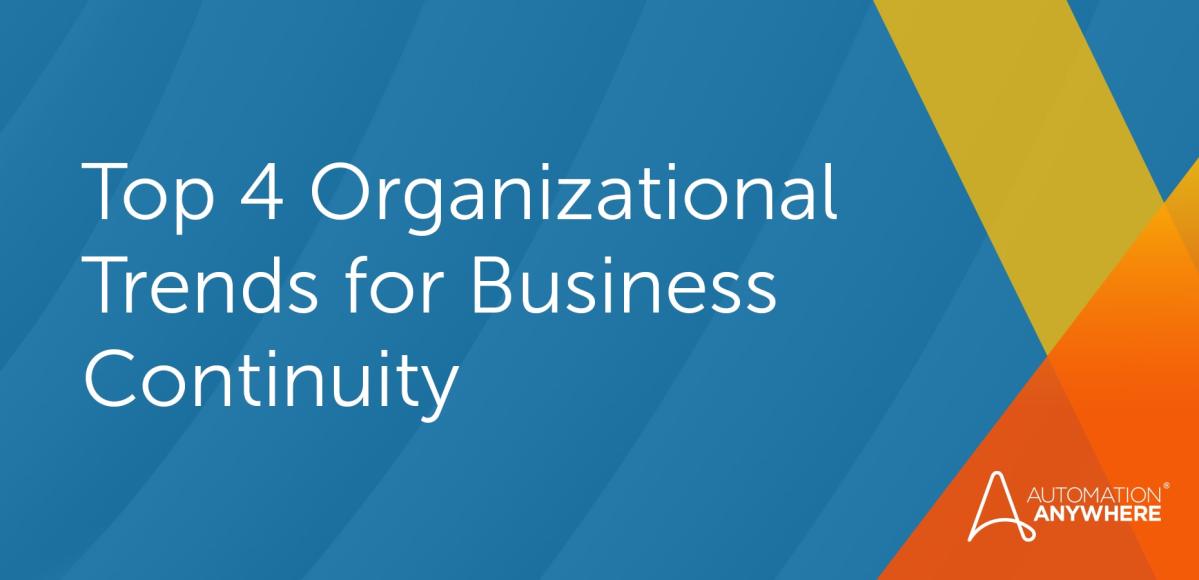 The world of work has been forever altered.
First and foremost, we now have a distributed workforce. In the United States alone, 62% of employed people worked from home during the COVID-19 crisis, according to Gallup. And three out of five of them want to keep working remotely, even after it's safe to return to their offices. This pattern is being perceived all over the world.
Then there's the economic pressure on companies. Although lockdown measures are easing in various countries, the path to global economic recovery remains uncertain and vulnerable to a second wave of infections, says the Organization for Economic Cooperation and Development (OECD).
With or without a second outbreak, the fallout from the pandemic will be severe. The OECD expects global economic output to decrease by 6% in 2020 if the pandemic remains "under control" and to drop by 7.6% if we suffer a second wave in the coming months.
What are organizations doing to not only survive but to thrive? To find out, Automation Anywhere asked 5,000 executives (in April 2020) — cutting across geographies from India, Middle East, and Africa, as well as emerging markets like Mauritius, Sri Lanka, and Bangladesh. We also had in-depth conversations with industry experts about how best to help businesses rebuild the path to growth.
Based on our survey findings and conversations, four key recommendations emerged:
Continue digitization
Enhance productivity
Accelerate automation
Upskill the workforce
In this blog, we'll go over the findings, which we believe illustrate why adoption of Robotic Process Automation (RPA), and especially intelligent automation, have been accelerated by the pandemic.

Continue digitization
Even before COVID-19 hit, 92% of companies thought their business models would need to change. Now, leading companies are accelerating their digital transformation journeys, even if they cut back in other areas, according to McKinsey. One early survey found that 73% of companies expect to either maintain or hasten their moves to digital.
In our survey, the vast majority of businesses said that they will move to digital operations post-COVID. A full 70% said that they will transform more than 50% of their workloads to digital, and 27% said they would digitize more than 80% of their workflows. This reveals the renewed urgency to accelerate digital transformation.
 
Enhance productivity
The pandemic severely disrupted the way employees worked – most significantly, where they worked. Those who worked from home were confronted with a multitude of issues, such as interruptions from childcare, homeschooling, housework, pets, and other aspects of the environment.
When it comes to strategic priorities, it should come as no surprise that our respondents told us that reducing operational costs was their most urgent goal (39%). But close behind that was productivity (37%). And of course, the two are related. The higher productivity, the more likely your operations will be more efficient and cost-effective.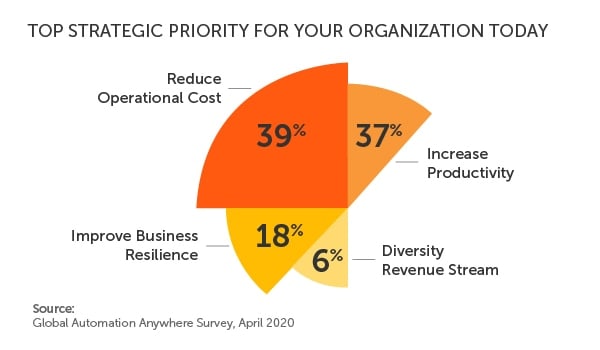 Businesses need to put the necessary resources and support people in place to enhance worker productivity. They need to find new ways for their people to stay connected and to keep them engaged. One of the top ways of doing this is by eliminating the drudgery of repetitive manual tasks, as we'll see in the next section about automation, "Accelerate automation."
Deloitte advises businesses to conduct Strategic Cost Optimization. It recommends starting with workforce optimization to identify whether the right employees with the right skills are in the right jobs. Next, it suggests attacking process optimization, which streamlines procedures for overall efficient workflows. Finally, it strongly recommends implementing RPA as the right technology to complete both exercises satisfactorily.
 
Accelerate automation
Automation is already on the minds of executives across the world.
"The initial shock of the virus and its effect on the business community is over," said Tim Ryan, PwC U.S. chairman and senior partner Tim Ryan, on a call with media. "And we're seeing a real shift among executives around focusing on what they can control." PwC found that nearly half (48%) of executives plan to accelerate automation across functions as a direct result of the COVID-19 pandemic.
But automation is not about completely replacing humans. Companies need to protect their workers. At the same time, they must keep operations going. Rather than choosing between exposing employees to COVID-19 in the workplace or damaging their balance sheets, automation technology offers a solution: let the humans do the work they're uniquely suited for and allow the RPA bots (software robots) to do the rest.
When Automation Anywhere asked our global base of 5,000 senior executives what technologies they planned to deploy for building post-COVID-19 resilience, 48% said RPA and intelligent automation.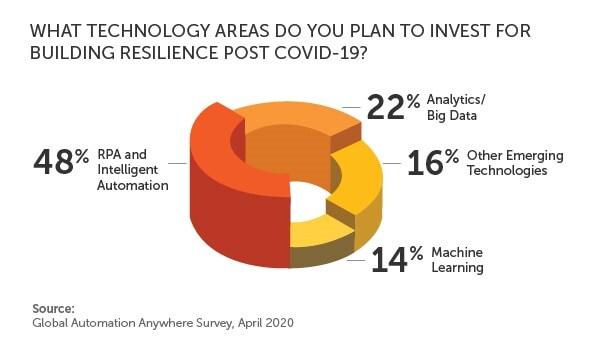 That's why businesses are using bots to speed the collection and analysis of data to transform manual, paper-based processes into automatic ones. They also help employees transact business when in-person contact is not safe. A study performed in April 2020 found that RPA was the single highest-growth technology across the spectrum, at 22% new adoptions, equaled only by artificial intelligence (AI).
 
Upskill the workforce
Not surprisingly, given the popularity of RPA and intelligent automation, the two "must-have" skills in the post-COVID-19 world are RPA and AI, at 57% each, according to the Automation Anywhere survey. Analytics and big data came in at 28%, and machine learning at 15%.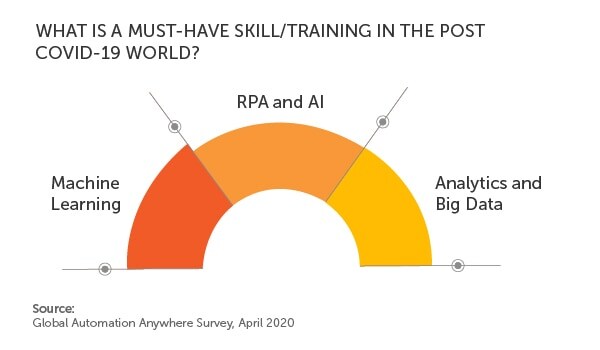 Other relevant skills include cybersecurity, as well as technical support skills, according to NPower, an IT training consultancy. These would include remote troubleshooting skills, as well as cloud-support expertise, to better handle the newly remote and distributed workforce.

In summary
The human toll of the pandemic has been huge. The economy remains uncertain. But leading businesses could come out stronger, more agile, and better prepared for whatever the universe has in store by following the four recommendations in this blog.
Increase Your Business Agility.
About Milan Sheth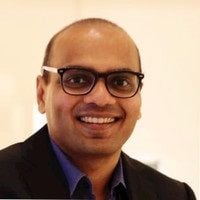 Milan Sheth is the executive vice president of IMEA at Automation Anywhere and in this role, he leads all customer operations, partner ecosystem, and geographic expansion across India, the Middle East, and Africa regions. Milan is a seasoned professional with more than 20 years of experience and most recently served as the senior partner at EY, whe
Subscribe via Email
View All Posts
LinkedIn