Blog
How RPA is Driving Mission-Critical Automation for Federal Agencies
December 15, 2020
6 Minute Read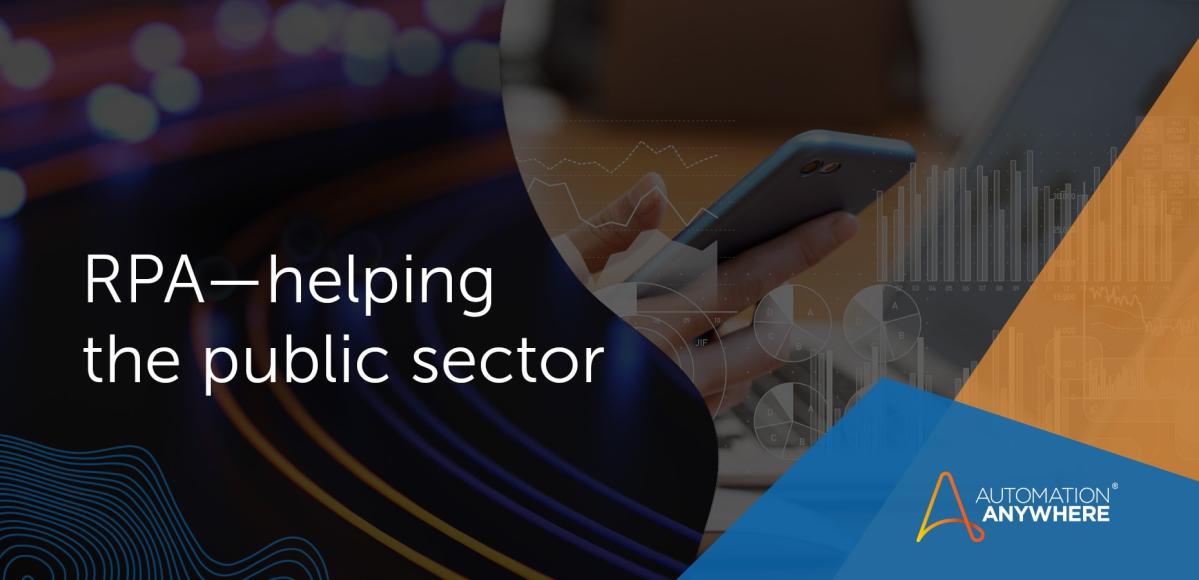 The federal government is getting into Robotic Process Automation (RPA) in a big way. More than a year ago, the General Services Administration (GSA) created a community of practice for RPA to help federal agencies take advantage of opportunities, share ideas, and work together on RPA initiatives.
More than 40 agencies have signed up. This is on top of other ambitious RPA initiatives articulated by the GSA. By the end of FY 2019, GSA had deployed 29 RPA projects agency-wide, shifting about 62,000 FTE hours from low-value tasks to high-value tasks through automation and improved administrative processes.
At first, as in other industries, RPA was primarily used by the government to automate easy, repetitive processes for finance, HR, and acquisition. But now federal agencies are becoming more ambitious and trying more complex mission-oriented projects.
This blog will examine three ways that RPA is helping federal agencies tackle tougher process challenges: Internet of Things (IoT), jobless claims, and cybersecurity. In each of these cases, artificial intelligence (AI) is also involved.

Internet of Things (IoT)
At its most basic, the IoT is simply a network of devices connected to the internet. A Wi-Fi printer is an IoT device, as is a network router. But the potential for IoT in the federal government to do more with the IoT is immense, as it can do everything from monitoring water levels in high-risk areas to collecting data on air quality, to sense when military equipment on the battlefield might require servicing.
More than half of federal agencies (56 of 90) responding to a recent General Accounting Office (GAO) survey reported that they were already using the Internet of Things (IoT) technologies. The most common federal use cases reported include using IoT to monitor equipment or systems, control access to devices or facilities, and track physical assets such as fleet vehicles or agency property. Agencies also reported using IoT devices to perform tasks such as watching the nation's borders and controlling ships in waterway locks.
But all these things can't be done by IoT alone. RPA and AI are also necessary. This trio of technologies is "transformational," according to KPMG's annual Technology Industry Innovation Survey, with global spending on those technologies expected to be more than $1 trillion over the next three years. 
Why intelligent automation? Because the biggest IoT challenge is not the ability to connect objects together, but rather the ability to use the massive amounts of data produced by said objects. With today's flood of information from IoT devices, human workers can easily become overwhelmed when trying to analyze it. This is especially true when it comes to unstructured data—voice transcriptions or images from video surveillance cameras, which many data repositories and analysis tools cannot handle.

Jobless claims
Another possible federal government use case for intelligent automation is to help state unemployment offices process the millions of claims they have been getting since the onset of COVID-19 in early 2020. Between March 15, 2020, and October 15, 2020, more than 65 million people have filed claims, according to the U.S. Department of Labor. Offices are having trouble keeping up with all the manual paperwork and red tape. It's frustrating for applicants, many of whom need relief payouts urgently, but also for unemployment office staff members who are mired in a sea of repetitive, manual work.
The challenge was apparent from the first week of the pandemic. As COVID-19 began spreading across the United States, non-essential businesses shut down, laying off their staffs. Others that needed to stay open had to reduce operations, furloughing even more workers. As a result, state and local unemployment offices simply did not have the resources to process all the claims. Complicating things further, many government workers were sent home to work at a time when a significant number of additional staff had to be hired and trained to deal with the increasing work.
Picture the Problem: We have 50 states with 50 different systems for unemployment management and they all need access to data at the federal level. RPA is a great solution to bridge that gap.
A centralized, federal response to this crisis using intelligent automation (RPA plus AI) addresses the issue. Intelligent software robots ("bots") can extract information from unemployment claim forms—whether paper-based on submitted online—and convert it into structured data. Automation can then be used to manage the repetitive data entry processes required to complete claims. Exceptions that require more complex analysis can be flagged to submit to human workers.
Otherwise, all that repetitive, rote work is taken care of by the bots, so staff workers can focus on handling difficult cases, communicating with the public, or otherwise performing higher-value work.

Cybersecurity
Security technical implementation guides (STIGS) are top of mind of every federal security professional. They are cybersecurity methodologies established by the Defense Information Systems Agency (DISA), the federal agency that oversees cybersecurity and configuration baselines for all U.S. Department of Defense (DOD) assets. STIGS standardize security protocols within networks, servers, computers, and logical designs throughout the DOD. The goal is to enhance overall security by keeping all security policies, protocols, and settings the same.
Derrick Tetlow, a senior product manager at Agile Defense, Inc., a U.S. Department of Defense (DOD) contracting firm, has used intelligent automation tools from Automation Anywhere to build a number of STIG automation solutions. Any agency possessing a vast array of servers, switches, or routers can find it challenging to ensure all the configurations are correct, he says. "STIGs are a heavy-lift item for any agency with boots on the ground," says Tetlow.
To follow STIGs, agencies would have to go through literally hundreds upon hundreds of checks of digital assets. And this isn't done just once, as STIG guidelines do tend to change continuously. "It ends up being a maintenance nightmare to do this manually," says Tetlow.
But when automating with RPA plus AI, the pain goes away. The checks are done automatically and without error. If any irregularities are found, human workers can step in and correct them. Otherwise, human workers can spend their time doing things that are really much higher value, says Tetlow.

RPA in government shows great promise
Altogether, the GSA has identified more than 200,000 hours of low-value tasks that can be automated or reduced through RPA, freeing workers to pursue the higher-value tasks. Indeed, the power of RPA is shown by the GSA's ambitions: The organization has a goal to help civilian agencies free up nearly $1 billion worth of productive time by using the technology in the next year.

 
Learn More About RPA for the Public Sector.
About Bill Bunce