Blog
How Healthcare is Embracing Digital Transformation
July 16, 2020
4 Minute Read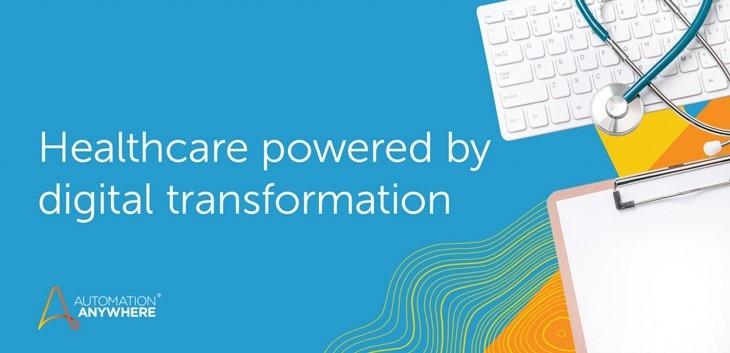 The global number of confirmed COVID-19 cases has surpassed 13 million, prompting healthcare organizations to update their business models by accelerating plans for digital transformation. healthcare organizations  by empowering front-line workers and improving provider efficiency.
 
Strategic considerations
Healthcare organizations are embracing automation because it allows them to perform at unprecedented levels and helps them achieve many strategic initiatives.
Agility and flexibility. Today's healthcare environment is marked by change on every front — from operational challenges like COVID-19 to innovations in diagnostics, therapy, and technology to new regulation and revenue models. Unpredictability requires agility and flexibility.
Scalability. When unexpected challenges or opportunities present themselves, scalability helps an organization go into hyperdrive to meet the demand or take advantage of the opportunity. Automation can help. It is much easier to spin up and retire a software bot than to hire, train, and discharge temporary contract workers.
Innovation. Extraordinary times call for extraordinary innovation. Competence in innovation has always been a market differentiator, but in a pandemic, the focus of innovation turns from new products toward coping with a new world. Care models, business operations, payment schemes, employee roles, and even consumer mindsets have all changed. Survival and sustainability require the offloading of repetitive, rule-based work to automation.
Collaboration and partnerships. The world is getting smaller. As proven by COVID-19, near and distant events can threaten demand planning, supply chain, care models, and clinical outcomes. Healthcare organizations will find it advantageous to exchange information and expertise, i.e., to partner, with suppliers, service providers, payers, customers, users, government agencies, and even competitors.
Business intelligence (BI). In 2020, BI will become more customized, powered by AI. But AI thrives on data, and the historical challenge in healthcare has been incompatible legacy data systems and silos that do not share data. Digital workers, however, can do the tedious work of extracting data from any human-accessible system quickly, accurately, and continuously. They can populate an enterprise dashboard that illuminates every part of an organization—and beyond.
 
Tactical approaches
Control costs and improve productivity. The most expensive part of a hospital budget is human labor. When expensive healthcare workers are asked to perform menial, rote tasks, both the hospital and its workers lose out. The most profitable companies automate tasks that can be better performed by computers, freeing up employees to engage in more productive, higher-value work that adds real value.
In other industries, budget uncertainty and the need to preserve capital has led to a preference by both customers and vendors for recurring revenue arrangements and even leasing, preferring OPEX over CAPEX. There has been a new openness to controlling costs and a renewed, urgent interest in automation.
Develop new revenue streams. Revenue loss has driven healthcare into survival mode. Telemedicine might be a new revenue stream if reimbursement and regulatory exemptions become permanent, and patients accept virtual care. If so, medical centers could extend telemedicine consultation services beyond their traditional catchment area to much broader geographies. They could also offer COVID-19 testing and contact tracing as fee-based services to the many employers dealing with return-to-work issues.
Improve the quality of care. Quality of care is reported publicly using a variety of quality scores like AHRQ, HEDIS, and HCAHPS, and followed closely by healthcare consumers, payers, and employers. Evidence-based quality protocols must be enforced and constantly monitored, which are normally resource-intensive.
human resources by performing rote work. A recent Texas study showed that automation applied to medical records, doctors' orders, and decision support can reduce deaths, complications, and costs.
Improve the patient experience. This is a top priority for many providers and payers. A great care experience increases patient or member loyalty and retention improves compliance and outcomes and adds to top-line revenue through favorable word-of-mouth recommendations.
COVID-19 has sparked a "big bang" in healthcare. It is catalyzing fundamental digital transformation at a pace that has no modern precedent. As many healthcare organizations begin to redefine their business models, they will need clarity on where they stand in this time of trouble, and where they want to go. The sustained effort, care, and patience will be needed to re-engineer this most complex of industries; too much is at stake.
Intelligent automation will be a critical piece of the transformation roadmap. As an enabler, it will allow organizations to redesign outdated end-to-end processes for the 21st century while optimizing the roles and partnership of humans and the Digital Workforce in new value chains. The journey will not be easy, but it is truly necessary.
About Automation Anywhere Staff