Blog
Automation Provides Relief for Frontline COVID-19 Heroes
April 25, 2020
5 Minute Read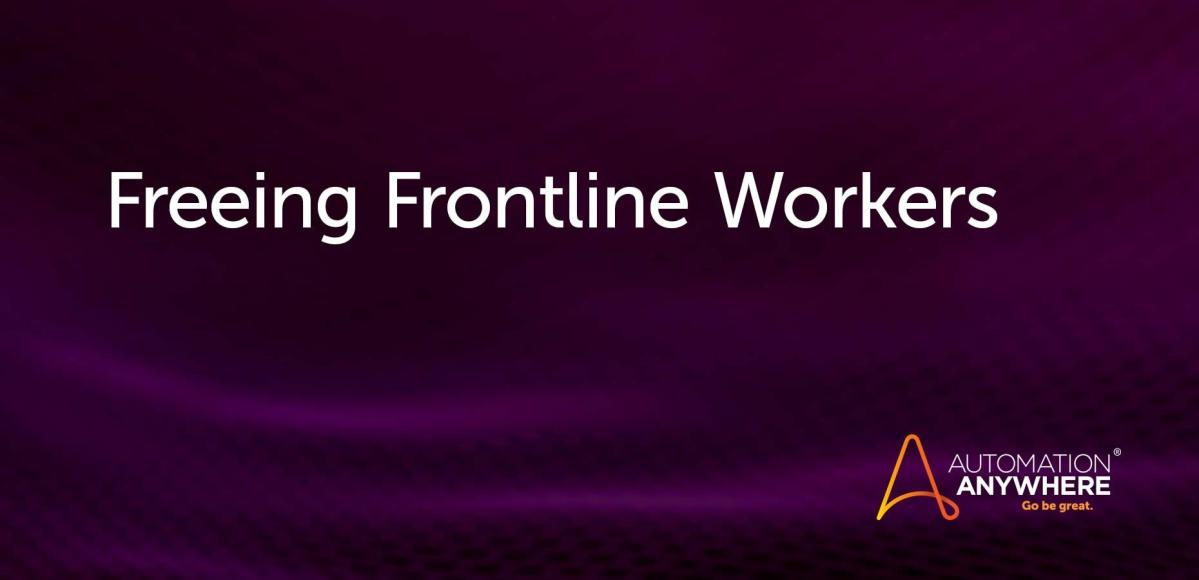 The war against the coronavirus (COVID-19) is creating a new generation of heroes. These heroes are the workers on the front lines of the pandemic — the doctors, nurses, police officers, and firefighters. The grocery clerks and delivery drivers.
They're also the National Guard, military, and people from the Federal Emergency Management Agency (FEMA) and the Department of Health and Human Services (HHS) who can't work from home. Instead, they work in hospitals, drive-in testing centers, quarantine zones, and food shelters, risking infection while caring for the most vulnerable.
We're depending on these frontline workers to battle the virus so the rest of us can stay safe. Beyond the virus itself, they're dealing with low inventories of personal protective equipment and other supplies, along with overtime shifts due to staff shortages. And many are opting to sleep away from home in order to keep their families out of harm's way.
The absolute last thing these frontline workers should have to deal with is paperwork. But, many times, they're stuck with manually inputting data, searching the web, tracking expenses, and preparing status reports.
How intelligent automation frees workers
Intelligent automation can give frontline workers additional hours to focus on patient care, or simply to rest and recover for the next day. Artificial intelligence (AI)-powered bots can automatically switch work assignments when, for example, a dozen firefighters must self-isolate after their fire chief tests positive (as occurred in the District of Columbia).
Bots can generate a real-time list of disinfected buildings in order to provide the knowledge the National Guard needs before entering a facility — saving time spent manually researching the information while lowering their risk of exposure.
Automation in the public sector health arena is a proven concept. Government medical forms, such as Medicare (58 million beneficiaries) and Medicaid (71 million enrollees), can be digitized and automated in many instances, as can the forms required by regulatory bodies. Let's look at some examples.
Coronavirus bots deployed in days
The World Health Organization's (WHO's) case record form is one of the most important data collection tools in the fight against the coronavirus. This is the form submitted when a patient has tested positive for COVID-19. The challenge with the form is its length, at 10 pages, and the fact that many times it's filled out by hand.
Automation Anywhere and Microsoft partnered to develop an AI-powered bot that reads handwriting and can pick up information such as stray marks outside the check-box area. The bot was delivered to the WHO and the National Health Service and can digitize data to within 90% accuracy — enabling quick, accurate identification of trends.
In another case, the government of Switzerland was challenged to determine the inventory of hospital beds and supply of masks and respirators, so it asked for daily reports from hospitals around the country.
Automation Anywhere worked to develop a bot in a few days that automated the national inventory reporting, saving hospital staff from having to manually prepare reports each day — hours that could be directly applied to patient care.
Automated administrative tasks = higher morale
A major regulatory, research, and testing agency in the U.S. federal government had a morale issue. Its employees with advanced degrees in pharmaceuticals and medicine were routinely performing manual, repetitive, and administrative tasks. The agency deployed bots to automate processes such as drug intake forms, mining insight, resource allocation, and risk assessments.
For high-volume activities, the bots run the first wave of analytics on applications. As a result, the agency was able to reallocate its highly trained specialists to higher-value tasks in concert with the President's Management Agenda, boosting their morale and improving agency performance.
The popularity of automating administrative tasks continues to increase, and this agency now boasts the largest installation of bots in the federal government at more than 200 bots automating 34 processes. The agency was also the fastest to scale, deploying the initial 97 bots within the first five months of launching the project.
The agency plans to apply bots to machine learning and natural language processing to advance its bot capabilities.
Improved patient engagement
Maximus, a business process outsourcing service provider to international government health and human service departments, has embraced innovative ways to interact with patients. With offices in six countries, employees answer more than 7 million calls at contact centers monthly.
Dissatisfied with the amount of time callers had to wait on hold and the length of time to complete transactions, Maximus deployed the Automation Anywhere intelligent automation platform to improve customer service and reduce wait times.
The company also employed bots to perform error-free, back-office operations, such as premium processing, eligibility determination, and health plan enrollment. Additionally, bots are used for shared services and corporate teams to complete tasks such as automating cellphone expense reporting and provisioning new employees.
But Maximus didn't stop there. RPA is also used to trigger messages to new employees to ensure they complete mandatory onboard training — a process that will soon be enhanced to include text message alerts.
Similarly, R1, a revenue cycle management company (a billing service provider for healthcare facilities) that employs 19,000, has deployed a set of RPA bots to streamline the Medicaid eligibility process. Bots are now modernizing the process for 250,000 yearly applications, speeding the time to repayment and improving accuracy while lowering overall costs to healthcare companies.
A display of gratitude
During the coronavirus shelter-in-place order, New Yorkers have started a tradition of applauding their frontline workers every evening at 7 p.m. to thank them for their efforts in protecting the city. These workers deserve the applause and much more, as they continue to risk their own health to serve a higher purpose.
Employing bots to give frontline workers a break from paperwork can and should be part of the show of gratitude.
Free your public sector workers with intelligent automation.
About Automation Anywhere Staff