Blog
Harnessing the power of generative AI across the Automation Success Platform
June 1, 2023
4 Minute Read
Featured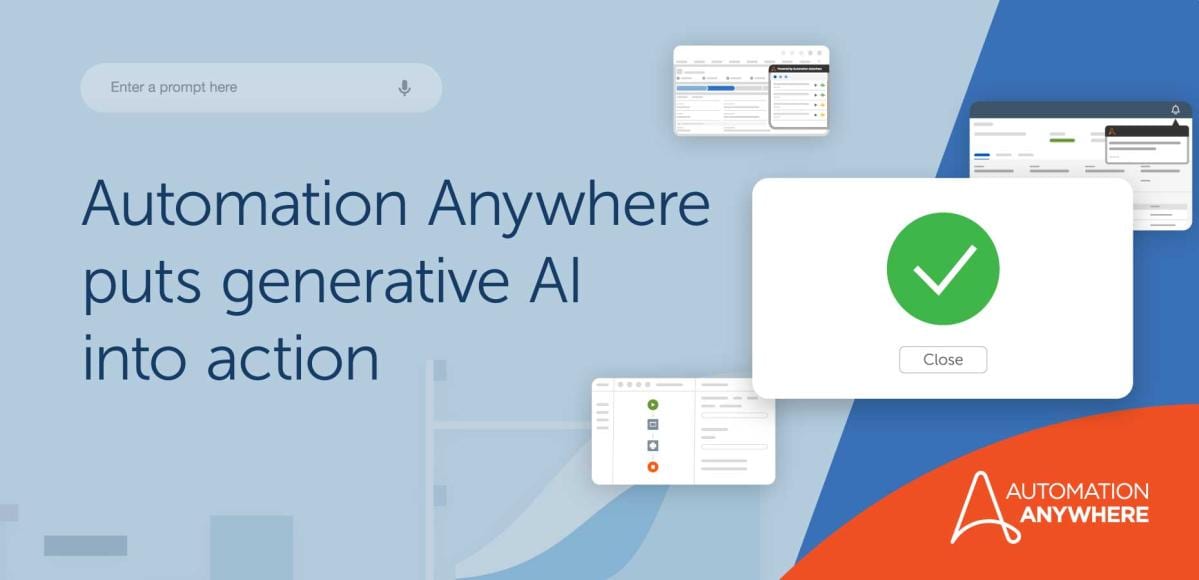 The world around us is changing at such a rapid pace in so many different ways, all at the same time! We are in the midst of a global productivity crisis driven by a labor shortage, inflation, cost constraints, and rising new competitive pressures. McKinsey predicts that in order to meet global GDP targets, businesses will need to see a 50% increase in productivity. So it's no wonder that business leaders wake up every day thinking about how to combine automation and AI to bridge the ever-growing productivity gap, remain competitive, and drive innovation and growth.
For the past 20 years at Automation Anywhere, our vision has been to fuel the future of work by unleashing human potential. And we've been doing that by helping our customers build an AI-powered digital workforce that can empower people to focus on what they do best: collaborate, create and grow businesses.
But we're just getting started. And today is the beginning of our next big frontier.
Infusing generative AI across the Automation Success Platform
Back in February, we launched our first generative AI solutions with Open AI and Microsoft. It's been amazing to see the excitement from our community of customers and partners who are already using this innovative technology to solve real business problems. We've gone further and partnered with leading technology vendors like Google with Vertex AI, Amazon with Bedrock, and partners like Anthropic and Nvidia to offer our customers choice and flexibility.
And today, I'm honored to share that we've infused generative AI across the entire Automation Success Platform, putting it to work across every application, team, and process.
Here's a quick view of the three new innovations:
Automation Co-Pilot + Generative AI for Business Users (GA): Last year, we announced Automation Co-Pilot, an automation assistant embedded into any application. Now Automation Co-Pilot is AI-powered, accelerating team productivity even more by enabling them to action any generative AI use-case across any system, from creating and summarizing content to sending emails and providing recommendations.
Automation Co-Pilot + Generative AI for Automators (July Preview, Available Q3): Automation Co-Pilot is now embedded in the developer experience and connected to generative AI, empowering everyone, from professional developers to business users, to use generative AI to transform the conversation into automation and build automations 55% faster. Users can now quickly create automations by having a natural language conversation with Automation Co-Pilot, opening up automation development to virtually anyone in an organization. You really have to see it to believe it! Sign up for a preview now.
Document Automation + Generative AI (Available Q3): Document Automation now uses the power of generative AI for fast understanding, extraction, and summarization of data from an ever-growing universe of unstructured document types, in addition to structured and semi-structured. More document types mean more data can be unlocked. And because it's connected to automation, data can be inserted right into a process workflow without any lifting and shifting.
Generative AI on the Automation Success Platform accelerates business impact by helping you go faster with out-of-the-box models developed with decades of automation expertise. It's built on our open platform, allowing you the flexibility to choose your large language model of choice to best suit your use case. And, of course, it's trusted because it's built on the Automation Success Platform, with enterprise-grade security, privacy, and compliance standards, making it the perfect partner to ensure that your AI is being used responsibly.
Unlock the power of generative AI + automation
I highly recommend you watch the on-demand replay of Automation + AI: Live to hear insights from our partners, Google and AWS, and see these generative AI and automation innovations in action. We're excited to see what Automation Anywhere customers will do as they start applying the power of generative AI and best-of-breed LLMs. To learn more about how you can put generative AI into action, please visit https://www.automationanywhere.com/products/automation-ai