What is Desktop Automation?
Tired of those repetitive tasks that drag on each day? You're going to love robotic desktop automation (RDA)—it's a fast and accurate way to get tasks done.
Relieve employee workloads, speed up many tasks, and achieve high accuracy with robotic desktop automation (RDA). Affordable and easy to use, simple desktop software programs like these allow you to thoroughly automate many tasks usually done on a workstation. They work 24/7, never get in the way, and require no human intervention outside of maintenance and updating. They're the affordable way for organizations to do more in less time.
Repetitive tasks can easily take up several work hours every day. They're boring, require little skill, and are prone to mistakes. All combined, businesses and organizations lose millions in profits because of this every year. Robotic desktop automation takes over these tasks for each workspace user and frees them up for more essential tasks suitable for their skill level and expertise.
Robotic desktop automation works with business processes and numerous apps and programs, including Windows applications, Citrix apps, Java applications, Microsoft programs like Excel, and web pages. The task only needs to be consistent, stable, and require minimal decision-making.
What can desktop robotic process automation do for me?
Desktop robotic process automation is an affordable way to help your organization undergo a digital transformation and reap the benefits of automated business processes.

Lower Costs
Fewer mistakes and less time spent on monotonous tasks increases efficiency and productivity. So, with desktop automation, you're gaining in both directions.

Easy Efficiency Finds
The more comfortable you become with desktop automation technology, the more you'll find clever and creative ways to use it. But even at the start, you'll find the few minutes you spend setting up these processes are well worth the effort. To get the most from your desktop automation tasks, start with the most repetitive and time-consuming tasks. Then, track the results and the time saved.

Streamline Workflows
Many times, several teams will create almost identical documents for different purposes. By automating these things, you can copy reports to shared spaces and share them with others in an instant without having to remember to add the extra step. You'll improve coordination between teams, cut down on their workload, and empower them to make better decisions.

Reduced Risk of Errors
The more times humans must repeat a task, the more prone they are to making errors. Companies need to institute checks and balances to catch these errors, but they're not perfect either. Automation tools copy and paste or enter data directly from one source to the next, eliminating the risk of copy errors.

Higher Motivation and Morale
People don't like to make mistakes or get bored. That's why these tasks make manual tasks annoying. They'd prefer to provide value and make use of their expertise. DPA allows them to do just that.

Better Customer Experience
Customer response times are a major determining factor in customer satisfaction levels. Desktop process automation can handle many administrative tasks associated with customers and customer complaints to reduce that response time. And because employees spend less time performing repetitive tasks, they have more time to speak with customers and solve problems.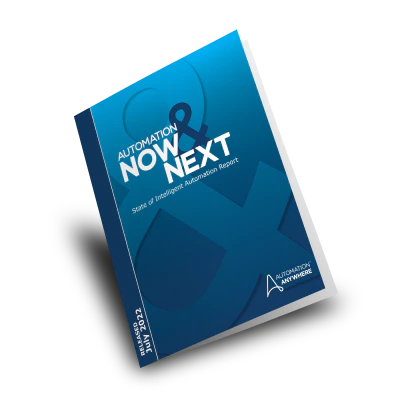 A must read, one-of-its-kind, industry report
Learn how top performers achieve 8.5x ROI on their automation programs and how industry leaders are transforming their businesses to overcome global challenges and thrive with intelligent automation.
Who uses desktop automation tools?
Any person in any industry can benefit from robotic desktop automation. You'll find plenty of use cases and business case studies demonstrating the value and potential of this user-friendly technology. Some industries that have benefitted from RDA include:

Financial and Business Services
Business processes in these industries often use consistent, structured data to help inform decisions and track events. Many times, multiple people in these organizations pull the exact data for different purposes. These traits make them perfect for desktop automation and bots. With just a few minutes, RDA can pull the data, add it to a standard structure, and even upload this information to shared storage, databases, or programs like Slack. Best of all, it makes it easier to stay compliant.

Small Businesses
Small businesses are often at a disadvantage because they don't have large departments to get everything done. Robotic desktop automation is like free labor. It's affordable, works 24/7, requires very little to no human intervention, and it's reliable. It's the perfect solution for businesses on a budget.

Professional Services
It's crucial that you have client information and other types of information at your fingertips. And you don't always have the time to get it when you need it. Automated desktop bots can do that for you without you even having to lift a finger. You can use these scripting technologies as a testing tool to grab screenshots, execute its real-time tracking functionality, and much more.

Retail Brands
Marketing, finances, meeting with vendors, keeping track of returns are only a few items on your to-do list. The last thing anyone should spend time on is completing the same mindless tasks when they could be doing something that increases customer satisfaction. Automate these tasks with custom-made bots so that you can take these items off the team's to-do list.

Ecommerce and Websites
Most of the time people spend on their websites involve updating and maintaining databases and programs like Slack and Salesforce. In many instances, businesses will often avoid launching new services, marketing strategies, or other processes because they're just too busy with these administrative tasks. Get everything done and free up time to implement the business processes that will help your business grow with custom desktop automation robots.

Educational and Non-Profit Organizations
When you have the accurate information you need, you can make better decisions. And when you can make better decisions faster, you and your clients experience higher satisfaction and better results. Desktop automation solutions are one of the most affordable ways you can serve your communities better.
Frequently asked questions about robotic desktop automation
How do I get started with desktop automation?
Robotic desktop automation is one of the most accessible, low-code, automated technologies to get started with. The best way to get started is to go through some simple desktop automation courses or webinars online. They'll walk you through the process of making your own tools, but they'll also teach you the characteristics of business processes ideal for automation.
Explore

additional resources