Blog
Driving efficiency: CFO's actionable automation strategies
May 18, 2023
4 Minute Read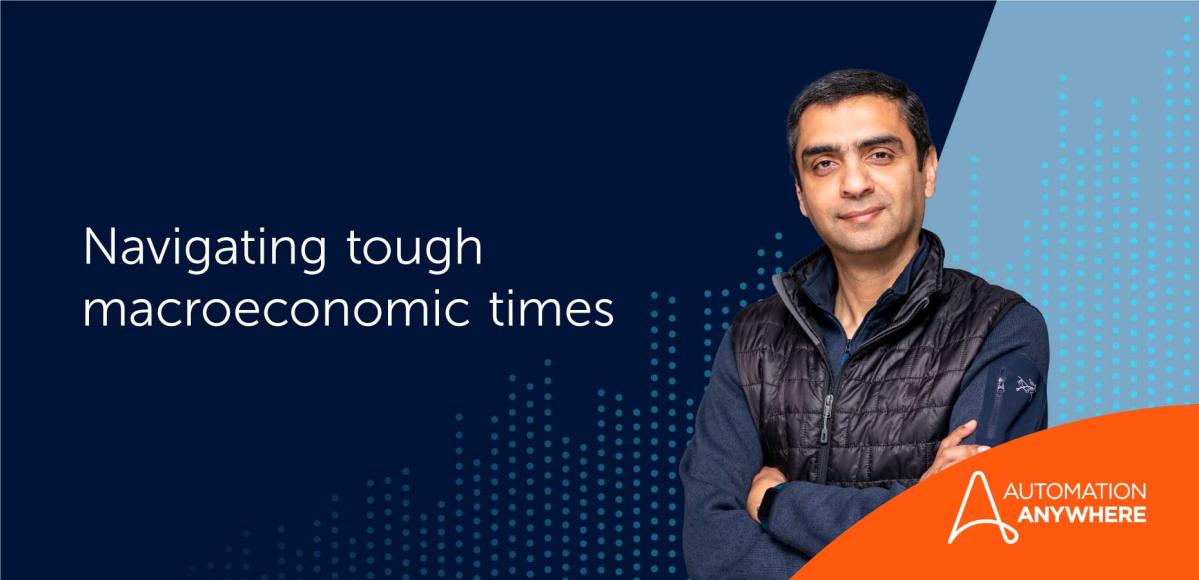 As Chief Financial Officer (CFO) at Automation Anywhere, a critical part of my role is partnering with our Chief Executive Officer (CEO) to drive the company's growth. However, achieving profitable growth, managing working capital, conserving cash, and driving productivity are challenges that require careful consideration. As CFO, I strive to strike a balance between cutting costs and investing in strategic initiatives that encourage growth. One of the key ways to achieve this balance is through automation.
We prioritize investments aligned with our strategic goals to drive shareholder value by simplifying processes and providing transparency to our strategic business partners. We have managed to reduce errors, leading to quicker and well-informed decisions, which ultimately creates a more productive and happier workforce.
Automating finance processes
On my team, we are very aware of the benefits of automation, not just to save time but also to get more actionable insights. Here are just a few examples of the initiatives we have put into practice within our team:
Sales tax calculation: End-to-end automation of sales tax capture and withholding calculation has saved 60-70% of employee time and allowed them to focus on the customer instead of paperwork.
Streamlining collections and quote-to-cash processes: We have seen improved governance and audit trails, resulting in enhanced compliance, reduced provisioning issues, accelerated invoice creation, minimized invoice rejections, and expedited collection times.
Optimized collections reporting: The implementation of advanced reporting tools for accounts receivable (AR) has significantly reduced days sales outstanding (DSO) by 25% and improved cash collection by 30%. By leveraging streamlined processes and up-to-date information, the collections team operates more productively, allowing them to prioritize accounts strategically.
Tips for getting started
As CFO, I want the broader finance organization to grow and stay in lockstep with the times. Here are a few considerations I would recommend for my peers looking to bring in automation and drive productivity:
Evaluate current processes: Start by analyzing existing processes and identifying areas where automation could be beneficial. Consider processes that are time-consuming, repetitive, and prone to errors.
Determine the return on investment: To ensure cost-effectiveness, CFOs need to calculate the return on investment (ROI) for each initiative. This involves estimating the cost savings and increased productivity that will result from automation and comparing them to the cost of implementing the technology.
Prioritize security: Automation can bring significant benefits, but it could also introduce risks, particularly around data security. Ensure security and compliance with relevant regulations as well as establish additional security measures like centralizing access to ensure proper authentication.
Use automation to stay competitive: There is no denying that AI, especially generative AI, will soon become part and parcel of our personal and professional lives. Some use cases to consider incorporating generative AI include:
Automated audits improve the accuracy, speed, consistency, scalability, and risk management of financial data analysis, enabling auditors to focus on complex tasks and ensuring compliance with regulatory requirements. AI can easily analyze large volumes of data to detect anomalies or discrepancies in financial reporting and documentation.
Financial forecasting and data analysis are crucial for informed decision-making in business planning and operations. However, manual processes are time-consuming, prone to errors, and may miss critical insights. Intelligent automation powered by AI streamlines financial data analysis and forecasting, increasing efficiency, reducing errors, and enhancing risk management for better business outcomes.
AI-powered automation streamlines supplier negotiations by quickly comparing their demands with market trends and competitor costs, saving companies time and enabling them to secure better deals and discounts in days instead of weeks or months.
Make an impact with automation
The CFO plays a critical role in driving company growth through automation. By automating repetitive tasks, finance teams can save time, reduce errors, and drive growth. The key is to think big and identify areas where automation can have the greatest impact.
By taking an automation-first approach, the CFO can lead the transformation of the organization and set it on a path to sustainable growth. Join us at the upcoming Gartner CFO conference to learn more about how we can help your finance teams save time and help you cut costs.
About Vikram Khosla