Blog
Automation Anywhere named a Leader for the 4th year by Everest Group
June 12, 2023
2 Minute Read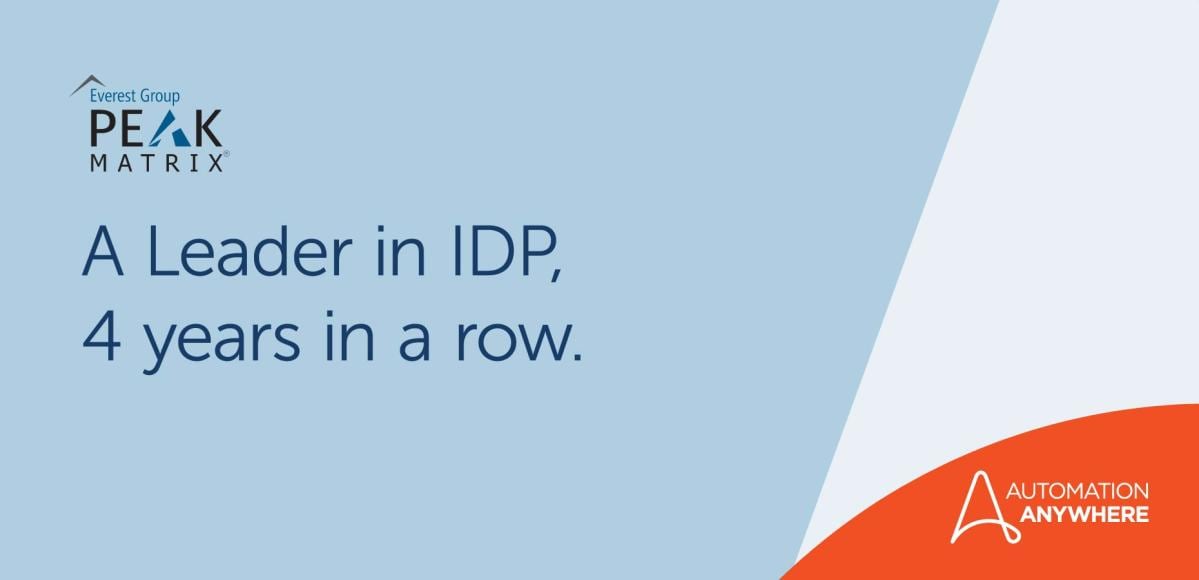 Automation Anywhere's Document Automation Solution has been named a Leader in Everest Group's Intelligent Document Processing (IDP) Products PEAK Matrix® Assessment 2023. Everest Group is a research firm focused on strategic IT, business services, and engineering services. The firm studied 36 IDP technology providers to create its report.
This is the fourth consecutive year that our IDP solution has held a leadership position in the assessment's vision & capability and market impact categories. We're honored for the distinction that recognizes the power of our IDP solution.
Essential for business
Intelligent document processing (IDP) has become an essential tool to enhance business operations. According to Everest, "The need to improve operational efficiencies and employee productivity, achieve cost savings, and enhance employee and customer experience is driving IDP adoption among enterprises. IDP products are also rapidly becoming more sophisticated in terms of their capabilities, features, and functionalities. To achieve success in implementing IDP, enterprises need to select the right IDP technology partner."
Go faster to drive growth
Businesses need to go faster while reducing errors by automating document processing with an Intelligent Document Processing (IDP) solution, unlocking a greater level of automation while freeing up employees to focus on what they do best—innovate and drive growth. Document Automation is built on Automation Anywhere's Automation Success Platform, allowing businesses to harness the power of IDP, RPA, and AI to quickly extract and embed document data into any business process—making it a complete document processing and automation solution. And all of this is done in a single, seamless user experience to get you up and running fast.
Automate data processing from a wide range of documents
Businesses worldwide and across industries have used Document Automation to process data from documents, including mortgage applications, vehicle registration forms, insurance claims, patient forms, invoices, orders, financial statements, and inter-bank settlements in a variety of languages. Document Automation offers hundreds of pre-trained document-processing use cases that enable business users to automatically process documents in minutes. Users can easily leverage the technology and train it for new document types, providing an intuitive experience.
Moving forward
Again, we're honored to have been recognized as a Leader by Everest Group. And we're dedicated to continuing that leadership by bringing more innovations to market that accelerate intelligent automation deployment and drive customer success.
About Reanna Gutierrez