Blog
Enhanced automation for everyone with the Automation Success Platform v.28
May 15, 2023
3 Minute Read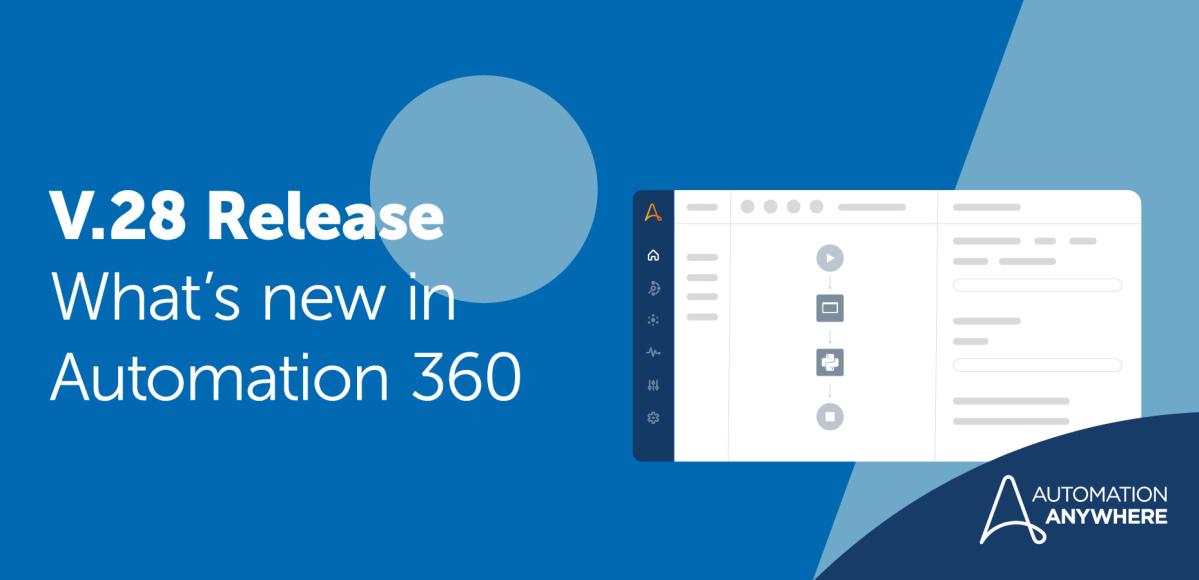 Automation Anywhere is excited to announce the March 2023 release of its industry-leading cloud-native intelligent automation platform, Automation 360™ v.28. Let's jump in and see what's new.
Measure success with CoE Manager
Scale with CoE Manager and prioritize your automation development process. Track the ROI of your automations running in cloud or on-premise control rooms with real-time dashboards and create a healthy pipeline of automations that are going to propel your business forward.
See it in action here.
Enhanced document extraction
Empower your employees to save time and automate more documents with improved extraction accuracy powered by Document Automation and Google DocAI validation feedback. Support document data extraction in seven more languages, including Romanian, Portuguese, and Japanese, for expense receipts with improvements to Google DocAI's invoice parsers.
See it in action here.
Automate and collaborate seamlessly
Bring automation right to your employees within their favorite collaboration tool with Automation Co-Pilot and Microsoft Teams. Now employees can be in a chat or team channel or simply open Co-Pilot from the Apps menu to see a list of the Co-Pilot processes and desktop automations they have access to. Users can initiate and monitor these automations without ever having to leave Teams.
See it in action here.
Improved developer experience
Enhance developer productivity with our Next Generation Recorder, which improves automation reliability for web applications. Enhanced Search and Replace enables customers to save time and improve developer productivity with an automatic search and replace tool in Bot Assistant. Users can quickly search any text or variable, navigate through the search results, and replace them within the automation. With Alert & Notifications, developers gain visibility into their automation estate with notifications regarding various platform events and can take actions based on the notifications received. Our Bulk Package Update enables automation admins to update multiple packages in bulk or perform updates to specific bots and view outcomes of applied updates in a system-generated report. And lastly, Email Automation allows customers to automate email over a shared mailbox in Microsoft 365 Outlook using IMAP and EWS protocols and Client Credential flow.
See them in action here.
Boost speed with connected apps
Automate faster with connected apps and integrations. Leverage our Workday Command Package to elevate your employee experience by easily automating their Workday processes, such as reporting, data upload/download, or triggering workflows with our new point-and-click experience. Our brand-new command package has deep API-level integration with Workday, allowing you to build automations that are guaranteed to run today, tomorrow, and forever.
And with our ServiceNow command package, customers can easily automate ServiceNow—no need to program or write code. Simply drag and drop command actions into your automation workflow. Elevate your employee experience by using Automation Co-Pilot inside ServiceNow to simplify human-bot interactions and drive higher productivity.
See them in action here.
Additional enhancements
Automation Anywhere continues to focus on our roadmap for customer success. For this release, enhancements have been made to improve CoE governance by enabling admins to flexibly apply different coding best practices to projects with multiple Code Analysis policies, automation lifecycle enhancements, including trigger support for unattended automations, and developer experience enhancements such as tree control support for Electron based applications and simplified bot agent registration.
These and many more enhancements to the Automation Success Platform are now available. To learn more about the v.28 release, check out the release notes or watch the on-demand webinar to see live demonstrations of our top 5 enhancements.
About Reanna Gutierrez