Blog
Scale Your Automation Program with .27
January 17, 2023
3 Minute Read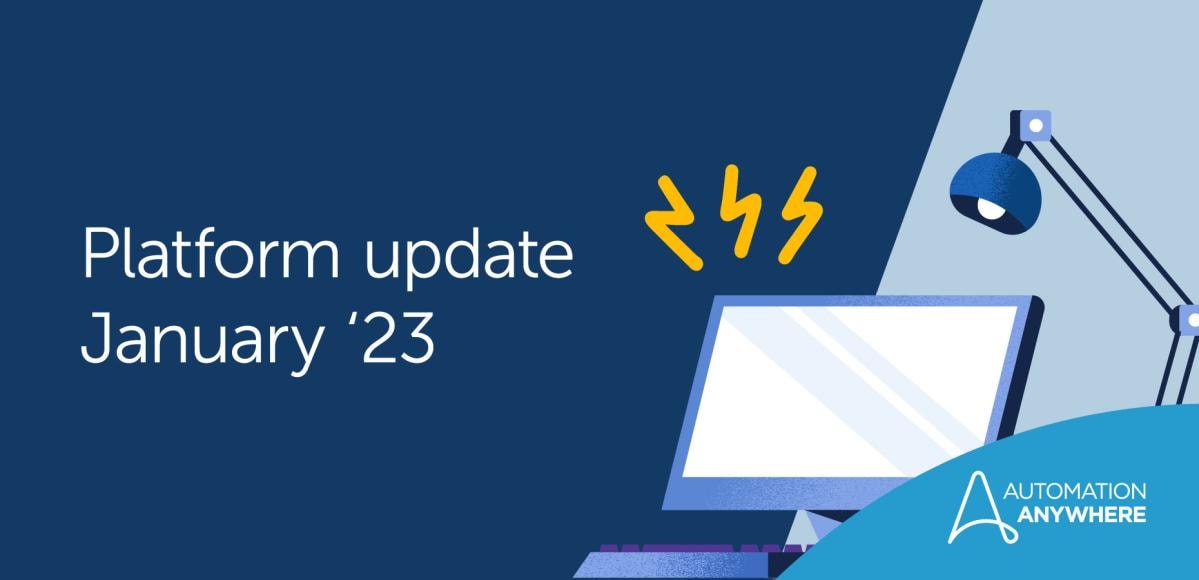 Automation Anywhere is excited to announce the January 2023 release of our industry-leading cloud-native intelligent Automation 360 Platform™ v.27. In this release, we have improved each stage of the automation cycle to help our customers scale their automation programs and enhance their developer and user experiences. Let's jump in and see what's new.
Enhance and scale citizen development 
Our newly enhanced bot-building experience is equipped with an intuitive and modern user interface (UI) that enables citizen developers to build their automations swiftly and easily.  Refreshed and intuitive package icons provide real-time guidance and allow for the quick and easy selection of actions while building bots. This help at hand increases the adoption of citizen development and leads to the unhindered creation of new automations.
Strengthen governance and management 
Enhanced automation via bot runners makes it possible for our customers to scale easier. Now, developers and administrators can run/schedule multiple automations at the same time. They simply provide a list of runners and the number of automations to run, and Automation 360 will automatically pick the available bot runners. This will help support use cases where parallel processing on multiple devices is critical to achieving the desired service level agreement. Alerts and notifications proactively alert customers on critical events, including automation runtime status, bot run-time alerts, and other important automation life cycle events. The alerts will keep center-of-excellence leads and developers up to date and will empower them to take action based on specific events.
Embedded smart forms
We now make it faster and easier for developers to design and embed forms in any web application with embedded smart forms.   Business users can launch these automations from within their application of choice such as Workday or ServiceNow.  And with our new data-mapping capabilities, users save valuable time by eliminating tedious and error-prone data re-entry by automatically mapping and pre-populating data from enterprise applications into the embedded widget.
Fixed forms for Document Automation
Drive fast time to value for structured documents with fixed forms for Document Automation. Empower your business users to quickly configure and automate fixed forms. Train models with less than 10 documents and support a variety of use cases that require data extraction from tax, ID, vehicle registration, and mortgage forms, plus financial statements in 244 languages such as Spanish, Chinese, Japanese, and Korean.
Process Discovery PEG enhancements 
Accelerate your automation success with our Privacy Enhance Gateway (PEG) enhancements. PEG is now easier for customers to use with a new configuration UI and offers support for additional use cases, including higher-volume, simultaneous data collection. 
Additional enhancements 
Automation Anywhere continues to focus on our roadmap for customer success. For this release, enhancements have been made to provide OAuth2.0-based authentication when automating email, repository version control for all files, not just bots, export-import queues for seamless workflows across dev, test, production, and bulk check-in/check-out.
These and many more enhancements to the Automation Success Platform are now available. To learn more about the v.27 release, please refer to the release notes.
Register to attend our webinar on January 31, 2023, at 8 AM PST, to see the enhancements in action. 
About Reanna Gutierrez