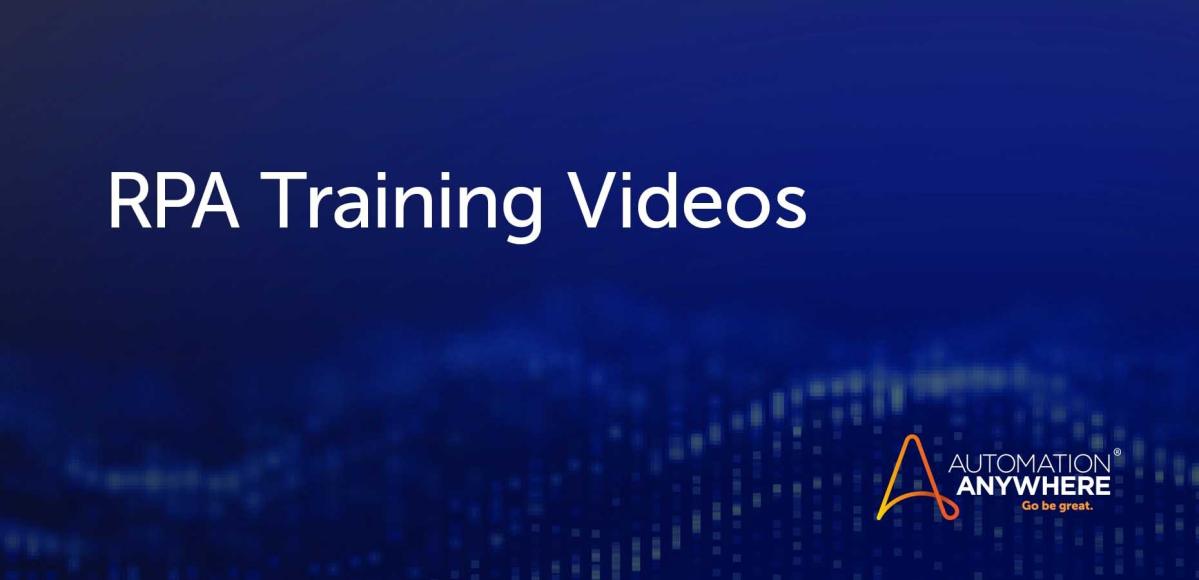 When you automate mundane tasks throughout your workday, it makes your career that much more fulfilling. But where do you go to learn how to automate things on your own? Sometimes when learning a new skill, it's easiest to watch an expert performing his or her craft while explaining the process.
That's the tack Automation Anywhere takes, guiding you along your digital transformation journey to help you understand the basic concepts of Robotic Process Automation (RPA) through videos. Here's a countdown of our top five RPA training videos:
5. How to Build Your First Bot
Take a guided tour through creating your very first bot in three easy steps. You'll be introduced to the drag-and-drop functionality in the Community Edition workbench — which is where you'll spend the majority of your time building and editing bots and learning the various functions available in Community Edition.
As you progress through the video, you'll be introduced to some of the tools and commands used to create a bot. Getting familiar with the tools at your disposal will enable you to tinker around and create other automations.
4. How to Automate the AP Process with IQ Bot
This video highlights how you can set up and train Document Automation to process any document. Better yet, it gives you a thorough explanation of IQ Bot itself and how it works so you can gain a solid understanding of the software and get the most out of it.
You'll explore the various tasks that can be automated in an end-to-end accounts payable (AP) process and learn the complexities to consider. Although this particular RPA video focuses on an AP workflow as an example, the tasks and methodology used can be applied fairly broadly to any process or document.
Some of the finer details covered include how to train IQ Bot and make corrections when extracting data, as well as the larger bot ecosystem used to complete a given process. The video provides one of the best explanations of why artificial intelligence (AI) and RPA work so well together.
3. How to Automate Workload Management — Enterprise Level
At the end of every month, banks tend to get a surge of activity in loan applications, and a once-calm office becomes a whirlwind of chaos. This video will help you change that environment. You'll learn how to set up a TaskBot that will process a queue of documents regardless of format, while easily managing the workload between your resources.
You can create a pool of devices to run the bots that will process the loan applications in your queue. These bots could be designed simply to process a form but, as you become familiar with some of the more sophisticated functions, you can set up your own structure — or even identify datapoints that need a different process.
When documents are added to a queue for processing, administrators can assign resources as needed to complete the project. You can easily add more machines to the work pool and adjust your service-level agreements in real time while balancing the activity to continuously process documents until the job is complete.
2. How to Install and Run a Bot or Digital Worker
This video provides key information to help you find bots from various vendors, as well as to configure and run a bot within the Automation Anywhere Enterprise RPA platform.
You'll get an overview of Bot Store, how it works, and how you can best take advantage of it. Each bot purchased from Bot Store comes with an in-depth README file to help you quickly get the bot running and make any needed adjustments.
The video provides an example using the Invoicely bot to extract data from an Excel file and create a customized invoice to process. Although it sounds simple, there are many considerations to account for. This video will help you set up an automation that logs in to an external site, uses that service, and creates an invoice — all from a single bot.
1. How to Write Inline Scripts Inside a Bot
Learn how to write a JavaScript, VBScript, or Python script within a bot while using Automation Anywhere Enterprise A2019.
Topics covered in the step-by-step tutorial include incorporating an existing script into a workflow, editing a script from within a bot, and even creating a new script in your preferred coding language. More importantly, this video shows you how you can isolate and edit a specific function within a script.
As you're guided through adding a script to a bot, you'll gain a deeper understanding of how to dynamically adjust your RPA configuration for a more bespoke option that best suits your organization's needs.
Get more RPA training at Automation
Anywhere University.
About Eduardo Vasconcellos