Blog
Become RPA Trained and Certified
October 31, 2019
3 Minute Read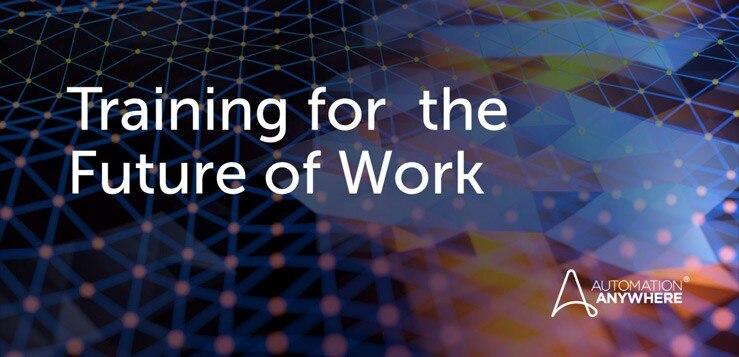 Robotic Process Automation (RPA) is fundamentally changing businesses by improving efficiencies and saving time. With the RPA market expected to grow to $5.9 billion by 2025, according to MarketsandMarkets Research, qualified RPA workers are sure to be in demand. But where can they go to learn?
Automation Anywhere University (AAU) offers free global access to a comprehensive library of online RPA courses. Whether you're just starting an RPA career or reshaping your current career, AAU provides a central location for students, business analysts, program managers, support, IT professionals, and others to learn, earn, and engage with RPA.
You'll find more than 70 individual online RPA training courses, as well as full role-based learning trails to prepare you for industry-recognized certifications. These learning trails offer you ways to develop a more formidable skill set and help advance your career. And, with an active community of students and RPA experts, you'll be able to get valuable assistance whenever you need it.
A robust list of courses helps you learn at your own pace, ranging from quick lessons to more in-depth topics that provide volumes of detail. Additionally, courses are being localized in multiple languages, such as Japanese, Portuguese, German, and French, to ensure international attendees have every resource at their fingertips.
Learning to use RPA
To get started, you'll likely want to enroll in the quick, 15-minute "Understanding Automation Anywhere Enterprise" to get to know the platform. In the course, we discuss the main features of Automation Anywhere Enterprise for several types of users.
With an understanding of how easy the platform is to use, the many security features it comes with, and the digital tools available to help you along the way, you'll be ready to take the next step in your RPA journey.
In "Hello Bot: Introduction to RPA and Use Cases," you'll get a more in-depth lesson on RPA basics, as well as an overview of the tool used to create software robots (bots). This course is intended to explain the many uses of bots, as well as how to create a bot of your own. Once you complete the course, not only will you know how to use bots, but you'll also be able to build new ones for whatever need arises.
If you're getting started as an RPA developer, you can download Automation Anywhere Community Edition for free so you can see for yourself what RPA can do. As you progress through your AAU coursework and certifications and engage with the RPA community, you'll be able to get feedback and ask questions about building your own bots.
As a matter of fact, if you build an innovative bot that you think could change the world, you can now sell it on Bot Store and generate extra revenue.
With all the free online courses, learning trails, and certifications at your disposal, now's the perfect time to become RPA trained and certified. Not only does AAU provide you with a resource to learn how to use automation, but it also offers everything you need to master building new RPA tools of your own.
Whether you'd like to improve your business efficiency or embark on a new career in automation, AAU has you covered.
About Eduardo Vasconcellos