Blog
Fast Track to the Future: Free Community Edition and RPA Certification
March 14, 2019
2 Minute Read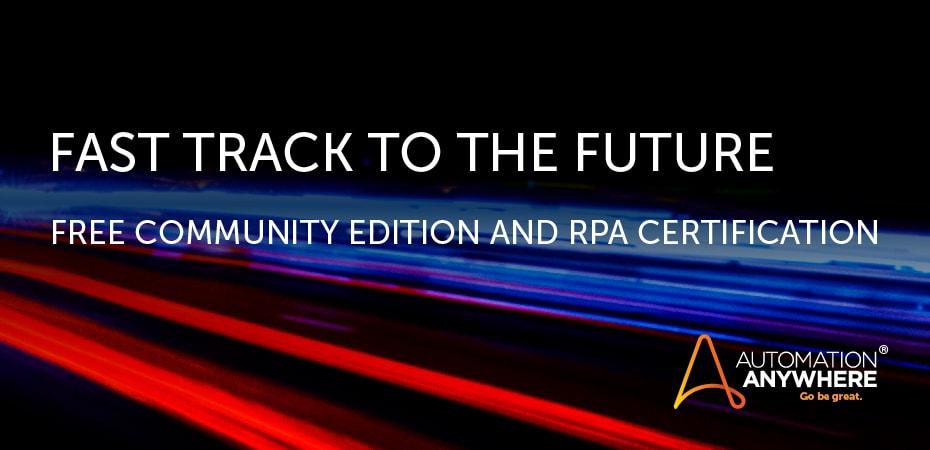 "Are you telling me you built a time machine … out of a DeLorean?" — Marty McFly, "Back to the Future"
Fortunately, we don't need a DeLorean to see the future of work. It's happening right now through automation and artificial intelligence (AI).
At Automation Anywhere, we're committed to making developers successful in building intelligent automation on our platform. That's why we're excited to offer you:
A free version of our Automation Anywhere Community Edition
A free accreditation course to fast-track your Robotic Process Automation (RPA) skills
What better way to jump-start your journey and advance your career than by building on the world's most widely deployed intelligent automation platform? (No flux capacitor needed.)
The free Automation Anywhere Community Edition gives you access to our full suite of products, including:
You then have everything you need to get coding and make great things happen.
Streamline RPA certification
If you're an experienced RPA developer looking to expand your skills on Automation Anywhere, we have just the course for you. Fast Track Accreditation for Developers is a free, accelerated learning path (13 hours) that will help you learn essential commands, features, and functions on our platform.
You'll also practice with hands-on exercises using the Virtual Machine (VM) of Automation Anywhere Enterprise. And, there are plenty of other free RPA courses to check out at Automation Anywhere University to help you advance your career in the fast-growing RPA space.
Let us know how it goes by reaching out to us via the Developers Everywhere group on our A-People Community site.
Together, we can build a Digital Workforce that helps human employees and changes work for the better. 
Your future hasn't been written yet. No one's has. Your future is whatever you make it. So make it a good one.
Get on the fast track
to RPA certification.
About Brendan Foley