Blog
Automation Anywhere Earns G2 Crowd Awards
June 29, 2020
3 Minute Read
Who understands the transformative value of solutions to achieve critical business objectives better than customers? Customer experience means everything, and they are not afraid to share their feedback. Which is why we're pleased to be recognized by G2 Crowd – the largest software marketplace and unbiased review platform – as a leader in multiple categories two consecutive quarters in a row.
Our clients deserve the credit for inspiring us to continually deliver user-friendly, yet robust solutions that automate many everyday manual processes, enabling them to focus on more meaningful tasks. We're truly appreciative of everyone that submitted valuable feedback.
Exceeding customer expectations
Employees in almost every industry around the globe are leveraging our intelligent Robotic Process Automation (RPA) platform to improve productivity. G2 Crowd's independent assessment enabled our customers to label us leaders based on metrics like the ease of administration, quality of support, ease of doing business, meeting requirements, ease of setup, and others.



Informing G2 Crowd's leader decision
G2 Crowd's user-based review platform issues authentic, unbiased, real-time product reviews reflecting users' experiences. This feedback involves several data points that are converted to a G2 Crowd score designed for businesses to select relevant products while minimizing risk. Automation Anywhere was named a leader because of its high levels of customer satisfaction and its large market presence, which, according to G2 Crowd, is difficult to achieve in any vertical.
Additional information in G2 Crowd's leadership assessment of us includes:
Automation Anywhere has the largest Market Presence among products in Robotic Process Automation (RPA).
96% of users rated it 4 or 5 stars.
91% of users believe it is headed in the right direction.
Users said they would be likely to recommend Automation Anywhere at a rate of 89%.
Additionally, Automation Anywhere's rankings in G2 Crowd's list of Best Software Companies 2020 for the categories of "Fastest Growing Products" (# 5) and "Best Software Awards" (# 17) are notable achievements. The customer reviews of over 50,000 software customers were assessed to determine the top 100 companies in both these categories.
Firsthand customer experiences
It's always a pleasure to learn which features of our solutions are most useful to customers, and which ones they wish they had. Here's a sample of some of our more revealing feedback from G2 Crowd:
"It is one of the best automation tools I have ever used. Automation Anywhere has been built on advanced technology, so that it can detect all those tasks that could be automatically executed so that much time could be saved, which is very necessary to complete the overall process execution in the allowed hours. This tool has helped our team to arrange their work in a well manner and provided them the ease to get rid of the manual entries. Now we feel more confident in showing the efficiency." — Olivia T.
"One of the most easy to learn tool as well as to integrate with different applications. Now, one can experience the improved quality and experience of excel command, restful services. Mesmerizing experience of error-handling. It is a great tool to make human work efficient and in a much easier way work is done." — Alyosha R.
"User friendly Graphical User Interface of Automation Anywhere makes easy for developer to automate their processes. Code free, rapid development, scalable solution using Automation Anywhere." — Sagar B.
We truly appreciate all our customers who have acknowledged our longstanding aim of making an RPA product that's easy to use. We are excited to bring you even more innovation, and exceed your expectations, in the coming year.
We Are Helping Customers Across the Globe Succeed.
About Swetha Thangellapally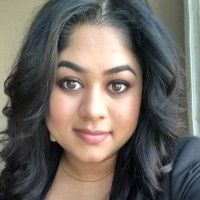 Swetha Thangellapally, a senior product marketing manager at Automation Anywhere, is responsible for developing and implementing strategic cross-channel campaigns.
Subscribe via Email
View All Posts
LinkedIn