Blog
Improve the Agent Desktop with Automation
October 29, 2021
4 Minute Read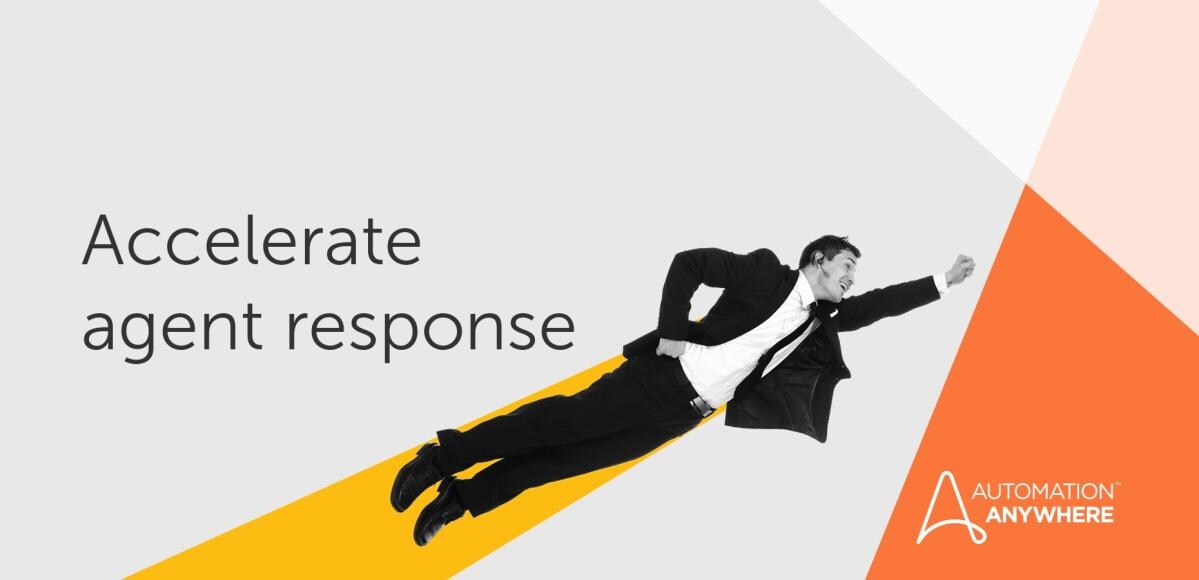 With the advent of the pandemic, more people started shopping and conducting business online from the comfort and safety of their homes. That shift has increased the importance of contact centers as the new face of business. They have become the first line of services and, sometimes, the only interaction a customer has with a business, elevating the center's role in retaining customers and growing revenue.
Contact center traffic has increased—by as much as 300%—taxing contact center capabilities, especially with customer service agents working from home. Even before the pandemic, contact centers with legacy, disconnected systems, and manual processing solutions were challenged to stay competitive.
Typically, agents in centers with a legacy infrastructure don't have a 360˚ view of the customer landscape. In other words, they spend extensive time and effort locating and bringing up on their computer screen customer information from multiple applications or processing the customer request into multiple applications.
 
Affecting response
Time is wasted filling in the knowledge gaps to support customers—precious minutes during a live call with a customer. Errors can be made in manually processing the request, which can also slow down the response.
In the end, customers can be on hold for many minutes, waiting for a request to be handled. Or they might be asked to call back. In both cases, that can mean a bad experience for customers and agents—impacting contact center key performance indicators (KPIs) such as average handle time (AHT) and customer satisfaction (CSAT), which affect the success of the business.
The pandemic has made the situation even more challenging with increased requests to process, and dissatisfied customers when hold times drag on. To keep up, many contact centers are exploring or employing an automation solution .
 
Tremendous potential
Automation has the potential to reduce AHT and errors and improve customer and agent satisfaction. It can automate, accelerate, and streamline the process and provide the desired single, 360˚ view of customer information for faster, accurate response.
According to Forrester, intelligent automation, combining Robotic Process Automation and artificial intelligence (AI), is at the heart of megatrends in the contact center industry. "AI and automation will take over repetitive agent tasks and autonomously interact with customers, allowing agents to handle complex interactions that require empathy and personalization"—to focus more on the customer conversation.
And in Forrester's view, even complex interactions will benefit from intelligent automation. "As self-service and automation increasingly handle repetitive work, agent interactions become escalation points for more complex issues…Modern agent desktops will evolve to handle [the] complex work."
 
What's needed to succeed
To achieve that level of performance, contact centers must choose wisely when selecting an automation solution. If the solution that powers the agents doesn't connect to all systems and applications—legacy and modern—across a contact center, the agents are limited in what they can do.
Most agent desktop solutions on the market are API-based and by design cannot connect to all systems and applications. They restrict the agent's view and ability to quickly access and update customer information. They're unable to orchestrate multi-step request processes and often require lots of time and money to build integrations to offer that capability.
 
Making the connections
One solution that brings everything together is the Automation 360™ cloud-native intelligent automation platform with our digital assistant, AARI™. An intuitive interface, AARI simplifies the agent experience and accelerates the processing of customer requests. It automatically gathers and displays customer information from multiple legacy and modern systems on an agent's screen so that the agent can focus on the customer conversation with no break in service. AARI can:
Orchestrate a multi-step process with collaboration across multiple teams or hierarchical levels
Be used to guide agents—what to communicate to customers and what steps to take
Automate all the actions that the agent must take in the underlying systems of record, eliminating human errors.
AARI can be embedded in current agent desktop solutions and enhance them to be a true 360˚ solution or AARI can be used as a single pane of glass—offering a 360˚ view on its own—simplifying the agent experience.
As a modern agent desktop solution, Automation 360 and AARI can help contact centers overcome their challenges and deliver the responsive, quality service today's customers expect.
 
Modernize Your Contact Center.
About Anshul Mohan