Blog
Intelligent Automation Is Here. But Are You Ready for It?
September 17, 2020
3 Minute Read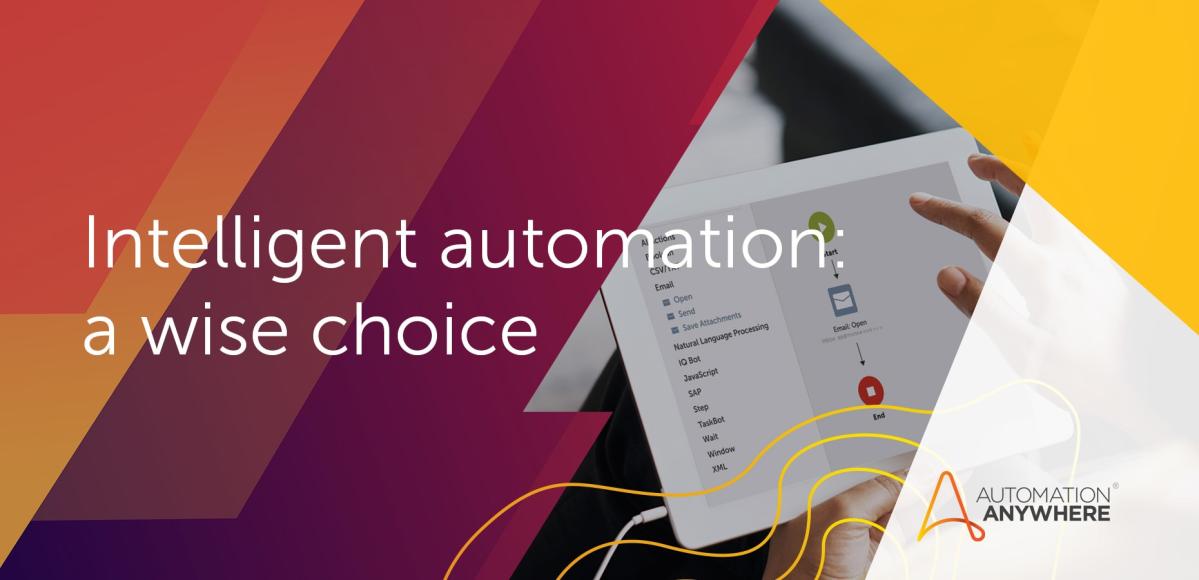 Digital elements are disrupting the status quo for businesses from a supply and demand side. Automation in particular is becoming ubiquitous and key to speedy digitization.
One of the most potent levers of transformation today is intelligent automation (IA). Artificial intelligence (AI), combined with Robotic Process Automation (RPA) and analytics, enables organizations to adapt to the new normal quicker while bringing other key benefits, including cost, speed, improved accuracy, and enhanced customer experience.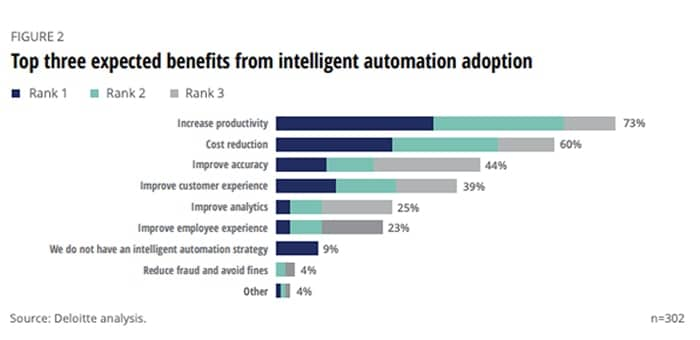 Consider these IA trends and their impact on the workforce of the future:

Trend 1: Making automation easier and faster
IA solutions provide capabilities and features that will help accelerate automation deployment through pre-built and pre-trained customized solutions for use cases. These role-based Digital Workers will include all the components needed for automating specific processes within business functions — for example, AP bots for finance or employee onboarding bots for HR —and industries, for example, performing know your customer (KYC) checks in financial institutions. This will speed deployment to get results faster and reduce project overrun and overhead costs.

Trend 2:  Developing the digital muscle
Knowledge workers will become bot experts or subject-matter experts (SMEs), with more interactions between domain experts, technical support, and stakeholders. IA is the key enabler of digital scale, helping organizations achieve the rapid pace of digital transformation across tax, legal, marketing, finance, human resources, technology, and line-of-business operations.

Trend 3: Mainstreaming intelligence for automation
The market for automation technologies such as RPA is growing at 20% per year and is likely to reach $5 billion by 2024. Many organizations have adopted RPA to automate repetitive rule-based processes. They are now seeking to scale these solutions and make them smarter by integrating AI capabilities.




The enterprise automation journey to date
Most enterprises have legacy systems that are not easy to integrate. This requires an employee to log in to different systems to pull or enter data manually. Yet, the adoption of RPA over the last few years has enabled organizations to automate some of these transactional tasks that improve the speed and predictability of business processes.
Data that is mostly unstructured is still being manually processed in many enterprises. KYC and AP are common examples of these types of processes. Automation solutions can help by extracting key information from documents. But the complexity involved in setting up these solutions combined with the variability of documents have resulted in poor ROI in the past. Yet, there are intelligent document solutions on the market today that can help solve that issue, providing a way to extract data from complex documents using AI-based document understanding.
To take advantage of such solutions, many companies must first overcome their challenges.

Mitigating IA adoption challenges by instituting best practices
A variety of reasons exist why enterprises face difficulty on the road to IA adoption. Those reasons include:
Lack of process understanding and standardization
Shortage of skills and knowledge
Inability to identify opportunities and build an automation pipeline
Issues with organizational change management
Lack of tools that enable end-to-end automation and orchestration of AI
Smoothing the road can include best practices such as developing a strategy and roadmap in advance, with the right tools and expectations. Consider process optimization before automating and making the right process choices for automation with process discovery. Boost training. Treat IA as a change program. Manage expectations around time and effort. Those are just a few best practices.

Choose wisely
Intelligent automation technologies are adopted across enterprises at an increasing pace, bringing in significant cost savings and efficiency improvements. To make the most of the IA potential for your enterprise, choose your tools wisely and scope your projects well before you start.
Accelerate Your Move to Intelligent Automation.