Blog
Insights from Imagine Digital
June 16, 2020
4 Minute Read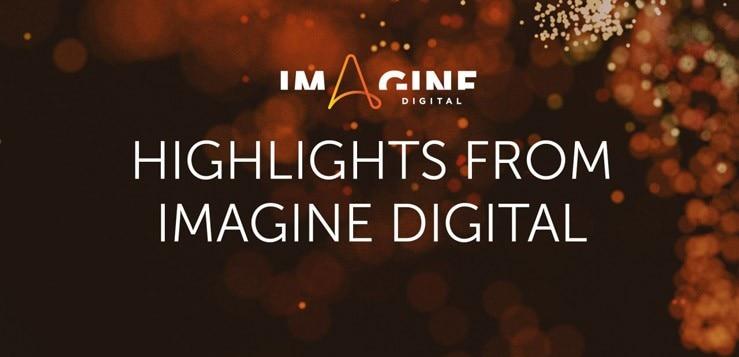 This year, Automation Anywhere decided to take Imagine, our flagship RPA and AI event, online. In the beginning, we wondered whether we could even come close to capturing the excitement of our live Imagine experiences in a virtual environment. And while it certainly wasn't an identical experience, it was amazing in different ways.
We discovered that while an online event cannot replicate the energy and wonder of being together in a large theater-like setting, the digital realm removed a barrier to attendance. Over the course of three days, tens of thousands of Automation Anywhere customers, partners, and RPA practitioners across all time zones tuned in from the comfort of their homes to participate in more than 60 sessions, delivered by remarkable CEOs, noted analysts, bestselling authors, Automation Anywhere executives and product gurus, and our most elite trainers.
Keynotes
While there were dozens of well-attended, compelling sessions, the keynotes were among the most memorable. World-class speakers, augmented by energetic music and impressive animated graphics, shared exciting and impactful details about their RPA journeys.
Zak Brown, CEO of McLaren, revealed how the legendary Formula One racing organization is leveraging RPA to give them a competitive advantage – as a racing team and as a business.
Bestselling author and Salesforce Global Innovation Evangelist Brian Solis discussed the importance of the human factor in the automation equation. He talked about what he calls the "novel economy" and how humanity will be at its core.
VMware CIO and Chief Digital Transformation Officer Bask Iyer shared his analysis of the state of automation and AI, as well as his predictions for the future – with his impressive guitar collection in the background.
Infosys BPM CEO Anantha Radhakrishnan analyzed the role of people in amplifying the business value of automation.
Three noted analysts — Cathy Tornbohm, distinguished VP analyst for Gartner, Phil Fersht, CEO and chief analyst of HFS Research, and J.P. Gownder, VP and principal analyst at Forrester — provided their balanced and unvarnished insights on intelligent automation, organizational fitness for hyper-automation, and common myths and misunderstandings about RPA.
Several Automation Anywhere executives, including CEO and Co-founder Mihir Shukla, EVP and Fellow Abhijit Kakhandiki, and Chief Marketing Officer Riadh Dridi, shared their perspectives on the role of intelligent automation in driving business value and resiliency in the post-COVID-19 world. 
Automation Anywhere CIO Yousuf Khan joined Veracode Founder, CTO & CISO Chris Wysopal, to discuss the need to dramatically amp up application security as companies advance their intelligent automation initiatives.
Dozens of on-demand breakouts sessions
In addition to the keynotes, Imagine Digital featured 20+ customer breakout sessions, eight product-focused sessions, and a technical track with a guided, hands-on lab. Rounding out the program were three "Ask the Experts" Q&A sessions, a panel showcasing a group of young achievers discussing their visions for the future of work, several sponsored sessions, and the announcement of the winners of our Automation Anywhere "Combat COVID-19 with a Digital Workforce" Botathon.
Because there were far too many great sessions to attend in three days, we're pleased to say that Imagine Digital will remain online as a perennial resource. You can experience on demand, at your convenience. We hope you will find it valuable and enjoyable.
This inaugural Imagine Digital has lived up to our expectations and seemingly to those of our attendees. And it was "an experience" in its own right. Most importantly, unlike a physical event where you pack up your tent and move to the next city, Imagine Digital will endure, build, always remain fresh, and be an on-going source of valuable information for months. In this regard, it's hard to argue that even when people are again free to attend physical events, virtual events may find new meaning in a post-pandemic world.
Discover What Automation Can Do for You and Your Business.
About Gary Conway