Blog
Industry Report: Process Discovery Drives Automation ROI
November 24, 2020
3 Minute Read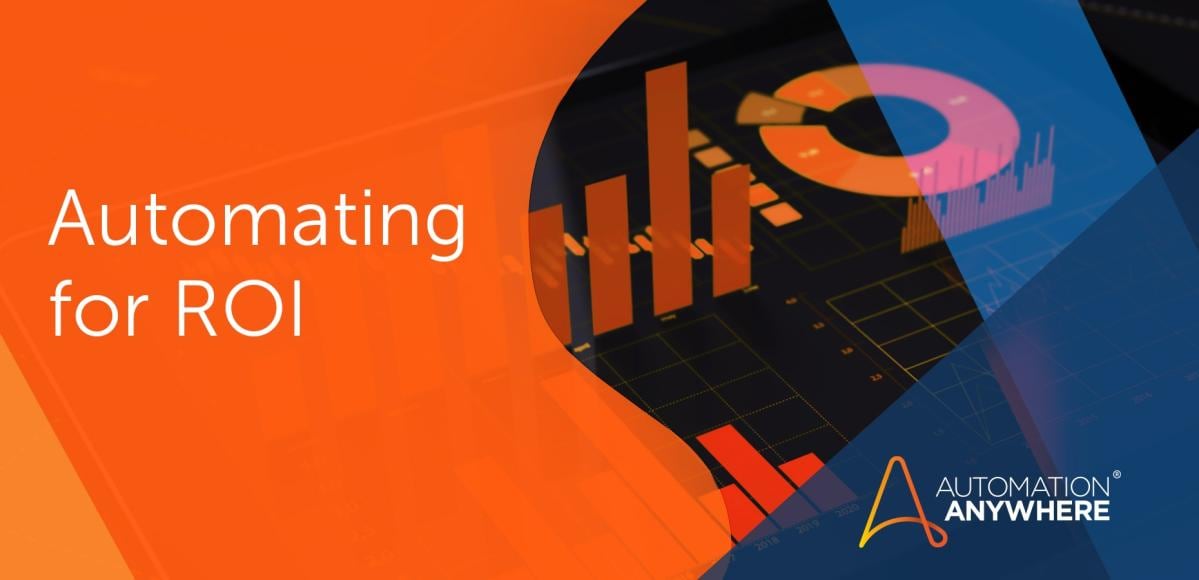 Earlier this year, we partnered with Shared Services and Outsourcing Network (SSON) to develop a report on how process discovery helps optimize return on investment (ROI) for automation. Here are the key findings from the report.
The SSON survey confirms that one of the biggest pitfalls to successful automation initiatives lies in the process selection—or in selecting unfit processes, to be precise. The chart from the survey below shows that 31% of responders identify "wrong process selection" as a reason for automation challenges. This ultimately creates a barrier to scaling automation across an enterprise and limits the potential benefits.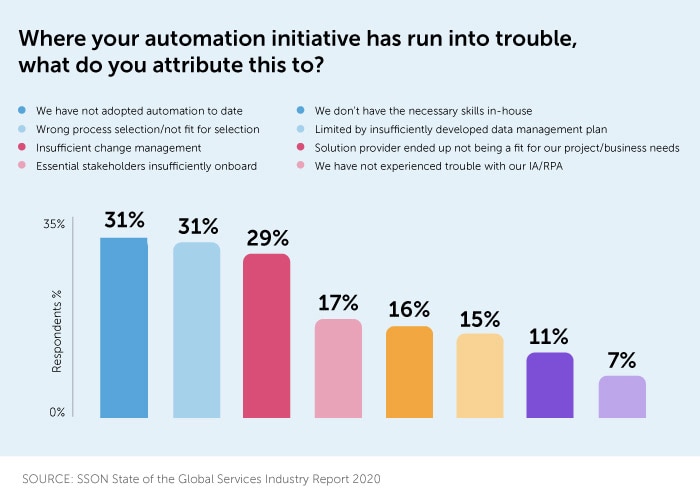 As we have discussed in one of the previous blogs, there are different ways to approach this challenge, including process mining and process discovery, or how it is also called: task mining. Yet, the SSON report concludes that integrated automated process discovery has a more significant impact on ROI because it leads to:
Increased speed of automation due to faster deployment;
Broader process selection since process discovery captures virtually any process requiring user interactions;
Hyperautomation, that is, bots building bots in an ever-accelerating chain.
Consider each point in detail.  

Faster automation
Traditional manual process discovery and documentation are based on user interviews, which can take from weeks to months—which can amount to 70% of an entire automation project's time and efforts.
SSON report states, "Today, modern automation solutions enable the entire process flow to be automatically recorded and documented by the business user; process analysts then review these recordings to identify automation opportunities, and RPA experts build the relevant required bots. The entire process of identification and deployment is combined in a seamlessly integrated solution."
This integrated approach ensures faster results, not just compared to manual discovery but also to traditional, log-based process mining.
 
Broader automation
Due to limited resources, you always need to optimize and limit something you do manually. For example, if you need to assess the quality of 1000 samples manually, would you test all of them individually? Probably not. Instead, you'd apply statistical methods to calculate the minimum number of pieces you need to validate so that you can confirm the quality with the required confidence. Yet, if you can automate the testing, you can test all 1000 samples, leaving no chance of error.
Automated discovery solutions "incorporate process discovery capabilities that both identify optimal opportunities and automatically prioritize them based on their ROI." They can assess all user activities and identify almost all automation opportunities, not only the most critical ones.

Hyperautomation
Process discovery, combined with RPA, allows us to connect the identification and implementation of automation opportunities. As the SSON report states, "Intelligent automation is able to identify its own opportunities and design the necessary solutions. This evolution builds on key advances in AI [artificial intelligence] and ML [machine learning] that drive more intelligent identification of new possibilities for automation and deployment. As a result, we see a future of automation building on automation, building on automation."
This launches a cycle of continuous automation, where the system helps assess the previous automation results and then initiates and implements the next level of automation, leading to further operational excellence.
Overall, the main lesson from the SSON report's findings is that while manual process discovery remains the top issue limiting the digital transformation, there are effective tools available that help to address this challenge.
Let Discovery Bot Help Select the Right Processes.
About Semyon Sergunin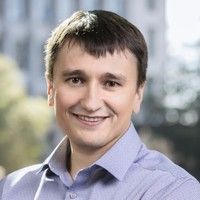 With a background in software development, B2B marketing, and sales, Semyon Sergunin has worked in automation technology for more than 15 years. He drives the global adoption of intelligent automation solutions, including IQ Bot and Discovery Bot.
Subscribe via Email
View All Posts
LinkedIn