Blog
Automating the Healthcare Revenue Cycle
March 4, 2021
5 Minute Read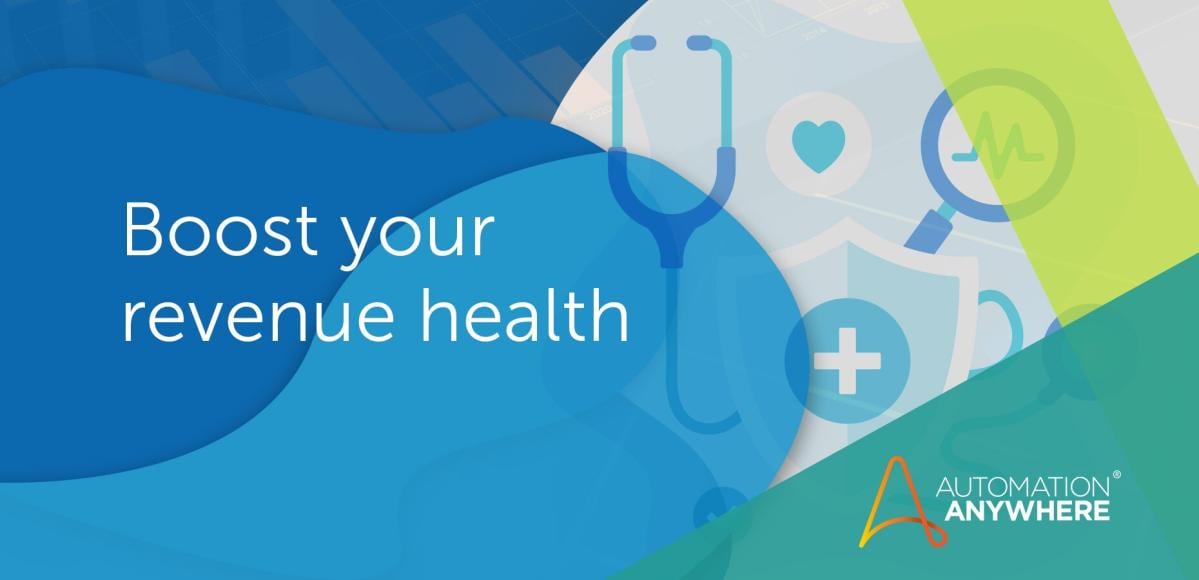 In healthcare organizations, the revenue cycle is a broad set of activities that track and capture revenues associated with providing services to patients from the initial encounter until the final payment of the balance. The revenue cycle encompasses many areas, including patient pre-registration, registration, eligibility verification, clinical visit and documentation, prior authorization, superbill creation, claim coding, medical billing, denials management, AR management, payment posting, statement preparation, and collections.
Each of these areas includes many tasks that are often performed manually by multiple employees such as interpreting incoming forms, accessing multiple data sources, verification and reconciliation, transferring data between disparate systems, and generating reports, notifications, and alerts. Manual processes are labor-intensive, expensive, slow, and subject to error.
Recent industry disruptions have given new impetus to implementing automation as part of digital transformation. One study has estimated that with a moderate surge in COVID-19 cases, a typical 1,000-bed hospital will suffer a 50% revenue loss. The pandemic has delayed elective procedures and needed medical care, as well as caused job losses. An estimated 27 million Americans may lose employer-sponsored health insurance.
With an uncertain forecast over the next few years, healthcare organizations have urgently prioritized automating manual, low-value work. The goals are to free up employees for higher-value work and to inject needed scalability into critical processes such as the revenue cycle.

Handling tasks without humans
Revenue cycle processes can generally be divided into robotic-like tasks that are performed based on rules without much human decision-making and those that require a greater level of human decision-making and judgment.
Tasks that don't require much human intervention can be automated using unattended automation. Software robots (bots) follow clearly defined rules to carry out tasks without supervision. They can operate 24/7/365, exceed human speeds, and achieve up to 100% accuracy. A trigger might be an email arriving in a certain inbox. Bots can scan structured documents, verify data by accessing databases, process or transfer the data, and file reports, relieving employees of repetitive, tedious, low-value work.
Take the example of the patient preregistration process before a visit or encounter. Patients may be directed to an online portal where they are asked to fill in a preregistration form. The forms may be submitted to the healthcare provider anytime day or night. An unattended bot can receive those forms around the clock, detect and fill in gaps by accessing databases, match the information to existing records, flag exceptions, add documented ongoing issues, verify coverage, and so on, all before employees arrive in the morning. This efficiency through automation saves time and increases throughput.

Tasks requiring human decision-making
For tasks and workflows that do require more human decision-making, attended automation can be the answer. Attended automation provides a set of automations that can be accessed by an employee as needed for specific situations as they arise. The portfolio of automations can be considered digital workers with a wide repertoire of capabilities that expand that employee's performance and productivity.
A good example is the contact center, a function that has expanded tremendously with the pandemic. In this context, an agent who deals with myriad situations and requests must first understand the patient's needs and priorities before deciding on the best course of action. Uniquely human skills are required such as questioning, insight, judgment, problem-solving, and empathy. But these take time, and the agent is often distracted by data entry and retrieval. Understandably, a common consumer complaint is that agents are rude and abrupt.
Bots can help maximize the time an agent has to understand the patient, decide the best action, and convey to the patient a sense of attention and care. As triggered by the agent, the bots can retrieve data quickly, and based on rules, send an invoice or statement, issue a refund, triage and initiate an appointment process, and do many other tasks that would have otherwise diverted the agent's attention away from the patient. The patient benefits from a smooth experience with an attentive, responsive, caring agent who addresses their needs in a timely manner.

Benefiting a new revenue stream 
If there is a silver lining to the pandemic, healthcare organizations may have discovered a new revenue stream. In 2019, only 11% of Americans used telemedicine. Today, telemedicine is common, and 76% of Americans want it to be the new norm. One analyst firm has estimated that $250 billion in healthcare services could be virtualized, or about 20% of all healthcare services.
The challenge for healthcare organizations is that telemedicine, though it resembles the typical traditional revenue cycle, introduces some new complications:
Payment for televisits was expanded through temporary emergency reimbursement programs by federal and private payers. Yet, it is still unclear how payers will reimburse telemedicine for physicians and other providers going forward.
Community standards of care have not been firmly established for telemedicine. What conditions should be, or should not be, diagnosed or treated through virtual visits? What kinds of remote equipment are acceptable? Are there best practices that can be defended in court? It will take time to solidify standards through experience and consensus.
Telemedicine's impact on demand and cost of services is still unclear. Patients want it, but will the ease and convenience of televisits increase and change the nature of demand? As the care model morphs, both providers and payers will need to revise their financial models and forecasts.
Automation can enable the rapid setup and configuration of telemedicine encounters for practitioners who are unfamiliar with the technology. Automation can also provide physicians with digital assistants for common tasks such as pulling up databases, accessing remote sensor data, and scheduling follow-up appointments.
Effective revenue cycle management is the lifeblood of successful healthcare organizations. In today's evolving environment, optimizing the revenue cycle requires forward-thinking, creativity, leadership, proactive planning and intervention, and performance measures. Automation's many benefits can bring early wins and help power the journey to a more adaptive, flexible, and higher-performing revenue model.
Your Journey Begins Here.
About Automation Anywhere Staff