Blog
6 Steps to Deliver Virtuous Value Through RPA in Manufacturing
January 14, 2020
4 Minute Read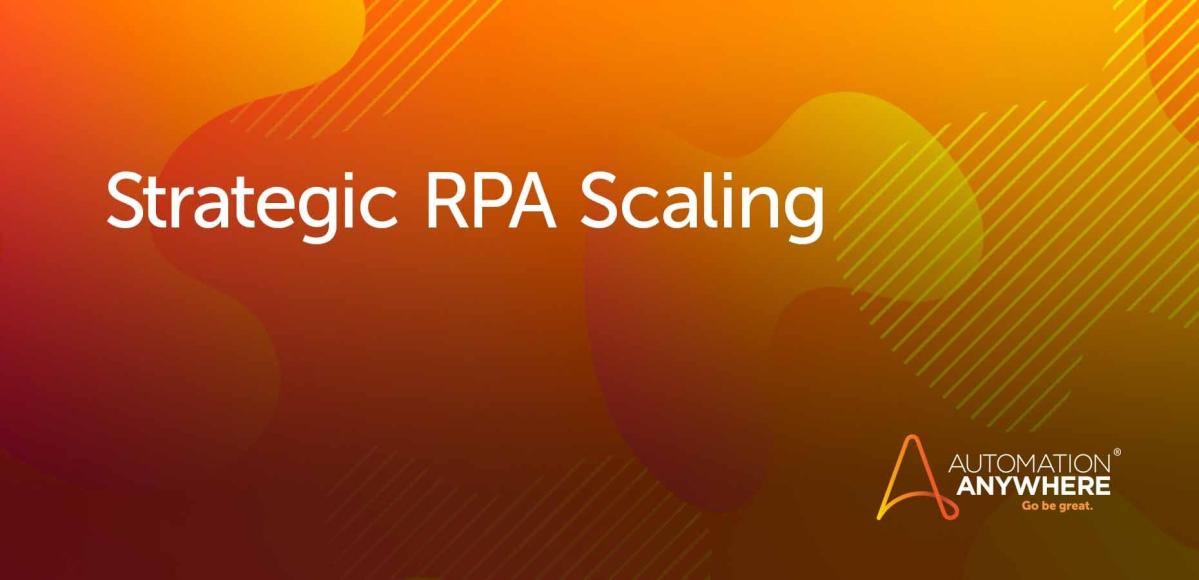 Robotic Process Automation (RPA) technology is redefining how businesses are run across industries globally. As the manufacturing industry endures consecutive months of slowdown, RPA becomes a must-have innovation for manufacturing. It has the potential to deliver business growth and profitability improvements at less risk exposure and accelerated time to value.
In its basic form, RPA allows you to automate thousands of business transactions in an end-to-end business process. Intelligent RPA technology allows you to reimagine your workforce with attended automation delivered by a Digital Workforce that works hand in glove with your human workforce.
Digital Workers, when configured correctly, don't make mistakes or necessitate a change in your business processes or applications. You simply configure them to perform repetitive transactions on a set schedule or an event trigger in your environment.
Greater business value from RPA comes from strategically implementing it at enterprise scale. It calls for including RPA in your digital transformation roadmap. Let's discuss six key components of a successful RPA blueprint:
1. Strategize for the enterprise
Like any other digital transformation, RPA is a journey. It needs to be planned well — especially in manufacturing, as its value chain is made up of complex and intertwined business processes. It's important to lay out an RPA blueprint at an enterprise level.
Determine the potential of RPA across the business. A cross-functional strategy team should define the objectives, strategy, and timeline of your RPA adoption. What does RPA mean to different business functions? What is your end state? How will you know when you get there? This step should give you a high-level roadmap with an implementation strategy.
2. Form a core task force
You'll need a joint implementation task force of business and IT stakeholders. This will ensure the right business processes are picked up for implementation, as well as the right technology to support them. The core team will drive adoption, manage governance, and report successes. It should create excitement and propel engagement across the organization.
3. Select the right platform for your business
Not all automation platforms are made the same. In order to deliver value to the enterprise, your RPA implementation should start quickly and scale rapidly. Consider the following:
A fully cloud-native platform such as Automation Anywhere Enterprise A2019 allows you to start automation at zero footprint, integrates well with your cloud-native and on-premises applications, and delivers your first automation in a matter of weeks. The cloud-native architecture allows you to scale and manage loads effortlessly.
In order to scale fast, Enterprise A2019 enables democratization of automation through an intuitive platform that's easy for both business analysts and business users to use.
Your core task force would love the Control Room, as it allows them to manage the automation lifecycle and scale bots up and down based on business need.
Most importantly, your platform should:

Deliver intelligence through artificial intelligence (AI). Enterprise A2019 has a built-in AI engine that digitizes dark data, helps bots improve over time, and enables decision-making in a process via fuzzy logic.
Deliver business insights. The Automation Anywhere RPA platform is able to ingest data as its bots execute a series of business transactions. You can choose the insights you want from a business process while configuring bots. As a result, you'll get automatic business and process insights in real time. Think about all the reports for your accounts payable/accounts receivable, supply chain, and warranty processes delivered to you by bots as they execute transactions.
Integrate well with process mining and governance platforms to enable an end-to-end, platform-based RPA transformation.
4. Define what constitutes automation success
RPA deployment is an ongoing process that covers strategy, automation, bot development, infrastructure, governance, and metrics. It's important to spend time determining the metrics you'd like to monitor, as well as how you'll measure them.
If you can't gauge and monitor your return on investment, you'll never realize the true value of your automation strategy.
5. Plan for change
Your business will run differently once you've implemented RPA. As a result, you'll need to keep tabs on how you'll manage the changes taking place within the business — namely through trainings, documentation, and employee engagement.
Have a change management plan ready to accompany bot development and deployment — and to ensure the highest effectiveness.
6. Employ continuous improvement (CI)
Successful RPA implementation should continuously improve over time. RPA helps this aspect by allowing you to allocate more human process experts on the job of CI since their "digital counterparts" will take care of day-to-day process execution.
You'll need a robust CI strategy to handle process workflow, platform technology, and the cross-functional nature of your business processes. The continuous improvement cycle will further improve your business processes and add to the business value RPA delivers, allowing you to enter a "virtuous value" cycle.
Streamline manufacturing operations
and increase profitability.
About Amit Limaye