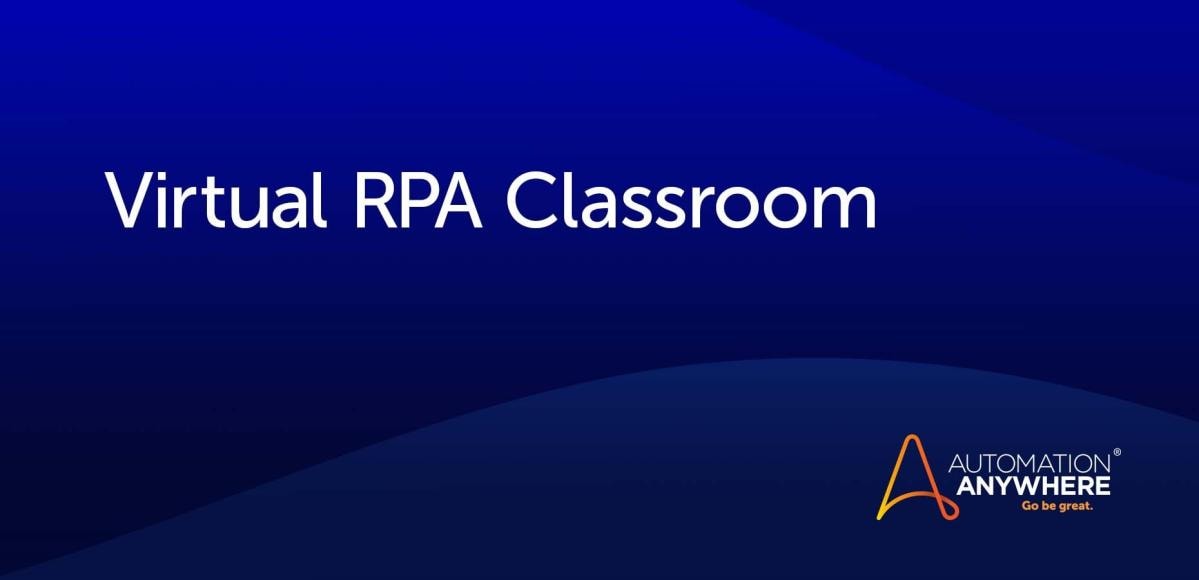 Necessary precautions amid the coronavirus (COVID-19) outbreak have changed the nature of our communities, society, and the ways we do business. They're also altering the ways we learn, as virtual learning becomes a primary focus for many — from schools and universities to how organizations train and develop their employees.
As our world has changed, so has Automation Anywhere University (AAU) with RPA courses to support learning, our customers, and partners as we all navigate these changes together. As companies strive to mitigate disruption and forge a new path forward in a COVID-19 world, automating repetitive business tasks and building a Digital Workforce using Robotic Process Automation (RPA) can help ensure business continuity.

One immediate step we've taken to ease the effects of the pandemic is to bring our global RPA training organization to you through virtual instructor-led trainings. Virtual instruction can provide a foundation and level of RPA expertise to get you and your team up to speed quickly to begin or expand the automation of business processes.

Less than two months ago, we shared insights on the benefits of in-person instructor-led trainings. Those insights haven't changed, but the classroom delivery mechanism has.
What is virtual instructor-led training?
As the phrase implies, virtual instructor-led training is not limited by geography or location. It offers both individuals and businesses the opportunity to learn RPA in an immersive, interactive setting with our expert trainers — which means you still benefit from the guidance of our trainers.
Not only does this give you accountability, but it can also give you peace of mind knowing that any questions you have about the material can be answered immediately by your instructor.
Open-enrollment virtual instructor-led training is available now for two classes: "Mastering Bots (Enterprise A2019) & IQ Bot Essentials" and the comprehensive "Advanced Developer/Solution Architect Workshop." These are the same in-depth classroom experiences led by expert RPA trainers to teach you how to build, deploy, and manage bots — no matter what part of the RPA journey your business is in: starting, accelerating, or scaling.
Become a bot builder & ensure business continuity
In the four-day "Mastering Bots & IQ Bot Essentials" training, you'll learn how to design and build an advanced Digital Workforce using Automation Anywhere Enterprise A2019 and artificial intelligence (AI)-powered Document Automation. You'll have ample opportunities to experience hands-on bot building and get feedback on your work from your instructor.
Limited to a small number of learners at a time, this course is separated into two three-hour sessions each day. It's recommended that learners complete the following prerequisite e-learning courses, which are available online for free and can be completed in just under seven hours: 
Hello A2019 Bot: Getting Started with Building Bots
Building Resilient Bots
Developing Bots for Scale
Unleash Your Intelligent Bots
Bots That Learn
Intelligent Document Processing (IDP) with IQ Bot
Once you finish this virtual instructor-led class, you'll be equipped to build your own bots to automate repetitive tasks and increase productivity.
Advance your RPA development skills
In the three-day "Advanced Developer/Solution Architect Workshop," you'll build on your RPA knowledge, gaining expertise to architect large-scale bot deployments with industry standards and best practices. You'll also take a deeper dive into the bot development lifecycle, architecture, and security of the Enterprise RPA platform, as well as some of the environments it supports, including Citrix, VMware, and the cloud.
To meet the requirements for this training, you'll need to have completed the Advanced RPA Professional certification, at least one year of RPA experience, and five years of industry experience.
This course is also limited to a small group of learners and is separated into two three-hour sessions each day. Upon class completion, you'll be able to identify and translate business requirements into detailed bot solution designs and build governance to successfully deliver end-to-end RPA process solutions.
Why Automation Anywhere University?
AAU is dedicated to ensuring that anyone who wants to learn RPA around the world can. We offer training and support to help learners from all backgrounds, levels, and cultures prepare for the future of work.

Automation Anywhere University offers both open-enrollment public training and customized private training for organizations. The AAU virtual instructor-led classes are open for registration across multiple regions and time zones. Or, contact us if you'd like more information about scheduling private virtual instructor-led trainings tailored to your schedule, training needs, and business objectives.
You'll also find a comprehensive online library of free, self-paced courses to help you upskill, reskill and gain expertise in building software bots. In addition, AAU has extended free training for our Advanced RPA Professional certification program through June 30, 2020.
Now is the perfect time to learn to develop bots and spark a race for new solutions that automate and streamline healthcare and other business processes — and help fight COVID-19.
Start your RPA transformation with training.
About Mary Beth Perrot