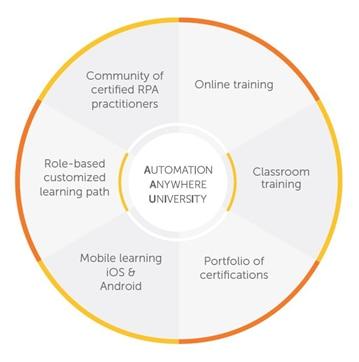 Learning a new technology is no small feat. That's why at Automation Anywhere, we want to make sure everyone can learn about Robotic Process Automation (RPA) — not just what it is, but what it can do and how you can use it.
RPA is the key that enables faster processes and improved productivity for any organization, while freeing people to hone their skills and focus on tasks that require human ingenuity. Because RPA is so important, we launched courses and RPA certifications at Automation Anywhere University (AAU) to help anyone learn about RPA, regardless of age, skill level, or profession.
What is Automation Anywhere University?
Automation Anywhere University is your gateway to the future of work. It's a complete RPA learning ecosystem that includes free online courses, role-based learning trails, and three levels of RPA certifications. In addition, AAU offers instructor-led training sessions and collaborates with training partners and academic institutions across the globe to develop RPA curriculum.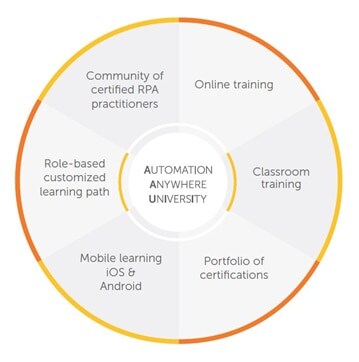 For organizations that already understand what RPA is or have begun implementing it, AAU provides detailed online courses for every product in the Automation Anywhere portfolio. You can skip the introductory courses and go straight to the more complex topics, if that's what your organization needs.
Courses are available to explore advanced subject matter, such as how to establish a center of excellence (CoE) for your enterprise or how to better integrate RPA with existing applications, such as SAP or Exchange Web Services (EWS).
And, naturally, if you need a broad explanation of what RPA is, or how artificial intelligence (AI) is used with automation, AAU has you covered with our beginner materials.
Many courses at AAU are available in English, Japanese, and Spanish. We also have courses in Portuguese, French, German, Simplified Chinese, and Korean to help ensure AAU content is accessible to everyone.
Academic alliance and authorized training partners
AAU is much more than a place to take RPA courses. An important focal point is the AAU Academic Alliance program, which enables academic institutions to create and deliver impactful RPA curricula for students to learn in-demand skills or pursue as a course of study. The alliance also offers free "Train the Trainer" sessions, support, and content for faculty to integrate RPA as part of the core curriculum.
In partnership with some of the largest training companies and platform providers around the world — including LinkedIn, Learning Tree International, Hitachi, Udemy, edureka, Wiley, and more — AAU equips them with the tools and knowledge to teach RPA technology while implementing their own educational best practices.
And that means you can learn RPA online or in person at a training partner near you. Thanks to the AAU Academic Alliance, universities, community colleges, and other extended learning programs are able to prepare a new generation of students for the next digital revolution.
In addition, we host local events and training sessions across the globe, as well as one-day workshops and live webinars. One of the best attended events is our Build-a-Bot session, where attendees can learn to build an RPA software bot in minutes — with no programming experience required.
As the adoption of automation grows throughout the world, it will undoubtedly change the way we work and live. Automation Anywhere University makes it easy to learn the skills you'll need to succeed in the workforce of tomorrow.
About Mary Beth Perrot