Blog
IQ Bot: Again a Winner
April 23, 2021
4 Minute Read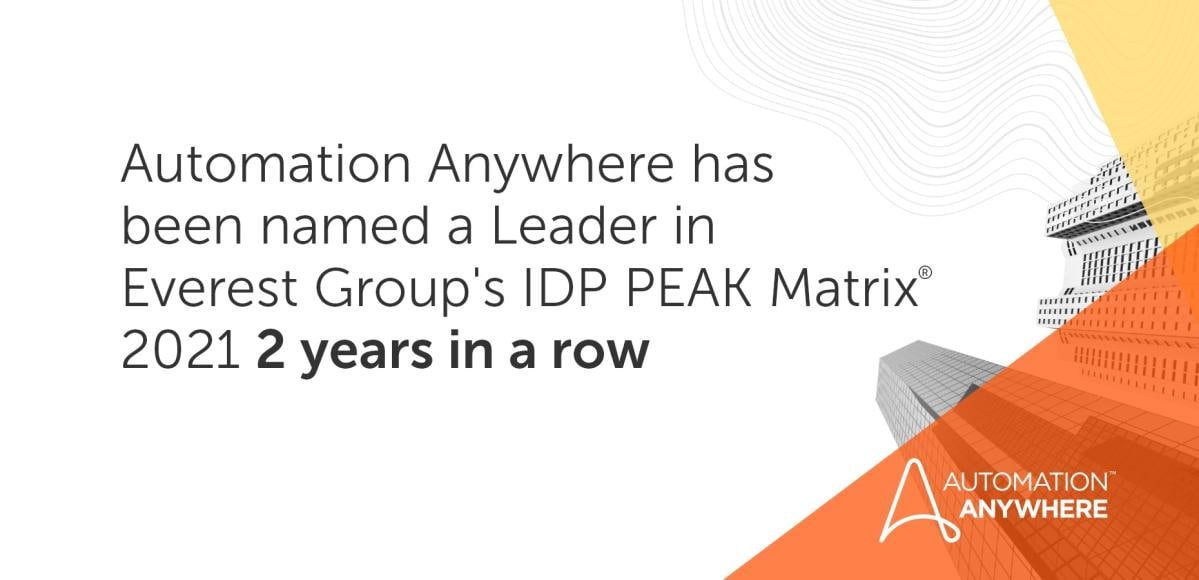 Intelligent document processing (IDP) has become a key component of intelligent automation. Organizations that are successfully and broadly automating understand that the vast majority of their data is unstructured or semi-structured and requires more than just traditional rule-based RPA. They require solutions that can adapt to their business needs.
And IQ Bot—our IDP solution—joins the leaders yet again!
As many of you know, IQ Bot is Automation Anywhere's AI-powered data extraction automation that works across many complex document types and a wide variety of formats. It has just been named a Leader in Everest Group's Intelligent Document Processing (IDP) Products PEAK Matrix® Assessment 2021—for the second consecutive year.
To say we are thrilled with this distinction is an understatement. We've worked hard to make this happen, and it is great to see our placement amongst many pure-play products out there.

An industry first—and still, an only
Document Automation is the first and only cloud-native IDP solution fully integrated with Robotic Process Automation (RPA). Built from the ground up to be a truly modern, cloud-centric application, it leverages machine learning (ML)—one of the most significant techniques of artificial intelligence (AI)—to automatically extract data from unstructured documents such as mortgage applications, insurance claims, patient forms, invoices, orders, financial statements, and inter-bank settlements. And it's part of our full-featured Automation 360 platform, which makes automation of all processes a breeze.
Indeed, IQ Bot is specifically designed for many business processes that today rely heavily on people to locate and then take a set of actions (pay an invoice, file a claim, take the next step in a mortgage process) on unstructured data manually. This considerably lightens the load of joyless labor that employees are forced to take on as part of their jobs, freeing them up for higher-value—and more interesting—work while simultaneously building their digital skills. And, of course, Document Automation does this 24 hours a day, making the lives of end customers better as well.

Our far-reaching vision
Award-winning IQ Bot is recognized as a Leader based on Everest Group's evaluation dimensions: vision & capability, and market impact.
Automation Anywhere's overall vision is to liberate humans from mundane, repetitive tasks, giving them more time and opportunity to use their full intellects and creativity to solve higher-order business challenges. Document Automation fulfills this vision—and its capabilities speak for themselves. With IQ Bot's help, we've had an enormous influence on the intelligent document processing and RPA markets as the benefits of an integrated platform—bringing together process discovery, automation, digitization, and analytics—are exercised by our markets and customers.

What can IQ Bot do for you?
IQ Bot offers more than 100 pre-trained document-processing use cases that enable your business users—from field workers to home appraisers, insurance adjusters to delivery workers—to automatically process complex, multi-page documents in minutes. Business users can easily leverage the technology and train it for new document types, providing an intuitive experience as they work with documents in their daily work lives.
And this doesn't just improve your workers' productivity statistics. They're happier as the dreariest and most error-prone aspects of their job are performed on their behalf. And since it's part of Automation 360—Automation Anywhere's unified cloud-native, AI-powered enterprise automation platform—the steps before and after can be automated as well driving other actions, including bringing in data or drive actions based on data.
According to the 2020 Retention report, more than 40 million employees left their jobs voluntarily last year. The total cost to employers like you? More than $630 million. "Job characteristics" was the No.1 reason for quitting, up 117% since 2013. The report also found that automating processes and freeing employees from dull tasks improves employee satisfaction, which reduces employee churn and turnover costs.

The thrill and the honor are deeply felt
We are truly honored to have—again—received this recognition from Everest Group and look forward to continuing to bring more innovations to accelerate intelligent automation deployment and drive customer success in the coming year.
Get a Custom Version of the Report.
About Prince Kohli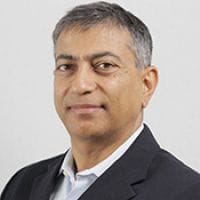 Prince Kohli serves as chief technology officer with experience building products and teams spanning cloud computing, enterprise software, network transport, systems, and security.
Subscribe via Email
View All Posts
LinkedIn