Get to automation ROI faster with a cloud-native architecture.
Privacy first
The only automation cloud with data on-premises option.
Faster time to value
Automate right away with no time lost to infrastructure or application set up.
Reliable
The cloud-native architecture ensures 99.9% uptime, all the time.
Shorter innovation runway
Build dozens of bots in the time typically spent setting up servers.
Regulatory readiness
Stay up to date with compliance requirements via hands-free automatic updates.
Designed for the business user
Web-based UI created for out-of-the-box ease of use.
Easy to set up
Nothing to provision or install. No infrastructure needed. Point, click, automate.
Easy to manage for IT
Free IT from installing RPA licenses. And server maintenance? None.
Slash costs by 80%.
The difference is true cloud-native architecture that minimizes costs across infrastructure, maintenance, security, and compliance. Plus, high availability/disaster recovery is included in the cloud.
Cost efficient infrastructure
Minimal investments in services and virtual machines (VMs). And zero time for setup means faster time to value.
Reduced expenses for security and compliance
Best-in-class compliance comes standard, near-zero InfoSec support needed.
Lowest maintenance costs
Deploy and upgrade at negligible cost compared to legacy solutions. Eliminate server maintenance and chargebacks.
Zero HA/DR investment
The cloud-native platform includes high availability and disaster recovery (HA/DR) as standard features, ensuring a 99.9% uptime.
Scale

Infrastructure

Security

Deployment flexibility
Three dimensions of scale
Scale up
Dynamic cloud scaling to accommodate business growth and volume.
Scale out
Automate across departments with a single extensible SaaS platform for both the front and back office.
Scale across
Empower every employee to automate with easy-to-add licenses, including for citizen developers and digital assistants.
Drive innovation effortlessly
Modern cloud-native architecture, zero infrastructure to set up means no guessing what infrastructure you need.

Dynamic capacity, with no server upkeep. Plus get automatic sizing and ongoing capacity monitoring.

Always up to date, hassle-free. Regular updates and continuous enhancements pushed automatically to all users.

Effortless innovation, built right in. Instant access to new automations keeps your organization moving fast and innovative.
The most secure cloud. Period.
Defense-in-depth, secure cloud operations

Identity and Access Management (IAM)

Data Encryption

Logging and Monitoring

Cloud Infrastructure Security

Application Security

Incident Response

Certified secure

ISO27001

SOC 1 & 2 Type 2

Transparency & Trust: Real-time cloud status and advanced notifications of updates and maintenance

High availability and resiliency

Global HA/DR
Multiple deployment options to meet your needs
Deploy with ease on the Automation Anywhere cloud platform or opt for on-premises and hybrid deployments, leveraging renowned cloud providers like AWS, GCP, or Azure.
Pure Cloud
Fully hosted and managed in the cloud. This is a 100% SaaS experience, with instant access to the complete platform, always up to date, secure, and with zero infrastructure to maintain.
On-Premises with updates
Fully hosted on your infrastructure with optional updates. Deploy entirely on-premises with control over receiving updates and new AI capabilities from the cloud.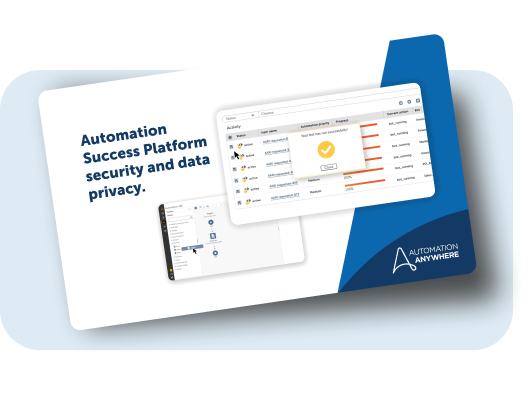 E-Book
Get all the details on the Automation Success Platform security and data privacy.
Learn how we are committed to achieving and maintaining the trust of our customers.
First-class results. Faster time to value.
See how enterprise automation strategies are taking flight with the Automation Success Platform.
Customer Story

The Automation Success Platform has helped us fulfill our mission by increasing our data processing capabilities and automate time-consuming manual tasks.
Russell Olsen, SVP of Innovation and Product Management at WebPT

Vapotherm does work that matters. With Automation Success Platform, Vapotherm now does work that matters...better.
Chris Ouimette, Business Systems Analyst, Vapotherm

Our members' financial health is our top priority. Automation Success Platform and Document Automation help us improve service, fight fraud and keep our members' money flowing.
Kevin Landel, Senior Vice President, Innovation and Payments Strategy
Discover the limitless potential of the Automation Success Platform.

VIDEO
Unrivaled Security and Scalability with Cloud-native Automation.
Watch Now

BLOG
Build for the Future: The Value of a True Cloud-Native Platform.
Learn more

BLOG
Power Up Your Digital Transformation: Automate in the Cloud.
Learn more