Blog
Power Up Your Digital Transformation: Automate in the Cloud
December 8, 2022
6 Minute Read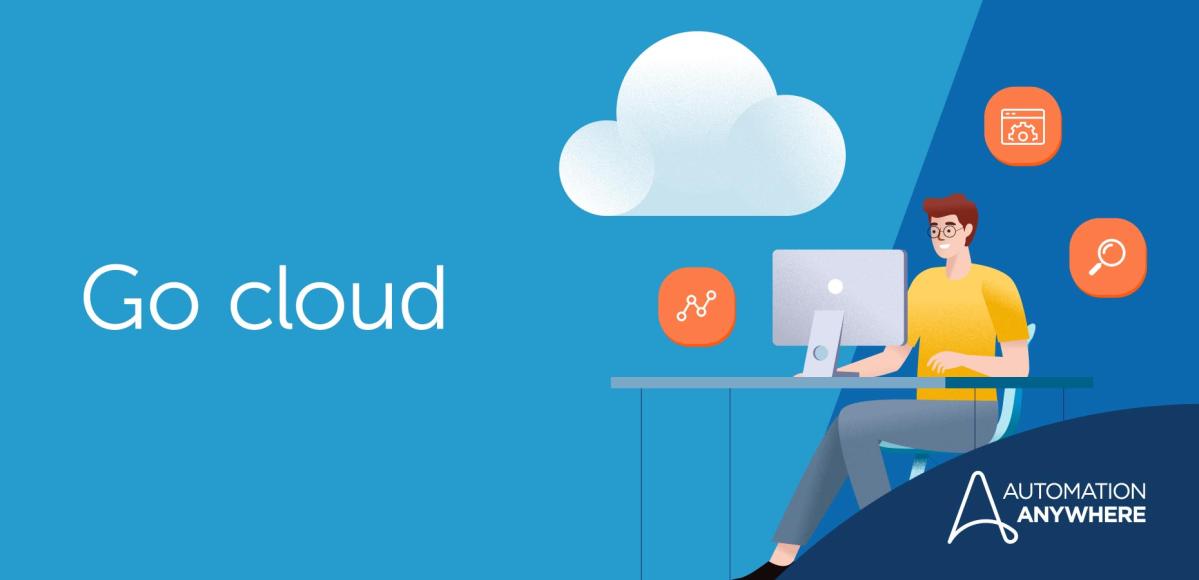 Across industries and the country, companies are faced with tremendous challenges when it comes to business continuity and staying competitive. Inflation is high. Supply chain issues and labor shortages continue.
Intelligent automation in the cloud can help businesses meet those challenges and more by automating tasks that have traditionally been handled manually, improving operations, filling in for talent gaps, and giving existing staff a better work environment.
Imagine everyone in every group within your organization saying goodbye to the manual, repetitive processes that slow them down. Instead, they could focus more on high-value projects. They could do more with less. Quickly. They could be more productive and efficient, with fewer errors to worry about—all adding up to significant savings in time, effort, and money for a more profitable and competitive organization—your organization. Intelligent automation in the cloud can offer you all that, right now.
According to Gartner, by 2025, over 95% of new digital workloads will be deployed on cloud-native platforms, up from 30% in 2021. Intelligent automation is also available as on-premises solutions. Even so, based on our Automation Now & Next report, 90% of industry leaders surveyed said they're moving from on-premises to cloud automation. 
So, why is cloud the preferred solution? 
To start, intelligent automation in the cloud removes a variety of obstacles that come with on-premises solutions.
No high upfront costs
Cloud vendors take care of solution hardware, upgrades, and scaling, as well as maintenance, so businesses can be up and running much faster than with on-premises solutions. With cloud, the time-to-value is short.
No delays
Cloud enables businesses to move fast and easily adapt to changes in the business landscape. Leading vendors offer the latest, most flexible technology without an on-premises legacy infrastructure that can lead to compatibility issues and slow down responses.
No localized access restrictions unless required
The cloud can be accessed from anywhere there's an internet connection, any time users want access, taking into consideration security protocols. On-premises solutions make it more difficult to get that level of access.
No running backups or ensuring compliance and security
With cloud, you don't have to run updates or installs. All that is handled in the background by your cloud vendor for continuous operation. The cloud also maintains business continuity in the event of a disruption in your area such as a natural disaster. Cloud solutions are designed and operated to meet the highest standards of security with multi-layered protection, including role-based access controls. 
No adoption obstacles in terms of the solution
A cloud solution democratizes access to applications and workplace systems. Many leading solutions offer low-code/no-code tools to further enhance democratization, encouraging citizen development.
Selecting the cloud solution that's best for you
You have many cloud solutions to choose from. So, what should you look for? Consider a cloud-native model that has products or applications designed specifically for the cloud to ensure the highest level of efficiency and compatibility.
It should include a microservices architecture with self-contained services that are connected to each other with APIs. That architecture can offer tremendous flexibility when updates are required. Only the area that needs to be updated is affected. The microservices architecture allows for faster, more secure development, testing, and deployment of features and capabilities than solutions without the architecture.
In addition, consider a solution that has low-code/no-code tools to enhance scaling.
Why choose Automation Anywhere
Our Automation Success Platform, featuring the cloud-native, end-to-end solution Automation 360™, offers all those advantages and more. As our customer, you can expect:
The highest level of reliability and security. We deliver greater than 99.9% availability, enterprise-class security standards, and compliance with major standards including ISO 27001, SOC1, SOC2, and HITRUST.
Innovation on your own terms. Our microservices architecture makes it possible to upgrade individual automation functionality, which you can adopt at your speed. This means that your automations can keep running across the entire platform no matter what happens with individual services. Four times a year we provide updates. With our new capabilities such as Seamless Updates, you can decide when to adopt the innovations and for which teams and users. Accessing the innovations without long upgrade cycles has been a strong selling point with our customers.
Shared experience. Whether you're scaling across a few 100 developers or 1000s of citizen developers, or 10s of thousands of business users, your users can leverage the same easy-to-use web experience, personalized for each group.
Elastic scale. We can help you make the most of the public cloud, including reaping the benefits of elastic scale—a technology that grows with your business needs.
Lower cost of ownership. With our cloud-native solution, you can significantly reduce your total cost of ownership by eliminating operational and infrastructure costs needed to develop, host, and maintain an environment. You can also reduce training costs with our easy-to-use interface, deployment costs with seamless updates on your terms, and licensing costs with bulk discounts, regardless of the deployment model you choose.
Flexibility. Some companies are not ready for the public cloud, and that's OK. We also support private cloud and on-premises deployments.
Food for thought
Cargill, a global food corporation that feeds more than 20% of the world's population on any given day, has been able to dramatically improve its operation with our cloud-native solution, achieving a saving of tens of thousands of hours and $18M over the years.
The solution has helped the company in three main areas.
Source to pay
Before, Cargill had 150,000 inactive vendors in its system, making it difficult for employees to quickly sort through the system to find the active vendors of choice. Automation Anywhere Digital Co-Workers, or software bots, automatically cleaned up the vendor data, saving the company $1.2M in related labor costs.
Supply chain order entry
Cargill has multiple order entry systems across the globe. At one time, processing orders was not standardized, including manual entry, slowing down work. Employing intelligent automation in the cloud resulted in orders being processed within minutes instead of hours.
Invoice processing
Broker and vendor invoices were processed manually, which took lots of time and was prone to errors. The speed and accuracy of intelligent automation resulted in 73,000 hours of employee time saved. 
Read about other success stories on our "Meet our Customers" page. And stay tuned for more blog articles on the benefits of cloud.
About Ken Ross