Blog
Build for the Future: The Value of a True Cloud-Native Platform
December 29, 2022
6 Minute Read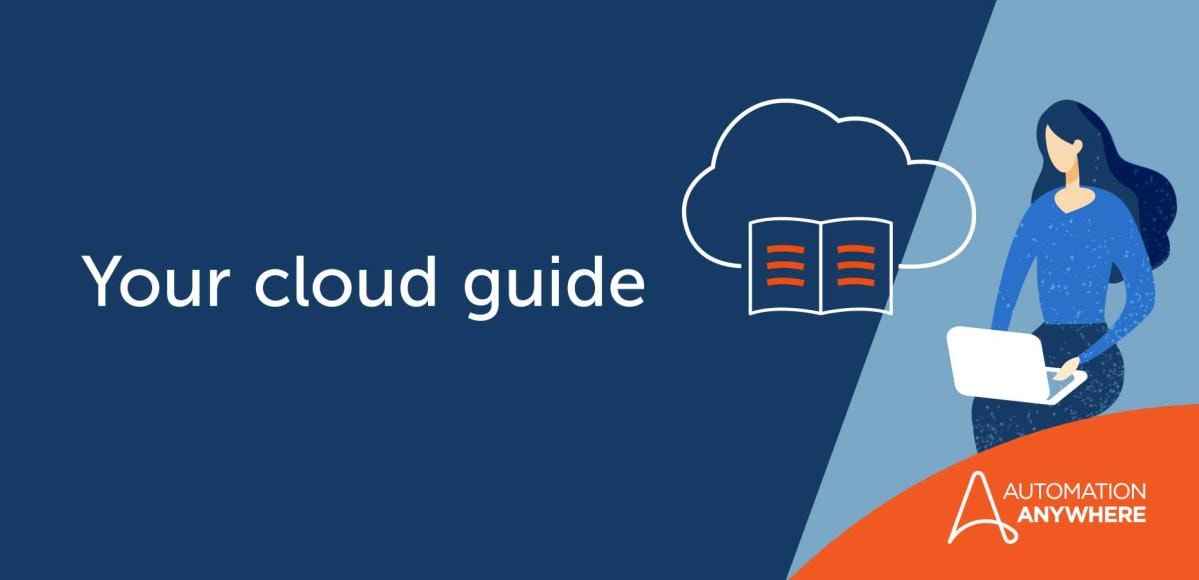 Surf the internet about intelligent automation platforms, and you'll have a long list to review. There are platforms deployed on the cloud and on-premises. Within the cloud category, you'll find many variations.
This article is about clarifying the choices and providing advice about cloud deployments. It's also about why selecting our cloud-native intelligent automation platform, Automation 360™, is a good way to get you where you want to go. 
Let's start with some cloud variations. There are "cloud-based" solutions that start with an existing product and are adapted to work like a cloud product. Unfortunately, they usually don't support the full capabilities of a product built for the cloud.
There is also "cloud-hosted," which means the product was originally developed for on-premises deployment and has been migrated onto cloud-based virtual machines to be accessible through a web browser. Cloud-hosted solutions are usually limited by their legacy architecture and cannot leverage the cloud for parts of development. 
And that brings me to what Automation Anywhere offers. We've built a cloud-native architecture to ensure our customers get the best automation platform for their needs. 
Defining cloud-native architecture

"Cloud-native" refers to an architecture designed from the ground up to leverage all the benefits of the cloud, including agility, scale, and cost-efficiency while staying secure and compliant. Several design elements make up a cloud-native solution, but three characteristics are key drivers of the benefits:
A microservices architecture
With this architecture, one big software application is broken up into smaller pieces. Each piece is responsible for doing a job. The pieces function independently, making complex product development more manageable and more efficient than with solutions that feature a monolithic architecture. Updates can be made separately to each section, ensuring minimal disruption and improving the quality of the platform.
Easier and faster deployment
The cloud-native design allows you to rapidly deploy and scale to thousands of developers to meet the changing needs of your business. Containers accelerate and enhance the security of the application and make it faster to deploy the system. Bots can be built and deployed within a matter of minutes. 
Tedious upgrade cycles across a multitude of systems can be complex, expensive, and time-consuming. With seamless updates, you get predictable, qualitative, and non-disruptive access to the latest innovations and enhancements.
With cloud, there are no capital or maintenance costs. Users always have the most current product with automatic updates. Setup is simple on the web without the need for physical infrastructure—virtually no maintenance is required. And scaling is quick and easy horizontally and vertically. To realize the full benefits of a cloud deployment, cloud-native architecture is a must.
OK, now you know why cloud-native is a better choice. And the next question is, "Why Automation 360?"
End-to-end benefits
Automation 360 is the only cloud-native end-to-end intelligent automation platform—for front office, back office, and every office, across industries. It's employed by top businesses worldwide, giving them the power to dramatically increase the number of tasks that can automate at a fraction of the time for processing and scaling, while eliminating errors.
A single, integrated platform, Automation 360 removes technology siloes to automate processes across all systems and applications, including SaaS and legacy applications. It's a low-code/no-code solution, making it possible for anyone to use it—from business users with little or no technical experience to professional developers.
Automation 360 offers equipment and maintenance savings, access anytime and anywhere there's internet access and easy scaling. It also has the cloud-native advantages of microservices architecture, containerized infrastructure, and CI/CD deployment framework.
Built on modern web technology
Automation 360 was developed with modern technologies such as Java, saving you from having to migrate from a legacy solution and deal with a platform rewrite in the future. Java was selected to offer the best security, APIs, scale, usability, and support.
Fast start, seamless experience
Automation 360 gives you the flexibility to build Digital Co-Workers, or software bots, by accessing all automation tools from a single URL. Online access makes it possible for users to start building bots within minutes without installing software. Bot developers and subject matter experts can easily collaborate on automation workflows with side-by-side code and graphical views.  
The platform's audit log and Bot Insight databases are built into the Automation 360 Control Room, making implementation easier, faster, and more affordable. Interactive in-application guidance helps users understand key features and walk through workflows from start to finish. This improves user familiarity, elevates the customer experience, and drives deeper in-application engagement. In addition, license and change management is easier as users only need to become familiar with a single platform.
Scale operationally with ease
Automation 360 is designed for high availability to simplify IT tasks while ensuring scale and stability. Its microservices architecture enables horizontal scaling by duplicating only the needed services. The results? Less infrastructure is required, development is faster, the total cost of ownership is lower, and the time to value is accelerated. Automation Anywhere takes care of disaster recovery, too, giving you peace of mind to automate and scale even the most mission-critical business processes.
Easy to maintain
IT can manage assets and resources with a web portal to discover, build, govern, and monitor automations. With Bot Agent, IT can remotely deploy all bots and upgrades for each user from a central location. Automation 360 provides a faster upgrade experience since each package is smaller and only applies to the component that needs modification. Microservices architecture also reduces the chances of surfacing indirect bugs throughout the platform. 
So how does the platform work in the business world? Here's a success story.
AccentCare cuts administrative overhead using Automation 360
AccentCare is a national leader in post-acute health care, operating in 31 US states. The company's small IT team was supporting a large clinical workforce that needed to improve efficiency and communication to serve more patients.
Automation 360 was chosen because the platform makes it possible for the IT team to nimbly scale and start quickly with no barriers. The platform is also well-suited for non-technical employees.
AccentCare now automatically alerts physicians to correspondence, leading to better patient care. And staff members are not burdened with administrative tasks of data entry, allowing them to spend more quality time with patients. With Automation 360, AccentCare has been able to automate 1,200 medical records daily with a cost savings of $100,000.
Your future is the cloud
Discover how to build your Digital Workforce with cloud-native Automation 360.
About Ken Ross