Blog
Top 5 Automation Use Cases for the Front Office
August 19, 2022
7 Minute Read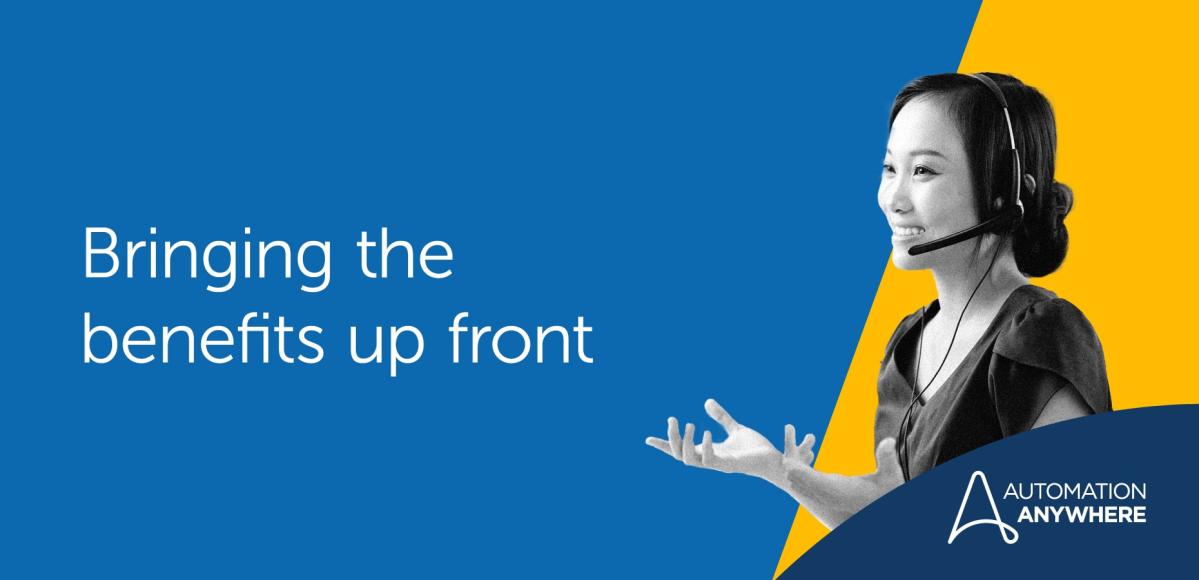 The front office represents the customer-facing roles of a company — sales, customer service, field marketing, and advisory service experts. Those teams are responsible for increasing demand, increasing revenue, marketing, and after-sales services. For example, in an investment bank, the front-office departments consist of sales, investment banking, private equity, equity research trading, and wealth management.
In hospitals, the work in the front office may vary by size of the workforce and the facility. Generally, it includes a reception desk to welcome and greet visitors and patients as they come in, registration services, information on where to go and the services available, and/or security staff where necessary.
The hospitality industry's front office acts as a communication liaison to all other departments, such as sales and marketing, controller, beverage, banquet, housekeeping, human resources, maintenance, and security.
Each department is uniquely linked with the front-office team in providing guest services. For example, the sales and marketing department in a hotel relies on the front office for data on each guest, such as their contact information, frequency of visits, reservations, special needs, and other guest histories. This helps them deliver targeted marketing messages, develop promotions and campaigns, and select appropriate advertising media to reach their clientele.
On the other hand, banquet managers rely on the front office to get information about requests for service at seminars, banquets, meetings, and the like. Housekeeping staff also communicate with the front office on the availability of rooms, housekeeping status, and so on.
The front office operates autonomously but relies on the back office for support in the form of secretarial, accounting, human resources, and internet technology functions.
Why front-office automation?
According to Gartner, there will be a 30% increase in the use of Robotic Process Automation (RPA) by 2023 for front-office functions, including sales and customer experience. Automating the front office is meant to drive customer satisfaction by providing efficient and effective sales and customer service, as well as revolutionizing the interaction between companies and their customers.
Functions such as gathering customer data, updating customer queries or complaints, registration, and security checks largely involve the front-office staff. Speed and accuracy are vital for all these and other operations to service customers, but many of them are still handled manually. Consequently, staff in front office roles can get bored with repetitive and monotonous processes, which in turn leads to high and costly levels of turnover and errors.
Automating the front office can motivate them to get more involved in their respective roles while enjoying benefits such as fewer errors, reduced transaction time, faster response times, and better customer experience. RPA also facilitates real-time interaction between the front and back office to help improve average call handle time (AHT) and customer satisfaction (CSAT) scores in the front office, enhance efficiency, and increase collaboration and communication in the whole value chain.
Five popular automation use cases for front-office processes
Customer service
Today, customer success is vital to sustaining competitiveness. Delivering seamless customer service across all digital and voice channels isn't just nice to have — it's imperative. The customer expects fast responses and solutions. As the world grows more digital, customers expect instant gratification. Automation makes it possible for companies to provide the results customers want, ultimately delivering top customer satisfaction.
The need for instant solutions to any and everything has led to companies opting to automate their customer care systems to augment the human-customer interaction. Front offices can automate repetitive tasks such as data entry, validation, and extraction. This allows human employees to focus on conversation and nurturing valuable customer engagement, instead of repetitive mundane, everyday tasks best left to machines.
Automating these repetitive tasks results in shorter response times, clear communication, and consistency across multiple channels, leading to great customer engagements that make customers feel good. For example, in a bank where the customer care agent sets the tone of the conversation with the customer based on their past interactions, automation can transform the contact center and ensure customers get a sterling experience.
The direct result of this kind of automation is improved customer experience, better productivity, reduced operation costs, fewer human errors, and faster resolution of customer queries.
Customer communication
Automation can be used in the front office to encourage timely communication with customers. By deploying it within workflows with automatic alerts or notifications, companies can schedule reminders or notifications when employees should follow up with customers or alert them about new communication between the company and its customers. By sending automated messages, companies can also inform customers about new services or product offerings, new deals, or offers on existing products.
Such enhanced communication levels foster a better understanding of the needs, wants, and desires of the company's customer base and how they can position their offerings to satisfy their customers. When communication is easier, more in-depth, and more consistent, it gives companies better insights to create more collaboration opportunities between individuals or departments in the company.
Collaboration across the company
Front-office agents rarely operate alone. They need a strong support structure in the back office to help them solve issues and provide a personalized experience for the end customer. The time taken to address queries and concerns raised by customers is critical to front office success. Being able to leverage the back office in real-time is a key factor in that success. Automating across the front and back-office helps take the customer experience to the next level by unifying the company to work for the customer.
Automation increases employee engagement across the company, resulting in improved retention to lower the total cost of ownership and improve employees' experience. Automation also gives companies the ability to provide next-step guidance, automate approvals and exception workflows, and institute coaching —across all channels.
Sales order process
The sales order process is complex. It typically involves multiple stakeholders and departments, such as sales, customer service, finance, and logistics. It also involves applications, including customer relationship management (CRM), enterprise resource planning (ERP) platforms, business process management, and accounting software, approvals, and workflow exceptions.
In most businesses, sales orders are processed manually — a slow, inefficient method. The result is wasted time that can delay deliveries, reduce profits, strain customer relationships, and ultimately lose business. An automated approach to order entry can help sales and marketing teams keep up with the pace of business today while reducing the costs of manually performing many of the tasks involved in the sales order process.
Automation offers accurate data capture, which improves customer satisfaction, streamlines tasks, and delivers information to humans and systems faster. And that increases time to revenue and enhances workflow efficiency. It also taps into workers' creativity and frees up more time to innovate and execute actions such as nurturing customer relationships and proactive upselling or cross-selling to generate revenue.
Lead nurturing
If you've launched inbound campaigns and attracted great leads, the challenge lies in keeping prospective customers happy, while walking with them through the buyer's journey to becoming a sales-qualified lead.
To increase close rates, and shorten the sales cycle, nurture those leads with the appropriate information that ensures prospective customers fully understand your solution's value before the sales team contacts them.
According to Forrester Research, companies that succeed at lead nurturing generate 50% more sales-ready leads. At the same time, a DemandGen report shows that on average, nurtured leads produce a 20% increase in sales opportunities compared to non-nurtured ones.
Automating the lead nurturing process ensures that all leads are attended to and receive fast responses with the right content for them. It also allows companies to systematically track lead engagements by drip-feeding appropriate content through automated email workflows at the right time and pinpoint the actual stage of those leads within the sales cycle.
A fine-tuned nurturing machine means more efficiency, cost savings, more time spent on sales-ready leads, and, ultimately, a supercharged sales cycle.
Experience First-Hand Benefits of Front-Office Automation.
About Automation Anywhere Staff