Blog
3 Key Considerations to Take Your RPA Implementation up a Level
February 10, 2020
5 Minute Read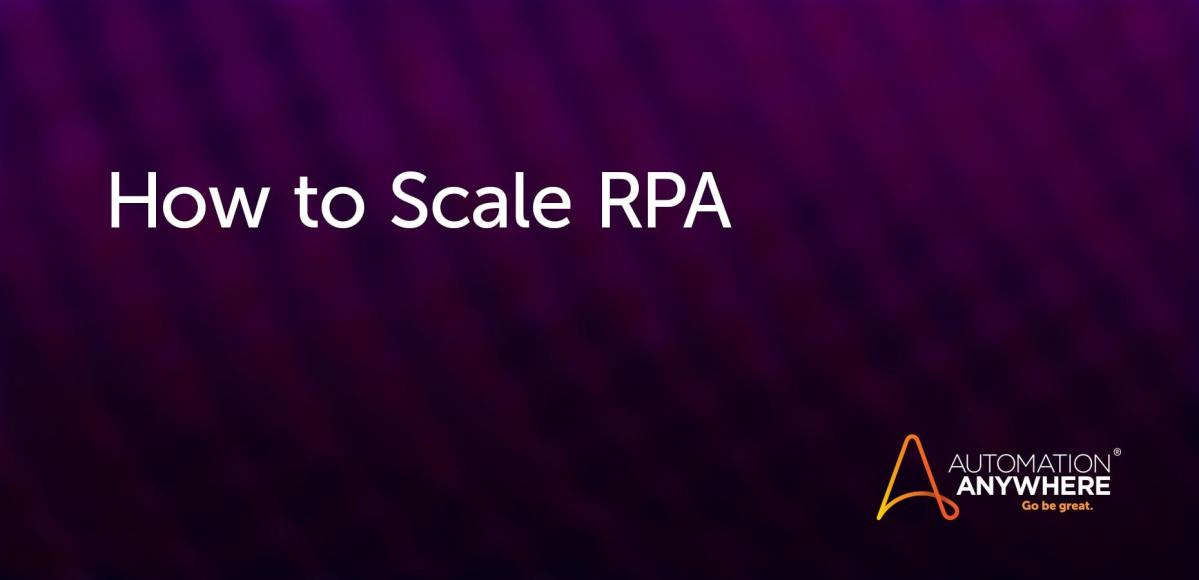 State of the art for a Robotic Process Automation (RPA) platform is very much a moving target. With intelligent automation — RPA and artificial intelligence (AI) combined — becoming "business as usual," it's safe to say a modern RPA platform needs to have both rule-based "traditional" RPA and native AI/machine learning (ML) capabilities, as well as some real-time analytics.
However, the platform itself is only one part of the puzzle. It's the supporting elements around that platform that enable it to scale and, in turn, deliver the promised return on investment (ROI). Building five bots is easy; building 500 much less so.
What should you consider when planning for automation at scale? Essentially, it comes down to three things: education, support, and reuse.
1. Education
Making sure you have the right knowledge and understanding at all stages of your automation implementation journey is vital to success. Before you select a platform, knowing its capabilities and how they might apply to your business is critical.
It's common to make assumptions about how RPA platforms work and the business outcomes they can deliver — "it's all just macros, isn't it?" (Yes, but it's a lot more.)
Get clear on your needs and ambitions, and then educate yourself on what tools can best deliver against those. Talk to vendors, partners, everyone — but most of all, talk to existing users of the platforms. Their hard-won experience will be an invaluable source of knowledge for you to take advantage of.
Digital transformation continues at pace and, with it, the skills required in modern enterprises are evolving. Today, RPA jobs are in high demand, and we're seeing technology firms partner with higher education institutions around the world to train the next generation of automation engineers.
This is an essential part of the Fourth Industrial Revolution, as we see the skill set in the market move from process-oriented jobs to more knowledge-oriented jobs. Instead of workers knowing how to operate the process, we'll see a new cohort of workers who know how to automate those rule-based processes.
Getting the most out of your RPA platform isn't always easy. Take the time not only to learn how to build automations, but also to discover and improve employee processes, set strong governance rules, and deploy and manage your bots efficiently and effectively.
Time invested in these activities will pay off in the form of a stable and robust RPA program built for scale. Support at this point is vital, whether from the vendor or through collaboration with a trusted partner.
2. Support
Technical support is, of course, table stakes. Just as important is a strong customer success function — advocating for customers within vendors and helping customers find benefits, drive scale, and deliver ROI. RPA is a multifaceted technology, and a good customer success team will help you not only find answers, but also ask the right questions.
To build a sizable estate of automations can require the support of a specialist build partner at the outset to develop automations and to establish the infrastructure and framework for your automation project. Understanding your needs will help you select the right partner for your specific project.
In addition to build partners, other partners can help you with process discovery and mining, business process management, and a host of related technologies to complement your automation projects.
RPA can be rolled out on its own. There are savings purely in terms of man/machine labor arbitrage. However, the insight and knowledge it gives you around your processes is often the stimulus needed to review and enhance those processes, even as you're automating them.
3. Reuse
Possibly the most powerful lever available to scale your automation project is reuse. The nature of all software is that it's built upon existing IP. When building and scaling bots, you should take the same approach.
Map out pieces of common functionality — for example, logging on to an internal system — and build bots in such a way that you can easily reuse them to perform the same function elsewhere in the organization. This has the added benefit of making your business more resilient to future changes in your underlying systems.
An exciting innovation in reuse is the advent of the automation marketplace, allowing developers to create IP for consumption by third parties, driving both adoption and scale. With many back-office functions such as finance or human resources, there's no need to reinvent the wheel — much of what you need has already been automated.
There are more than 700 prebuilt, easily customizable bots available in Automation Anywhere Bot Store that can automate thousands of functions across dozens of enterprise applications. The old IT axiom of "better to buy than build" still rings true today.
Taking it a step beyond simple task automation, a Digital Worker is a role-based collection of automations. In the same way you might write a job description for your accounts payable employee to do half a dozen tasks, all related to accounts payable, Digital Workers are available and can be built to bring together related automations. Taking advantage of these enables you to scale your deployment much faster than building those individual automations one by one.
Choosing the right automation platform for your business is important, but knowing the levers to pull is what delivers true value. After all, anyone can buy a platform — but it takes a lot more than just the software for both scale and success.
Experience unprecedented
intelligent automation at scale.
About James Dening