Blog
Identifying Supply Chain Automation Opportunities
December 17, 2020
6 Minute Read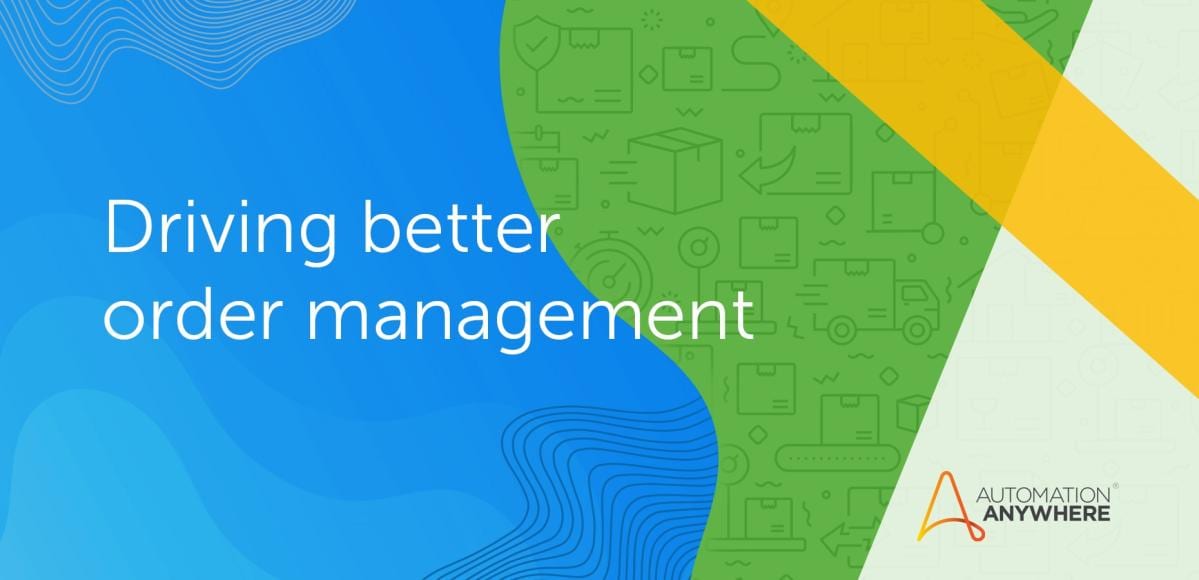 For manufacturers, top of mind is finding new ways to streamline operations. This issue encompasses much more than simply reducing materials waste in production. Financial resources and employee time are also valuable, as are other limited enterprise systems assets. Manufacturers have always and continue to invest significant time and money to try and ensure that these resources are utilized as efficiently and effectively as possible.
Much of this focus on efficiency relates to the supply chain—that system of organizations, activities, data, and other resources involved in transforming raw goods to a finished product and getting it into the hands of customers. The supply chain has traditionally been rife with inefficiencies and redundancies due to all the people and organizations involved and the multiple handoffs required.
Then, in early 2020, on top of the ever-constant challenges of the supply chain, COVID-19 hit. Manufacturers were affected disproportionally by the epidemic. First, there were the effects of COVID-19 that all businesses throughout all industry suffered: lockdown orders that prevented employees from reporting to work and thus shutting down operations; greatly reduced demand for products with so many businesses closed and people out of work; and the need to transform marketing and distribution initiatives to digital as consumers and businesses shifted to online purchasing.
But manufacturers also suffered severe supply chain woes. Most of these organizations partner with Asian companies to build or acquire products and components. According to Deloitte, more than 200 of the Fortune 500 had a presence directly in Wuhan, where the virus originated. Deloitte called it a "domino effect" of plant closures and supply shortages across the extended global supply network that quickly led to significant supply chain disruption for manufacturers around the world.
Manufacturers needed to find alternate vendors and alternate suppliers, fast. Yet, many of them didn't have a handle on their supply chain operations. They didn't have clear visibility into all their vendors, where they were located, or how to track the components or goods that were regularly shipped to their various facilities. They lacked the data and transparency that an automated system would have provided.

Supply chain ripe for RPA
For all these reasons and more, manufacturers are turning to Robotic Process Automation (RPA). RPA, especially when combined with artificial intelligence (AI) to create intelligent automation, can accelerate the efficiency of supply chain management, providing transparency and control that is needed today, according to a new report by the Everest Group.
The diagram below summarizes the core processes in the supply chain management process.



The Four Quadrants of Automation Opportunities
The Everest Group evaluated all of these supply chain processes using a proprietary methodology to assess the suitability of processes for automation. Called the Enterprise Value Chain Approach (EVCA), this five-step methodology helps businesses identify business processes, analyze each process, spotlight high-value opportunities for automation, and define metrics to prioritize those opportunities.
With EVCA scores, processes are divided into four quadrants based on cost savings potential and overall automation potential, as follows:
Pursue: Processes that score high on cost savings potential and automation potential fall into this quadrant. These are the highest priority processes to automate.
Opportunistic: Processes that score high on cost savings but low on automation potential should be automated only on an "opportunistic" basis. Such opportunities should be pursued only when a business case presents itself during the regular course of operations where the benefits outweigh the costs.
Watchful: The processes in this quadrant return relatively little value but are easy to automate. These lower-priority processes can be automated when budget/resource capacity allows for it.
Ignore: These are difficult to automate and return very little value. Ignore them.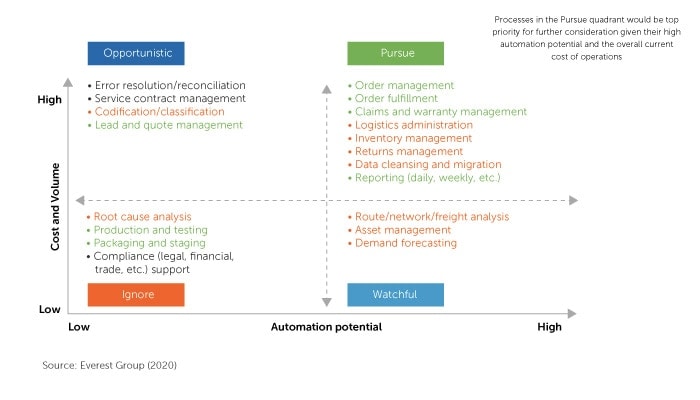 In this blog, we will take a look at one promising process in the "pursue" automation category for manufacturing companies within their supply chains—order management—and show how intelligent automation can be applied, resulting in significant time and cost savings.

Automating order management
Why was order management put into the pursue quadrant? First it is very high volume. Second, it has a fairly well-defined workflow within manufacturing supply chains.  And finally, it has a limited need for human interference or judgment. This translates to making it a good candidate for intelligent automation.

The challenge
Many manufacturers have non-standard order management processes within their supply chains. This function is primarily accomplished manually with a heavy reliance on human participation. Indeed, the typical order management process requires more than 20 human touchpoints for an order to be processed. Part of the problem is that orders can come in through any one of seven different sources: web, EDI, phone, emails, U.S. Post Office (USPS) and contact center, and fax. Many of these orders can also be presented in an unstructured way, making them difficult to process with traditional OCR systems.

Intelligent RPA-based solution
The first step in automating order management is to perform a detailed process mapping of all subfunctions within order management. These include receiving and validating orders, generating receipts, and following up on orders. Manufacturers then need to identify which processes can be automated immediately. Those would be simple, repetitive tasks that require no human intervention and could be automated using basic RPA, which could be easy enough for business users without programming knowledge to do on their own without IT interference.
The second step is to take the more complex tasks and deploy intelligent automation to streamline them. This would include automating order intake because they can be implemented through so many different channels. In many cases, supply chain processes require the processing of data such as invoices or orders. By using artificial intelligence with RPA, the system can automatically extract and processes data from these documents that include handwritten texts and signatures.

Benefits of automating order management with RPA
RPA with intelligence enables manufacturers to automate the order management process and significantly improve the ordering experience for customers.
First, there's AI-based data processing. Intelligent RPA software robots ("bots") can easily and automatically extract relevant information from unstructured orders coming in through email, fax, USPS, or any other channel, and input them into the appropriate order system(s) without needing a human to interpret them.
These bots can also make some decisions based on how they are trained. For instance, orders that exhibit certain characteristics could be sent on different workflows. Orders from vendors that have a good standing and history could be processed faster. Simple orders could be automatically and quickly sent to fulfillment. Alternatively, orders that raised red flags in any way could be tagged and sent to a human employee to investigate more closely.
Any of these processes can involve advanced technologies such as analytics or machine learning embedded in them to reduce the overall order management process time. This can be done at high volume around the clock, so orders are processed much faster, and human supply chain professionals are freed up for higher-value work.
Manufacturers are thus able to lower costs, eliminate errors, reduce fraud—and improve relationships with customers—by automating just one area of their supply chains, order management. Imagine this intelligent automation being applied to other areas to visualize the full impact of intelligent RPA on the supply chain.
Learn More About Automating Order Management.
About Avi Bhagtani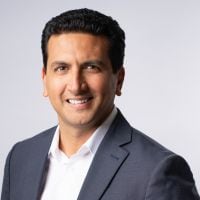 Avi Bhagtani is senior director of product marketing, focused on artificial intelligence and cognitive automation. He has multiple years of industry experience managing global software product portfolios in software, the Internet of Things, AI, and cloud organizations.
Subscribe via Email
View All Posts
LinkedIn