Blog
Finally, Automation Can Be Leveraged by Everyone
October 13, 2020
4 Minute Read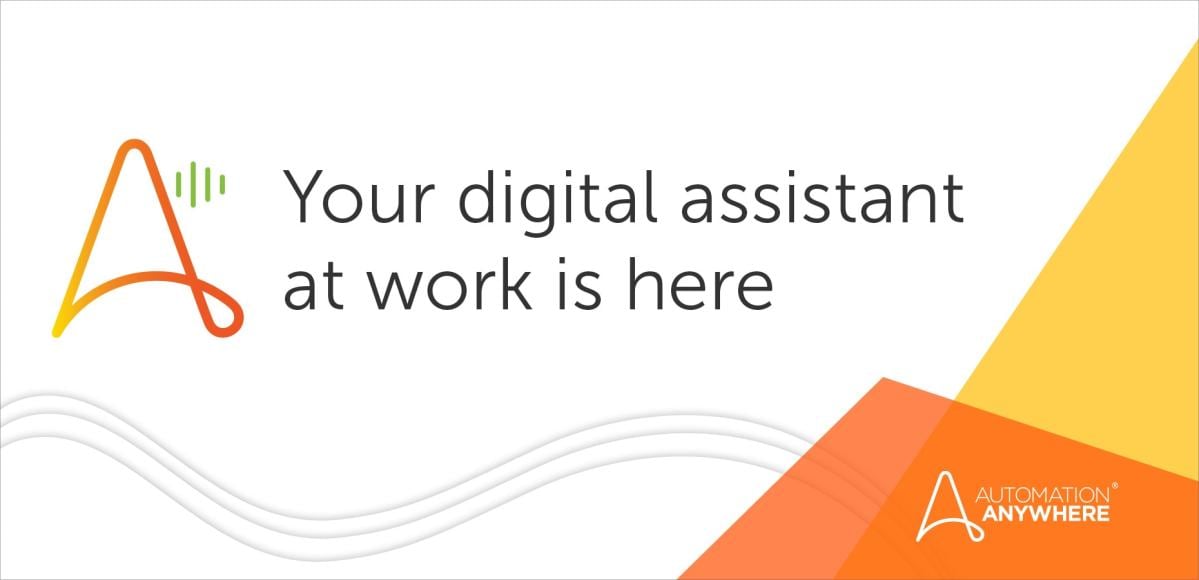 Congratulations. You've implemented Robotic Process Automation (RPA) in your enterprise to help accelerate and streamline business processes and increase employee productivity. But not everyone is taking full advantage of the benefits of software bots, right?
Some people in your enterprise don't have the time to be brought up to speed on RPA technology. Others are uncomfortable with learning new technology and applications. Others only need to provide guidance or support but have no way to contribute to the automated process.
Introducing the digital assistant
Now, automation can be accessible to everyone in your enterprise—front office, back office, and every office. Even your non-technical business users can directly leverage the Digital Workforce. Automation Anywhere® Robotic Interface (AARI) makes accessibility possible.
Think of AARI as your digital assistant at work—similar to Amazon Alexa. It's easy to use with little or no training and powerful in its results: It can help increase RPA adoption while turbocharging employee productivity across your enterprise.
Customized automation at your fingertips
With AARI, users can control and use any Automation Anywhere bot in your enterprise through the interface of their choice. AARI adapts RPA to the way people work. That means your team can use automation in their familiar, daily applications such as Salesforce, Excel, Google Sheets, and more, without spending time switching between multiple applications. Or they can use additional interfaces Automation Anywhere offers—on the desktop or on the web—and easily customize them to make them their own.
They can quickly trigger bots from their application with one click or as a result of an event. The application will serve as the launching point for the automations.  
Ready to go
Employees can start using AARI right away. You don't have to learn any new, complicated commands. And, it doesn't require an in-depth knowledge of RPA technology or how to build bots. Users only have to know their application of choice and their business processes.
Your specialist, IT, or citizen developers can create the bots and make them available to anyone in the organization. And AARI will serve as the go-between with a user-friendly facing.
Empowering your team to do more
AARI makes automation more accessible and rewarding, without adding complexity. It lets users run and manage RPA bots from any desktop, mobile, application, or web environment. It can gather data from multiple sources and update data to multiple sources—all at once. It can trigger bots for end-to-end automation. And it can protect sensitive data such as personally identifiable information (PII) and systems.
For all types of automations
It's the perfect complement for attended and unattended automations. For example, what happens when a bot encounters an error or an exception during an unattended session with just RPA? Chances are, the bot will stop until the situation is handled with approval or support. But who will notify the employee that there's a problem to address? And even if the employee is notified, how will they inform the bot of their decision? Depending on the design, a bot may not provide notifications or receive input, wasting valuable time and reducing productivity.
AARI ensures humans and bots stay connected. When bots stop or a decision is needed, AARI guides the users with a record of what a bot has done, recommended action items, and anything else needed to help make the right call on the next steps.
Orchestrating processes
AARI lets users proactively create process flows and develop escalation plans to address unplanned scenarios, such as mapping out courses of action based on "what ifs" and connecting different people and specialists with bots depending on the exception or error. AARI acts as the "glue" between users, multiple teams, and bots, facilitating the data management process and ensuring the end-to-end process is followed and completed.

Simply powerful
With all its capabilities, AARI still keeps automation simple, so that every employee in your company can benefit from your RPA investment. To maximize the ROI and value from your deployment, empower your employees with a digital assistant so they can use automation on their terms.
Your Digital Assistant Awaits.
About Sharon Liu