Blog
Who Belongs On Your COE Team?
April 2, 2021
5 Minute Read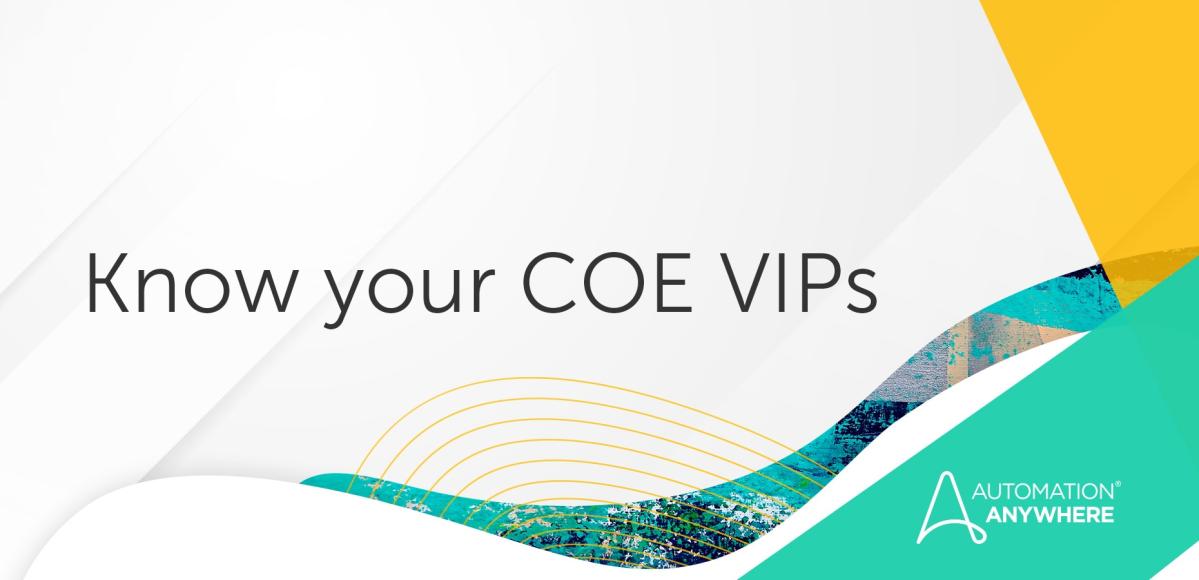 Many agree that a Robotic Process Automation (RPA) center of excellence (COE) is an essential, foundational element to successfully scale your RPA initiatives. We've written about why a COE is important, how to build a COE, and best practices for COEs before. But we haven't enumerated the roles of key members of the RPA COE and what skills they need to make the COE a success.

The key players
Although the names and roles may vary by company, this comprehensive list should provide you with a good idea of the people behind the automation movement.
Executive sponsor(s). The sponsor should be a senior executive—preferably a member of the C-suite—to help demonstrate that RPA is a top priority for your organization and rally the troops around the initiative. With digital transformation becoming a core strategic initiative for many companies, the executives must advocate that automation is imperative to achieving this goal.
COE lead/head of automation. The executive sponsor, although ultimately accountable, doesn't really have anything to do with running the COE. The COE leads or heads of automation are ultimately accountable for the rollout and management of the initiative. They are in charge of keeping the trains running on time. They prioritize and monitor the queue of suggested RPA projects. They schedule resources. They put together budgets. And they make sure that the COE is a well-run, well-governed unit despite its many moving parts.
RPA change enabler. This important role is there to make sure that RPA "takes" within your organization. The enablers make sure that all projects run on time and within budgets. They make sure the company culture is adjusting to the idea of automation and that the COE is successfully up-leveling employee skills to add more value. Highly metrics-driven, these individuals make sure that all projects are aligned with the vision and goals set out by the head of automation.
RPA business process owners. These are subject matter experts (SMEs) in every line of business or department. They intimately know what a successful business outcome looks like and will be the ones mapping out—and, often, reengineering—existing processes so that processes can be automated. They partner with the COE to ensure automation is implemented in the right areas to deliver maximum efficiency and effectiveness.
RPA champions. Self-identified cheerleaders and evangelists for RPA, the champions play a critical role: They fill the COE development pipeline with potential RPA projects that they sniff out from business units. RPA champions often grow into citizen developers who help bring ideas for projects through design and development.
RPA architects. Technical employees, the architects take the ideas generated by the RPA champions, consult with business process owners, and design the architectures of RPA solutions. They're active during the development and deployment of RPA projects.   
RPA developers. These highly trained workers are responsible for the design, development, and testing of RPA automated processes. They work hand in hand with the RPA architects to ensure the integrity of the designed bots.
RPA IT liaison. COEs may not always originate in IT. In those instances, the liaisons work with IT to manage the needed infrastructure—if the RPA solution is on-premises—as well as integrations of bot processes with legacy systems. They perform the technical troubleshooting when something goes wrong with servers or other aspects of RPA infrastructure or when a bot breaks because there's been a change in the underlying IT infrastructure or application environment.
RPA bot wrangler. Once bots are deployed, they don't just run endlessly on their own. Bot wranglers are needed to manage, orchestrate, and control all the digital workers, with the goal of continuously improving the performance, efficiency, and productivity of the bots in production.
RPA service and support. Last but definitely not least is this role that acts as the helpdesk for any problem with a bot in production.

Value drives the COE
All of these roles add up to a team that works on the strategic and tactical levels to ensure a consistent, value-driven approach to automation. Every member of the team should have the goals of the organization as a whole in mind as together they evaluate the current way business is transacted and ask themselves the following questions:
Can we automate this process?
Should we automate it?
What value would automating it bring to the organization?
How high a priority is this project compared to other ones to which the COE could apply its resources?
Opportunities exist in every area of the business, from the front office to the back office. Much of the low-hanging fruit is the simple yet repetitive tasks that knowledge workers do every day when servicing customers such as issuing refunds or sending a copy of their bill. These are also the processes that would benefit most from automation since faster transactions directly improve the customer experience, resulting in brand loyalty and more sales.
Yet, reaching every employee with RPA is taxing on resources. As in every fledgling organization, members of the COE will sometimes have to wear multiple hats until the resources are in place to fully staff the individual roles. But as long as the functional bases are covered, the COE should have a positive impact on your overall RPA strategy.
That's why it's important to scale in the fastest and easiest way possible—by leveraging your existing bots and RPA platform to expand use cases into new territory with human-bot collaboration. Automation Anywhere has the only no-training, fast setup, intuitive consumer RPA solution, AARI, that removes all friction between business users adopting automation. If you'd like to reach every employee with automation, contact us to see how AARI, your digital assistant at work, can turbo-charge return on investment (ROI) for every business unit.
Unlock New Automation Opportunities.
About Sharon Liu