Blog
Bot Insight: Your Real-Time RPA Must-Have
March 24, 2020
4 Minute Read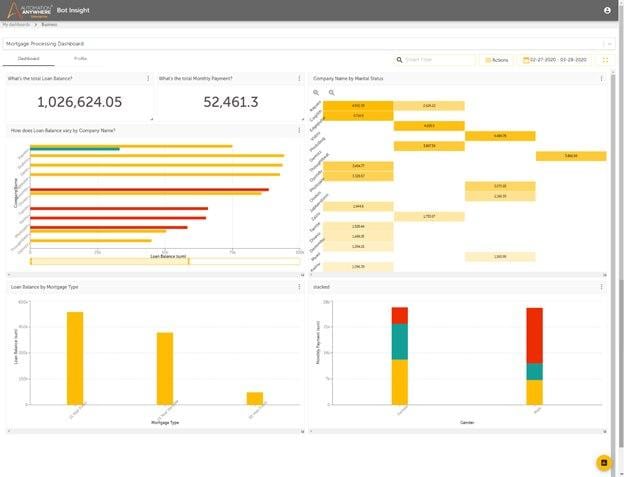 In the old days of baseball, if you were attending a game and wanted information on the players, you answered the call of the stadium vendor, "Get your program. Can't know the players without a program." Packed with statistics, the program was an invaluable tool to help the avid fan know at a quick glance how players were performing.
Jump forward to the present and the business environment, where the game is automating business processes and the players are software robots, or bots, and Digital Workers. The time and scene have changed, but learning how the players are performing is still a must. And that's where Enterprise A2019 Bot Insight can help.
Insight for every bot you deploy
Automation Anywhere Enterprise A2019 bots can automate business processes across your enterprise. Bot Insight puts you in the know about the health of each bot and can capture insights and integrate with business insight tools such as Tableau and Power BI.
A third-generation solution, Enterprise A2019 Bot Insight was redesigned from the ground up based on customer feedback. It's the only cloud-native analytics solution on the market integrated with a Robotic Process Automation (RPA) platform. This combination enables complete operational monitoring and sourcing of real-time business intelligence — without separate installation and management overhead.
Equipped with an intuitive, plug-and-play interface and an Elasticsearch search and analytics engine, Bot Insight lets you store, search, and analyze large volumes of data quickly and easily.
You can monitor your bots and gain insights using smart visualization and customizable analytics dashboards that are simple to operate and understand (see Figure 1). Add different types of visualizations depending on what kind of data you want to see.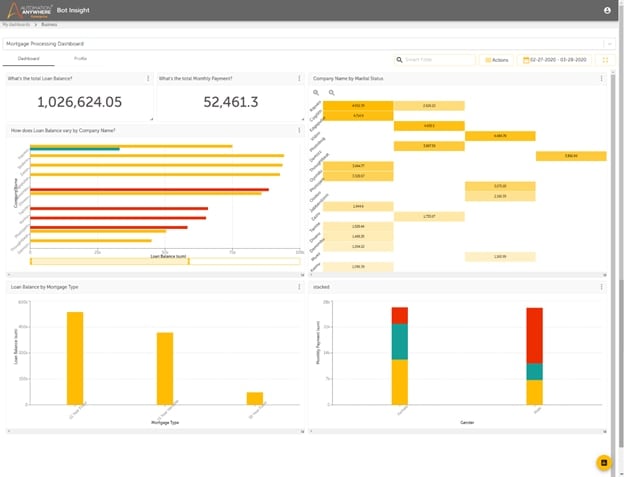 Enabling RPA at scale
Just as with humans, operating and growing an RPA environment depends on knowing how the deployed bots and Digital Workers are performing: 
Are they working at capacity?
Are they processing accurately?
Did they complete their processes on time?
If there was an issue, what was the issue?
What are the possible reasons for a bot failure?
Which bots are providing the most valuable information for your business?
Bot Insight can deliver that critical information when needed to help you successfully manage your Digital Workforce environment. And that makes this analytics solution a must-have for any RPA deployment.
Providing return on your RPA investment
Has your RPA investment paid off? Bot Insight can instantly analyze data from bots at any point in a business process. Not only that, but it can also provide answers covering standard and customized categories, including hours and money saved, total automated full-time equivalent (AFTE) saved, AFTE savings by department, total number of transactions, and more.
The metrics can be presented in numeric form or in visualizations, such as bar graphs and pie charts, on the solution's return on investment (ROI) dashboard (see Figure 2).
Giving you the big picture
Bot Insight creates a single pane of glass — a complete view of all the bots operating in your environment: Enterprise, Document Automation, unattended, and attended automation. The ability to monitor your bots in one dashboard means you can manage your bot operation end to end.
Get details such as bot validation time, bot accuracy, number of documents processed, the accuracy of documents, and more — all at a glance. You'll have the flexibility to manage your entire operation in the cloud or on premises. In addition, Bot Insight works with all major business intelligence platforms through open data APIs for seamless integration.
It's also designed for rule-based security management, allowing you to set access parameters for viewing your business intelligence. Automation Anywhere is the only RPA vendor to achieve SOC 2 Type 1 compliance.
See how your Digital Workforce is performing.
About Gautam Roy