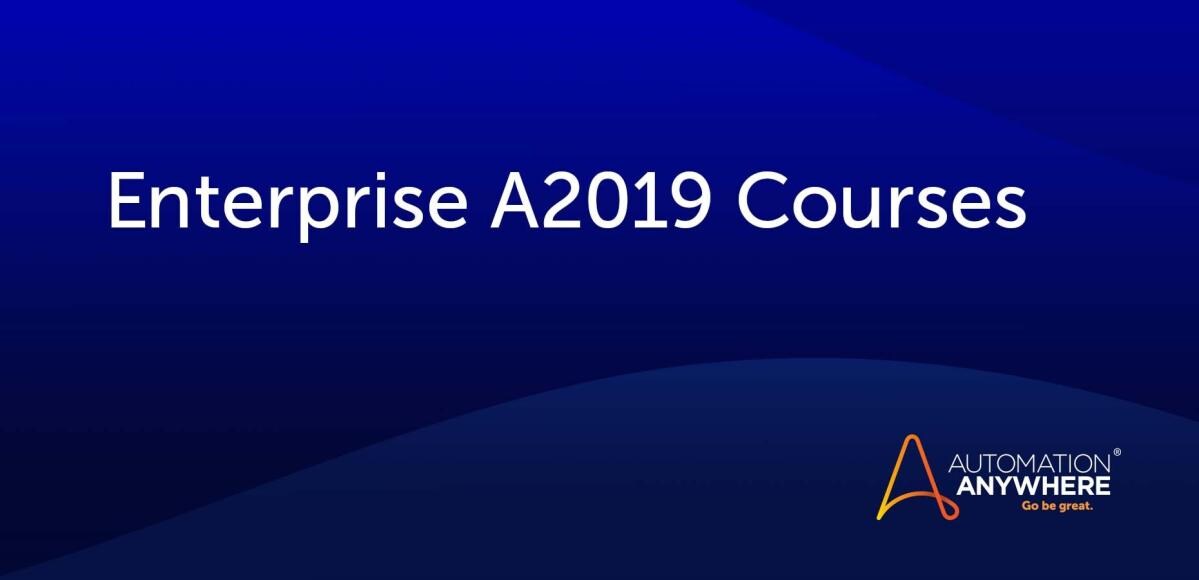 Automation Anywhere Enterprise A2019 is the world's first web-based, cloud-native Robotic Process Automation (RPA) platform, making it easier than ever to automate business processes. With a suite of drag-and-drop tools, Enterprise A2019 lets you automate nearly any process you can think of — without installing any software.
And now, it's virtually effortless to get up to speed on Enterprise A2019, thanks to the free Automation Anywhere Community Edition and targeted courses and RPA certification available at Automation Anywhere University (AAU). No coding experience required.
We offer free Enterprise A2019-specific courses, ranging from five minutes to an hour in length, for both new and established RPA learners.
Learn how to build a bot
Geared toward new RPA learners, our "Hello A2019 Bot: Getting Started with Building Bots" course provides a step-by-step tutorial to build your very first bot in less than an hour.
This session will take you through the three key steps to building a bot: Create a process blueprint, build a bot, and run a bot. After some basic setup, you'll develop a TaskBot to automatically capture information from a website, organize it into a document, and email it to stakeholders.
It sounds fairly straightforward, but as you create a process blueprint, you'll discover a process might include more steps than you originally thought. Once you start building the bot, you'll learn how to use the tools, search for specific functions, and perform new actions to gain deeper knowledge about what RPA can do.
At the end of the course, you'll intuitively understand how a bot is made and where you can make improvements to task-heavy processes. Every aspect of an RPA bot can be as big and functional as you need it to be.
Other new learner Enterprise A2019 courses include five-minute micro-learning modules:
Did You Know That You Can Create Automations without Installing Enterprise Application?
Did You Know That You Can Write Inline Scripts Inside a Bot?
Did You Know That You Can Automate Applications Running on Any Devices?
Discover new features
For established RPA learners, our "What's New in A2019" course will introduce you to the new features of Enterprise A2019 and how to use them to streamline bot creation and automation. Some of those features include an intuitive interface, simplified scaling, and built-in artificial intelligence (AI).
Other courses for those already familiar with RPA include: 
Did You Know That You Can Install and Upgrade Commands Without Re-installing the Enterprise Application?
Did You Know That Bot Runners and Control Room Can Now Communicate Without Human Intervention?
Onward to digital transformation
Enterprise A2019 provides an unprecedented ability to scale with any business through multiple deployment options. You can set it up on-site to create an RPA configuration focused on enterprise-grade privacy and security with governance and control features. Or, keep it in the cloud to instantly deploy bots from the web to as many machines as your business requires.
Thanks to its AI capabilities, Enterprise A2019 is able to extract data from any document type and quickly organize the information to streamline any process. As machine learning understands a process better, you can create a smarter bot to quickly perform more sophisticated tasks and improve your productivity.
Community Edition A2019 and Automation Anywhere University give you everything you need to start your digital transformation. It's a great time to adopt automation and improve efficiency for your business or learn how to build custom bots for more intricate tasks. The sky's the limit, and all you have to do is take the first step.
Get up to speed on
Enterprise A2019.
About Mary Beth Perrot