Blog
Reality: One RPA Platform for All Market Segments
November 13, 2019
3 Minute Read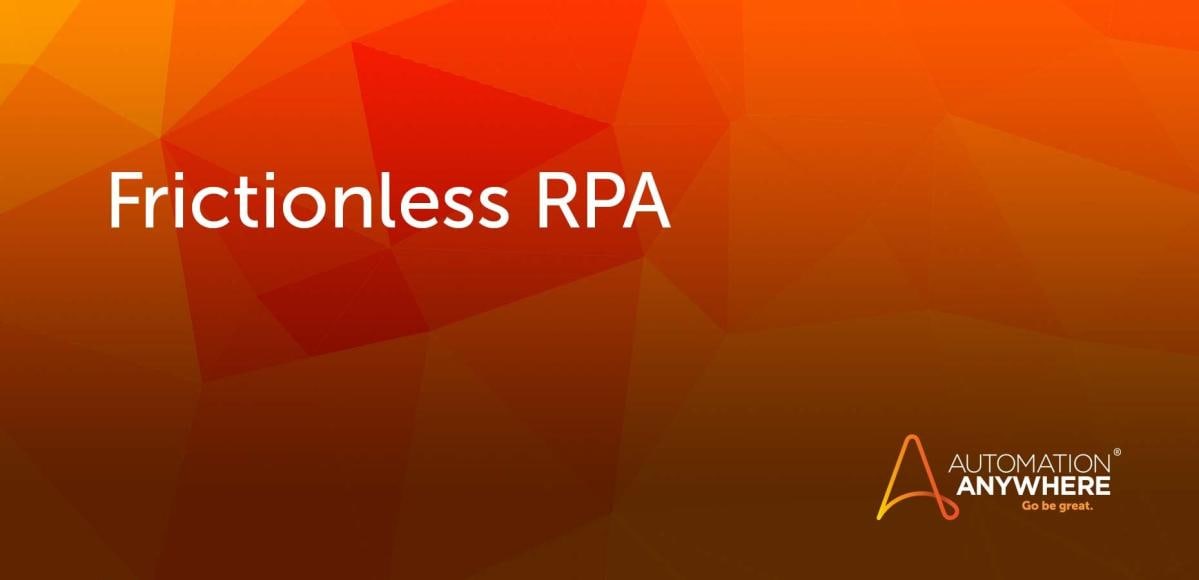 Frictionless automation of business processes should be the norm, not the exception. Toward that end, Automation Anywhere unveiled Enterprise A2019, the first and only purely web-based, cloud-native Robotic Process Automation (RPA) platform with instant-on functionality and ease of use, architected to meet the needs of all market segments.
Our latest update to Community Edition furthers that mission, enabling everyone from the individual to the large enterprise to build bots and automations with no strings attached.
The free version of Enterprise A2019 includes complete intelligent automation essentials in a single platform. You'll get access to all aspects of the Digital Workforce — RPA, analytics, and artificial intelligence (AI) — for any process on any platform and device. Simply log in from your web browser of choice and enjoy the consumer-like experience.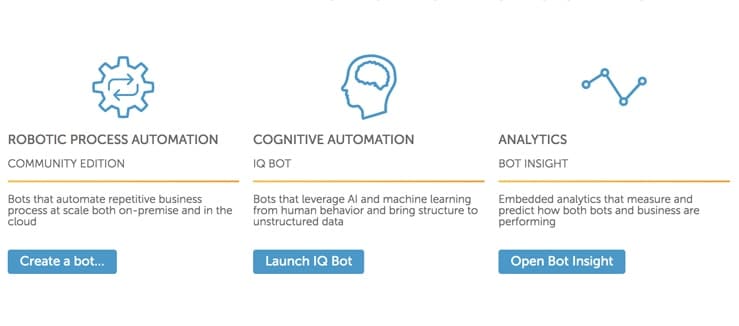 Community Edition A2019 delivers a frictionless experience in four key ways:
1. Web-based experience
Take advantage of the easy-to-use, drag-and-drop interface and experiment with full bot creation capabilities. Whether you're new to automation or highly tech-savvy, you can learn as you go with in-product tutorials.
Just getting started with RPA? Simply hit "Record" to capture all the actions you take in a process. Then, the software will build a bot to automate the entire process from end to end.
If you already have some practice and familiarity with RPA, you can use the line-by-line list views to further build out your automation capabilities.
For developers, Community Edition now provides a complete platform where you can learn, build, and innovate. You can even use your own Python, Java, or VBScript code to further advance your automations or to infuse AI into processes.
2. Cloud-native platform
Because Community Edition is in the cloud, cloud automation is always accessible and always up to date with the latest technology advancements.
You can log in from anywhere around the globe to build and access your bots. Automatic product updates ensure you're always working on the latest version of the platform.
3. Built-in intelligence
Just as with Automation Anywhere Enterprise A2019, Community Edition includes integrated AI. This provides instant training on data extraction from your documents, as well as drag-and-drop intelligent data extraction directly into any process.
Additionally, Bot Insight keeps you informed with intelligence about your bot performance through a configurable analytics dashboard. You'll see both operational analytics, which keep a pulse on the health of your bots, and business analytics, which measure the value your bots bring to your organization. With this information, you'll be equipped to make smarter, data-driven decisions.
4. RPA ecosystem for success
Succeeding in RPA requires the right combination of tools, education, and support. And that's exactly what you get with Community Edition, Automation Anywhere University — where you can learn and earn RPA certifications — and A-People, the largest online community of RPA professionals. This robust ecosystem is free for all users to engage in and find benefit.
Enterprise A2019 free trial
If you're looking for a more guided experience, Enterprise A2019 Free Trial is the perfect choice. It gives you a 30-day evaluation of the product with white-glove Automation Anywhere customer support during the entire trial period.
Whether you're just starting your RPA journey or are looking to evaluate the RPA platform or increase your skills, Automation Anywhere has you covered with Community Edition and a free trial.
About Saba Mirza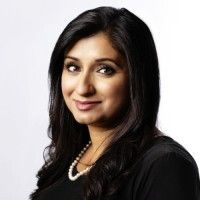 Saba Mirza is the head of product marketing for the Automation Anywhere Enterprise platform, including Enterprise A2019 cloud-native RPA platform, analytics, and security.
Subscribe via Email
View All Posts
LinkedIn