Blog
Where RPA Developers Go to Automate
August 20, 2020
3 Minute Read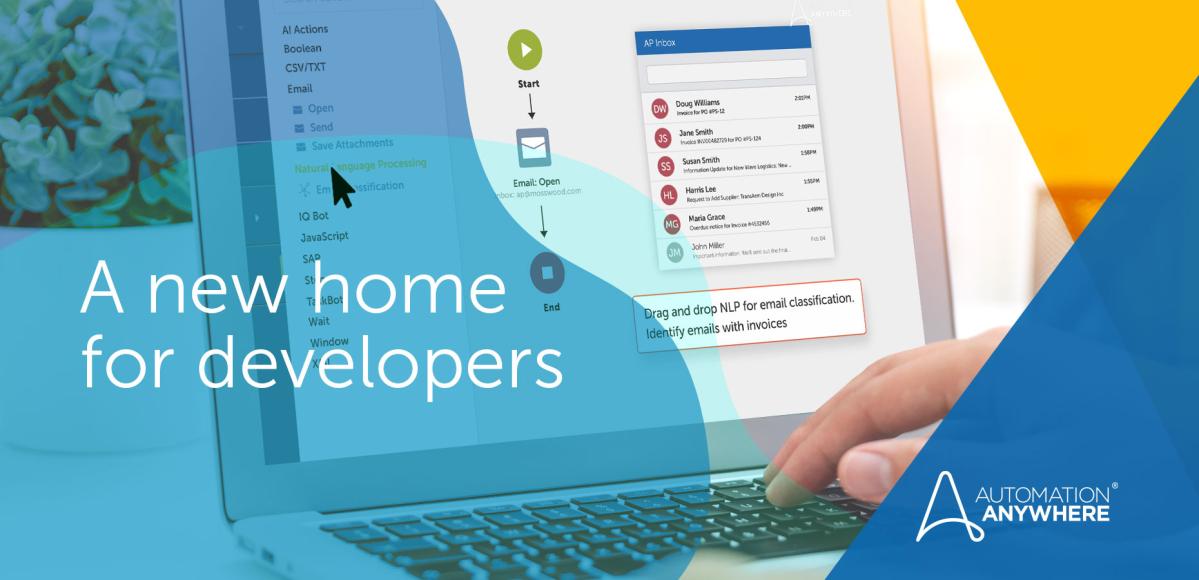 The Robotic Process Automation (RPA) developer community has grown considerably in recent years, spanning both professional developers and a growing number of citizen developers (business professionals that also build bots to automate their work). Beyond developers, the RPA technologist ecosystem also includes solution architects, consultants, IT administrators, traditional software engineers, and students interested in automation careers.
At Automation Anywhere, we care a great deal about the developer experience. In recent years, we launched Automation Anywhere University (which recently surpassed 1 million course completions), the free Community Edition platform, A-People online community portal, Bot Store marketplace, and the Docs Portal to enable developers to be more productive and successful in their RPA endeavors.

With our growing product portfolio and the many useful properties above, we realized that developers needed a single destination where they can find content to support their learning and development needs, as well as a gateway from which to navigate to our other developer properties. Our new Developer Portal is precisely that.


Who is the Developer Portal for?
The Developer Portal will serve technologists that are interested or involved in building on the Automation Anywhere Digital Workforce platform. It will also cater to individuals that manage their organizations' Automation Anywhere infrastructure.
RPA Developers – Professional software developers that build bots, typically operating within a Center of Excellence (CoE) that resides within a Shared Services organization
Citizen or Business Developers – Business professionals that moonlight as bot developers to drive greater efficiency and productivity within their business functions
RPA Consultants – Technologists working for consulting firms, system integrators or Value-Added Resellers (VARs), that provide RPA expertise for one or more client engagements
Solution Architects – Designers of RPA solutions for their organizations or clients
Software Professionals and Students – Professional software and QA engineers, as well as students pursuing new career opportunities
If you fit any of the profiles above, you'll find that the Developer Portal will offer you a growing corpus of products, tools, and resources to support you in your Automation Anywhere journey.

What does the Developer Portal offer?
The Developer Portal helps users learn, build, engage, and earn on the Automation Anywhere Digital Workforce Platform.
Learning resources include courses from Automation Anywhere University, technical blogs, videos, how-to guides, and documentation from our Docs Portal that can help expand your skillsets. It also offers access to developer products and tools, including Community Edition, APIs, SDKs, and migration tools. Plus, it helps users engage with us via online and live developer events, including conferences, webinars, meetups, as well as through A-People, our online user community.
Organizations and individuals that seek to monetize their functional and technical expertise can find useful resources to list their solutions on the Automation Anywhere Bot Store.

Another helpful feature of the Developer Portal is persona-based journeys for RPA developers and citizen developers. These journeys will enable you to evaluate your competency on an incremental list of relevant topics and offer a path to proficiency.

Curated experiences to streamline learning
For someone new to RPA or our products, the process of identifying and prioritizing learning resources and hands-on exercises based on their current level of exposure can be an overwhelming endeavor.
The needs of a citizen developer, for instance, may vary significantly from those of a professional RPA developer. The Developer Portal offers curated learning experiences that combine learning and building exercises for users of various profiles and levels of exposure. Users get easy access to other resources, including Automation Anywhere University, Docs, Bot Store, and GitHub, as part of the learning experience.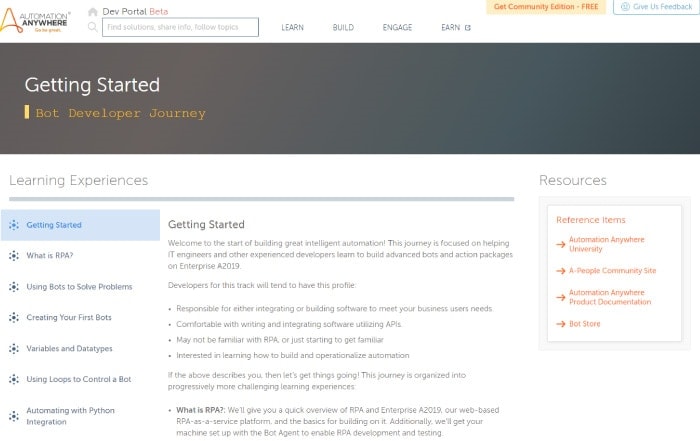 We are excited to unveil the Developer Portal and hope to see you there.
Check out the Developer Portal.
About Mukund Srigopal