Blog
Intelligent Automation: Unlocking Value for Life Sciences
January 8, 2020
3 Minute Read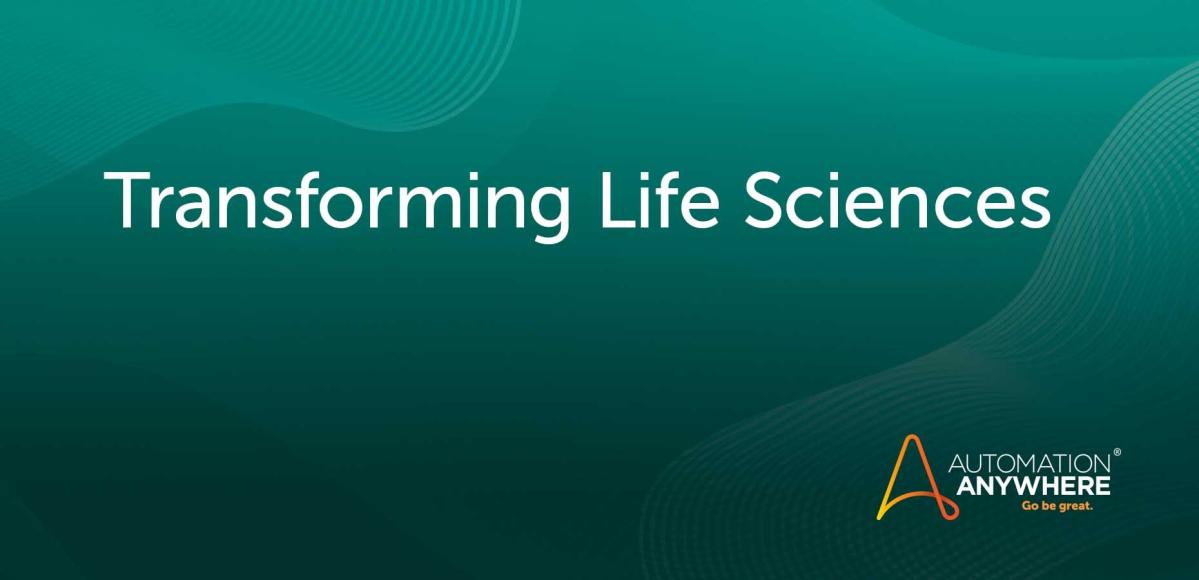 The life sciences industry is at a transformational crossroads, designing its future by embracing intelligent automation, the deployment of which can improve operations, accelerate time to market, increase cost savings, and enhance the customer experience.
We've seen exceptional growth of automation programs across the leading life sciences companies at all sizes of organizations. A report by Everest Group validates those findings: "Nearly one in three life sciences enterprises have adopted intelligent automation."
The growth in this area continues to increase. The report predicts the life sciences intelligent automation market will reach between $450 and $490 million by 2023. That's an expected 75-85% annual growth rate to 2021 and a 50-60% annual growth rate from 2021 to 2023.
The promises of higher efficiency, improved customer experience, and increased compliance are driving this growth. And, although the largest markets adopting intelligent automation are North America and Europe, the anticipated growth isn't limited to these regions; it's worldwide.
The North America and Europe markets are expected to increase 55-60% between 2019 and 2023, while the Middle East and Africa, and Latin America, are forecast to grow 60-65% in the same time frame. Asia Pacific is predicted to see the most growth at 65-70%.
Growth across life sciences sectors
The anticipated growth in intelligent automation in the life sciences industry spans all segments: discovery and research, development, manufacturing, sales and marketing, supply chain and distribution. The drug and product development area is expected to expand the most. Yet, growth in the adoption of intelligent automation across the value chain ranges between 55% and 70%.

Myriad use cases apply to each area. For example, intelligent automation in drug and products discovery and research can aid DNA/RNA genomic sequencing and identification of biomarkers. In drug and product development, it can assist with patient recruitment and medical device performance monitoring.
On the manufacturing front, intelligent automation can provide continuous plant monitoring and help speed advanced decision systems. Sales forecasting and customer behavior analysis stand to benefit in the sales and marketing area. Intelligent automation can optimize inventory and lead to predictive device maintenance in the supply chain and distribution area. And these are only a few of the potential use cases.
The evolution of automation
The life sciences industry has typically been slow to adopt automation technologies due to regulatory and conservative processes. Yet, with the rise of artificial intelligence and automation in life sciences and the recent successes we've seen, the adoption rate has soared.
Organizations are eager to embrace automation technologies that will free staff to focus on strategic initiatives that lead to product innovation and improved business outcomes.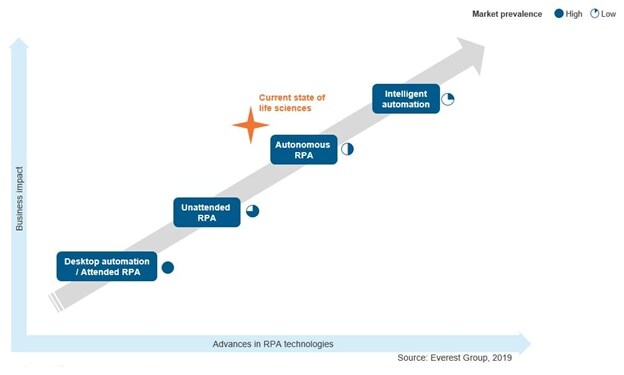 Most life sciences companies have moved from desktop automation/attended Robotic Process Automation (RPA) to embrace software bot performance analytics, work orchestration, and centralized bot management. And they're in the process of transitioning to human-in-the-loop automation, dynamic load balancing, autoscaling, and workflow and business intelligence.
Many are beginning to take another leap to realize the full benefits of intelligent automation, which include predictive and prescriptive analytics, processing of unstructured data, and automation of tasks that involve judgment, as well as diagnostic, self-managing, and self-healing bots, among other things. We see this now happening in our leading and most innovative companies.
Benefits of intelligent automation
Life sciences enterprises stand to reap great rewards by adopting intelligent automation, according to Everest Group:
30% cost savings
30-40% improvement in operational metrics
High to very high positive impact on customer
Return on investment within 12 months
Revenue growth
Faster implementation
Faster time to value
When life sciences enterprises benefit, so do patients and workers. Intelligent automation is the key to continued success in the industry, accelerated business impact, and delivering strategic business outcomes.
Learn more about intelligent
automation for life sciences.
About Catherine Calarco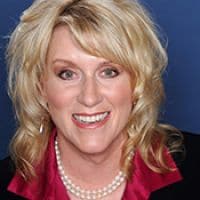 Catherine Calarco, vice president of innovation evangelism at Automation Anywhere, has more than 20 years of global leadership in life sciences, digital medicine, and technology. She's known for driving significant B2C/B2B revenue growth and developing innovative, award-winning digital health
Subscribe via Email
View All Posts
LinkedIn