Imagine 2022 Day 1 Keynote
Welcome to the Automation Economy and Innovation Showcase
Browse On-Demand Content
Keep checking back for more Imagine video content
KEYNOTE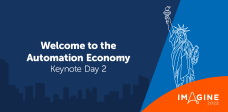 Imagine 2022 Day 2 Keynote
Success Talks Automation Transformers: Strategies for Scale and AAI on AAI Featuring Social Impact
Master Class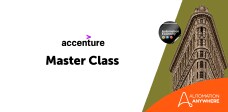 Accenture Master Class
Find out how CXOs can accelerate business agendas with Human+Machine operating model, technologies powering this transformation, and walk away with a reference architecture that participants can implement in their organizations.
Master Class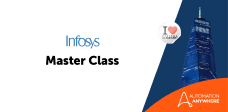 Infosys Master Class
Hear how a leading Energy organization worked to modernize their enterprise and enhance productivity and customer service through automation and introducing digital solutions. Watch how Infosys partnered with their COS and various Business units to develop, deploy and bring these opportunities to life.
Master Class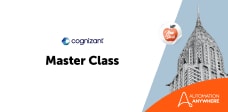 Cognizant Master Class
Beacon: Our automation journey from One Day to Day One. How different constituents of an organization come together and synergize to deliver a modern forward thinking industry driven innovation with a common purpose. How being nimble and bold in solution design, approach and delivery helps us in delivering what was considered impossible in a highly regulated industry like Healthcare.
Featured Customer - CVS
Master Class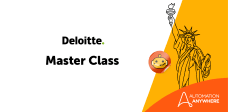 Deloitte Master Class
Evolve your Intelligent Automation program through Disruptive Redesign. Discover how your enterprise can drive next level benefits through the adoption of disrupted design and AI enabled process automation technologies. Disruptive Redesign is an approach to understanding and solving complex problems and driving transformational outcomes leveraging user experience, data insights, AI technologies and a product management approach to create smarter and more sustainable processes.
Product/Community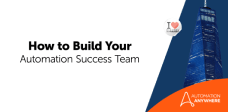 How to Build your Automation Success Team
The key to automation success is people. A complete automation program requires a diverse set of skills sets across departments to come together in a cross-functional "Fusion Team". Watch this session to learn the key roles, how to recruit these individuals and how to build ways of working between individuals with different objectives.
Featured Customer - TriNet
Executive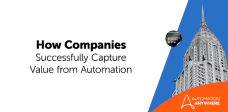 How Companies Successfully Capture Value from Automation
It's said that successful transformation programs quickly identify, implement, and measure high-value automation opportunities. Watch this session and hear how one of the largest privately held companies in the world did just that and achieved dramatic business impact in critical areas such as supply chain with Intelligent Automation.
Featured Customer - Cargill
Executive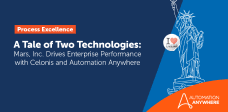 Process Excellence: A tale of two technologies
Forward looking organizations are pairing best-in-class technologies to compound the value of their existing software investments while building the foundation for the next chapter in enterprise operations. Learn how Mars is using Celonis and Automation Anywhere to join forces and provide an unrivaled understanding of enterprise operations and the strategic framework to deliver meaningful change.
Featured Customer - Mars, Inc. and Celonis
Product/Community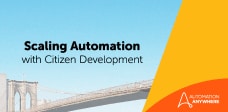 Scaling Automation Programs with Citizen Development
No one knows their business needs better than the business teams. IT and CoEs can build citizen development programs to empower non-professional developers to identify and build digital co-workers that can help them solve their day-to-day business problems and accelerate growth.
Featured Customer - Bain
Executive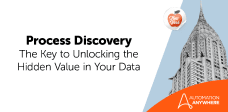 Process Discovery - The Key to Unlocking the Hidden Value in Your Data
Effectively implementing intelligent automation at scale is crucial for success in the enterprise, but this remains a challenge with organizations due to a deficit in its understanding of how the business operates. Business process complexity is a given but enterprises lack the people and technologies to accurately and completely gather data, analyze this information and then determine the next best action - improve or automate, improve and automate, etc. This session will introduce process discovery, how companies are using process discovery, the value gained and how enterprises can get started.
Executive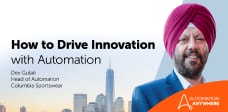 Key Innovation Drivers to Deliver Sustainable Business Value
In an economic downturn when consumer spending is slowing down, every customer interaction counts. Customer demands are higher than ever and companies must be innovative to meet and exceed their expectations, ensuring an excellent customer journey from the first interaction, to repeat purchase, to evangelism and beyond. Learn how Automation Anywhere helps Columbia Sportswear capture the hearts and minds of its customers with the Automation Success Platform.
Featured Customer - Columbia Sportswear
Product/Community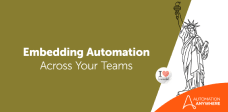 Embedding Automation Across Your Teams
With AARI, your helpful automation co-pilot we're giving you the digital co-worker of the future. See how Cloudera is leveraging the latest innovations, integrations, and partnerships that now make it possible to embed automation across any employee touchpoint - bringing it to where they work every day.
Featured Customer - Cloudera
Executive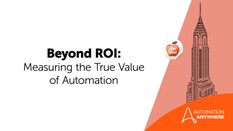 Beyond ROI: Measuring the True Value of Automation
The economy, the continued labor shortage, and cost pressures. These are all reasons that business leaders are quickly moving towards a view that developing a strategy and approach to adopt automation within organizations is now table stakes. The real question is, how do leaders quantify and articulate the ROI of these automation initiatives? How do you truly measure the impact of your digital workers? How do you make the business case to initially invest and then reinvest the returns back into automation technologies? Watch this session to hear from Subbuiah Mahalingam at Becton Dickinson as he answers these questions and shares best practices.
Featured Customer - Becton Dickinson
Product/Community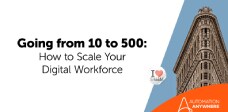 Going from 10 to 500: How to Scale Your Digital Workforce
Crawl, Walk, Run. Not every successful enterprise begins with a large-scale program. Getting to scale requires a clear roll-out strategy. Hear from two top organizations on how they had success using the Automation Success Platform.
Featured Customer - Mars, GM Financial
Executive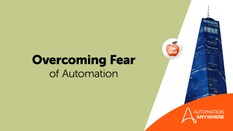 Overcoming Fear of Automation
The benefits of automation are clear. On average, companies achieved a 6.8x ROI* on their intelligent automation investments. But not everyone loves the idea of a digital co-worker. Employees can often fear the prospects of changing the way they work - or worse, losing their job to a bot. But 80% of US employers say they plan to re-skill and up-skill employees impacted by automation. So why so much fear when employees have never been more valuable than they are today? Learn from Joe Bechtel at Humana about his journey to win the hearts and minds of employees across his company.
*Source: 2022 Automation Now & Next report
Featured Customer - Humana
Product/Community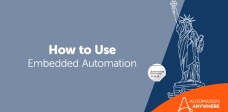 How to Use Embedded Automation
Automation Anywhere's new Embedded Automation feature enables developers to create customizable automation-integration points in any existing web application. In this tutorial, we'll walk through the process of creating a button on a legacy workflow application to send data to, and trigger a bot to solve the Workflow Task Processing Bot Games challenge.
Featured Customer - PixieBrix
Executive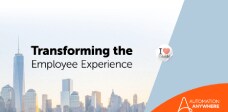 Transforming the Employee Experience
Have you heard about the talent shortage? Whether you're a business or technical leader, finding skilled employees has become another full-time job. Unfortunately, the talent shortage is here to stay, but fortunately, Automation Anywhere helps businesses create and manage intelligent automation that can help teams increase productivity while providing a better work experience. And having a high level of job satisfaction is more important than ever when it comes to retaining top talent. Join and learn how you can use intelligent automation to make the lives of your teams happier and more fulfilling while driving business growth.
Featured Customer - PNC
Product/Community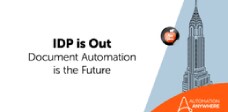 IDP is Out. Document Automation is the Future
Up to 80% of processes require some form of document or content-based data. Standalone Intelligent Document Processing solutions are not meeting the needs of customers who need real-time document processes right in the flow of work. Learn how AAI's new Document Automation makes it faster, easier and smarter than ever before to capture document data and improve every process.
Featured Customer - Mozaiq, The Loan Store
Product/Community

Women in Automation
Women represent a growing force within the technology sector and the field of automation. Join a panel of innovative women leaders in an Automation Anywhere Community conversation about overcoming barriers in the technology space, building a thriving automation career and ways they are moving the needle on representation
Featured Customer - Automation Anywhere, Salesforce, Nike, Caterpillar
Product/Community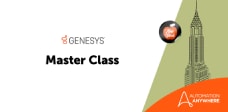 Genesys Master Class
Automation to Help, Listen Understand, Predict & Learn
Featured Customer - Genesys
Executive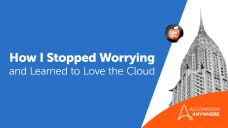 How I Stopped Worrying and Learned to Love the Cloud
Cloud platforms are the future of every business. Over 94% of IT and Business leaders stated they are cloud-first or activity migrating in that direction. And for good reason. Cloud is the key to business scale, agility, cost savings, and security. With an increasing number of business applications being cloud-native, intelligent automation that spans across applications and human workflows needs a cloud-first approach. If your company is holding back, this is the perfect session to learn how even the most highly regulated industries are confidently taking a cloud-first approach, deploying cloud-native automation, and moving their enterprises to the future.
Featured Customer - AccentCare
Executive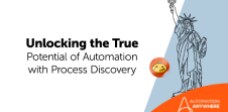 Unlocking the True Potential of Automation with Process Discovery
Nearly 80% of automation opportunities are left undiscovered. If you don't know what your processes are, how can you automate them? How can you create a digital workforce to drive the future of work? Hear from industry experts on how your organization can create more visibility into processes across the enterprise that will unlock the true potential of automation initiatives.
Featured Customer - Cantor Fitzgerald
Proudly Sponsored By
Platinum




Gold



Silver






Logo