Blog
How Bot Games Can Help Speed Digital Transformation
April 5, 2022
4 Minute Read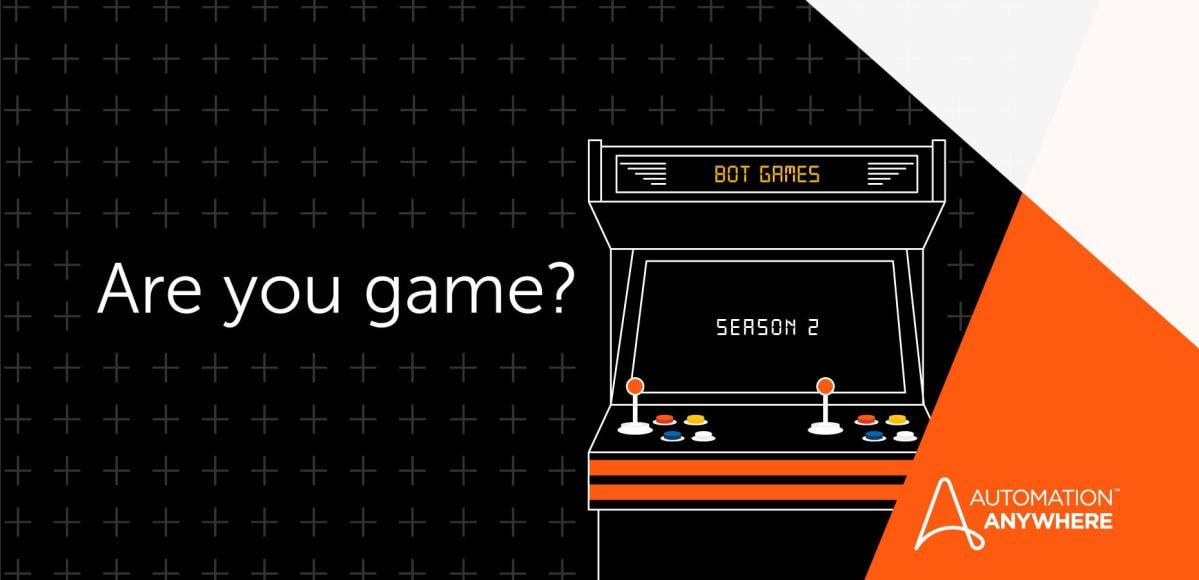 Editor's note:
Today kicks off Bot Games Season 2, the latest community activity sponsored by Automation Anywhere. Lasting one month, the global virtual event is open to anyone and is free. It features four automation challenges—one each week—to help developers improve their Robotic Process Automation (RPA) skills, engage with other developers, and have the chance to win Bot Games swag.
The games are also a great way to help solve one of the primary challenges facing businesses that are moving toward digital transformation, as Kristen Engelhardt, SVP of community and learning at Automation Anywhere explains.

Kristen:
CIOs in every industry worldwide are asking, "How do I drive digital transformation with speed and scale?" The savviest IT and business leaders know that automation is the key to their transformation success and that arming their development teams with the skills they need is critical to accelerating automation's business impact.


So, RPA skills training is the answer, yes?
Kristen:
It depends on the type of training. Say you're a business leader. With traditional training methods, you pay for classroom instruction or sit your developers in front of recorded videos with tests and quizzes and lots and lots of PowerPoints. Historically, these methods have been expensive, slow, boring, and only marginally successful with the actual skills transfer.
What's an alternative?
Kristen:
When we started thinking about Bot Games, we prioritized how people retain knowledge. Adults learn new skills most effectively through experience, by doing. We also looked at the market and the way companies like Netflix and Amazon have changed content consumption expectations. We put those concepts to work—hands-on practice and the consumerization of learning—with Bot Games.
Bot Games is a rewarding, fun experience. We offer a how-to lab in the cloud with our Automation 360™ platform that thousands of developers worldwide learn from—simultaneously.
Our challenges are designed on three simple principles:
Working with Automation 360 is better than watching PowerPoint slides about Automation 360
Learning from your community of developers—and their problem-solving skills—is more effective than learning in a silo
Competing for top scores, fastest times, and cool swag is a lot more fun than sitting in front of a computer screen watching a training video
With Bot Games, developers get hands-on experience, solving real-world use case challenges any way they want—the more original, the better. As long as they meet the weekly deadline, they can work at their own pace, anywhere, and on any device.
And each Friday, there's another learning opportunity with a recap live stream, providing tips and tricks for solving the week's challenge.


You mentioned a community aspect to Bot Games
Kristen:
Automation Anywhere sets the bar in the market with how we upskill developers. Community-powered learning and real-world use case challenges will become a standard learning practice because that's what the community is asking for to succeed.
I love that Bot Games offers developers the opportunity to not only compete against their peers but learn from them. Part of the weekly Friday recap includes sharing experiences and exchanging ideas, which is a great way to expand the field of possibilities to solve a company's automation challenges.


So, the takeaway for businesses that invest in automation?
Kristen:
A development team will leave Bot Games with new automation use cases to drive an even greater automation impact. And they'll have the skills to implement those use cases immediately—which delivers the speed and scalability every enterprise company is looking for.


Do other automation providers have similar upskilling programs?
Kristen:
No. We're the only automation provider or RPA vendor that runs a free, global upskilling event like Bot Games. It's really fun to be part of the team bringing Bot Games—and the future of learning—to companies accelerating their enterprise-wide automation impact. 


How does Bot Games fit into the Automation Anywhere overall community strategy?
Kristen: 
Hands-on, how-to, and viral learning methods are just part of our commitment to the Automation Anywhere community. In the past year, we've tripled down on leadership, programs, and investment to meet the rocket ship pace of our community's growth. As one example, in the past quarter alone, our community user group membership grew by 130%. 
To meet our ecosystem's needs, we've expanded the community and university team with executive leadership and chief operating officer sponsorship. In the year ahead, we'll continue to listen to, learn, and grow with our community. And that includes more Bot Games.
There's Still Time to Register for Bot Games.
About Automation Anywhere Staff