Blog
Automation Anywhere Ranks No. 1 in HFS Top 10 RPA Report
February 12, 2020
3 Minute Read
We're pleased to announce that Automation Anywhere has received the highest ranking in the second annual HFS Top 10 Robotic Process Automation (RPA) Software Products 2019 report by HFS Research for the second straight year (see Figure 1).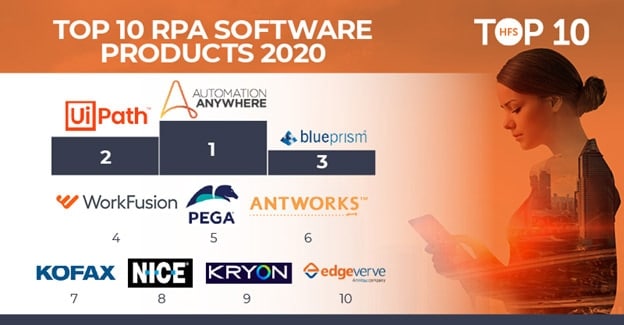 HFS interviewed more than 350 customers and partners to determine RPA software products' positions in the list based on their ability to execute, innovate, and generate customer success.
"Of the 'big three' RPA leaders, Automation Anywhere was first to embed AI natively, launch a marketplace, and implement a cloud-native strategy, which have been key factors to its achievement of first place in our 2020 Top 10 report," notes Phil Fersht, founder and chief executive officer of HFS Research.  
"In addition, customers cited ease of use and appreciate the company's openness and incorporation of feedback into product development, flexibility with licensing, and creative professional services arrangements."
The pathway to digital transformation
As a case in point, Symantec, a global leader in cybersecurity, put RPA to work to accelerate its digital transformation and provide a differentiated customer experience.
With more than 11,000 employees in 35 countries, Symantec wanted to automate end-to-end processes that involved multiple departments in an effort to reduce errors, ensure compliance, and maintain the highest levels of security.
The company started by automating processes with the fastest return on investment and decided to focus on order management. Symantec selected the Automation Anywhere Enterprise RPA platform and IQ Bot because of their ability able to read unstructured data (such as purchase orders in  PDF format), enterprise-grade security, and intuitive interface that allows business users to build their own workflows.
In only three weeks, Symantec successfully automated its first workflows. After a few more weeks, the company automated 26 processes to analyze, edit, and book customer orders from various IT systems, send notifications to inform customers about order status, nurture leads, handle sales pre-processing, and more.
As a result, Symantec has increased automatic order renewals 20% and saved 4,500 hours in less than a year, freeing its front-office workers to spend more time with their customers grow revenue per customer.
Our commitment to relentless innovation
HFS credited Automation Anywhere for our innovation in five key areas: 
Industry pioneer. We were first to embed AI natively, launch a marketplace (Bot Store), and implement a cloud-native strategy.
Roadmap and vision. The combination of RPA and native AI to support unstructured data, along with our web- and cloud-based architecture and attended automation 2.0 are strong differentiators.
Ease of use. Automation Anywhere Enterprise A2019 offers an intuitive, fully web-based interface.
Scalability. HFS estimates we have "one of the largest scaled customer bases as defined by processes automated (not bot count)."
Customer input. Customers especially appreciate our openness and that we incorporate feedback into product development, as well as our licensing flexibility and creative professional services arrangements.
Experience the top-ranked RPA
platform for yourself.
About Riadh Dridi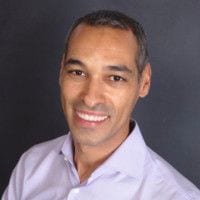 Riadh Dridi oversees global marketing for Automation Anywhere, where he harnesses more than 20 years of leadership experience in marketing, product management, and sales in Europe and the U.S. He serves as a board member and advisor to several early-stage companies.
Subscribe via Email
View All Posts
LinkedIn