Blog
Generative AI + intelligent automation: What Google announced at the AI Summit
April 13, 2023
3 Minute Read
Featured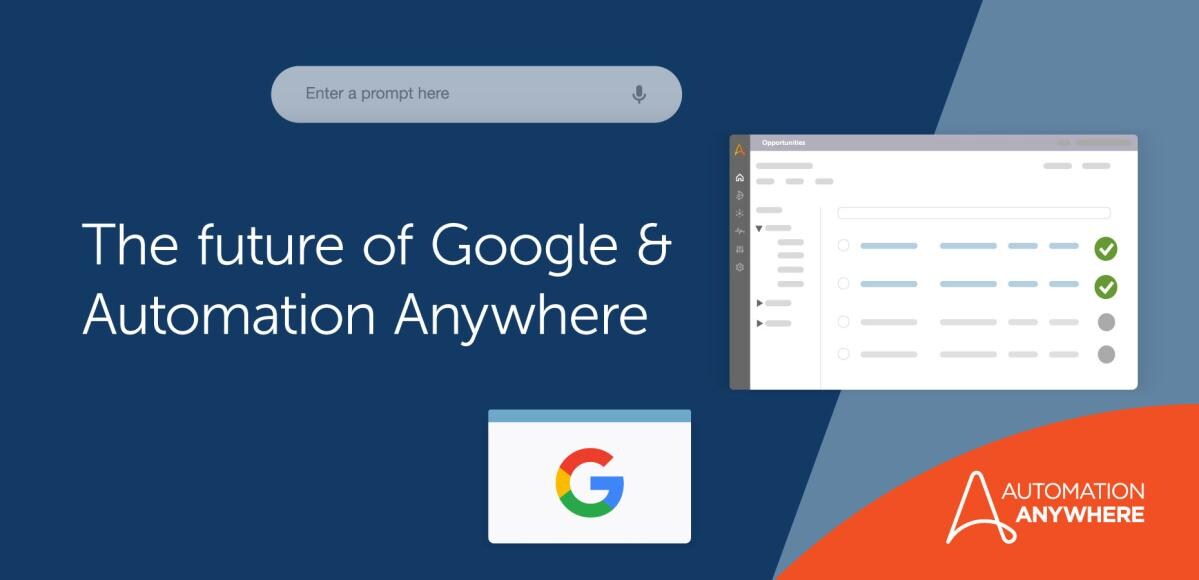 On Wednesday, March 29th, Google Cloud unveiled two powerful new generative AI products: Generative AI support in Vertex AI and Generative AI App Builder, as well as a select list of innovation partners to drive shared innovation. As an early partner, Automation Anywhere is excited to expand our partnership with Google, connecting its state-of-the-art generative AI technology with our Automation Success Platform to transform all applications, processes, and teams. Together, we remain committed to facilitating business growth while maintaining the highest standards of security and reliability.
We have been working with Google for several years, integrating with Contact Center AI (CCAI) for contact centers, incorporating Document AI (DocAI) for document processing, and using Google machine learning for our process intelligence capabilities. This partnership not only introduces generative AI to the thousands of existing bots and automations built by Automation Anywhere customers but also promotes a new era of automations that use generative AI for content generation, data summarization, and virtual assistant development. Companies like Caterpillar, Telus, Eaton, Federal Express, and University of Michigan are all accelerating productivity and transforming their business with this joint innovation.
What's possible? A quick recap of what Google announced
We've been hard at work helping to define and source use cases from across our community, and wanted to share a few below. Hopefully, these examples can inspire you as you build your generative AI roadmap.
Automated content generation: Generative AI makes it possible to quickly and easily generate emails, communications, blog posts, and documents, which is a huge accelerator. When combined with automation, this enables improved customer support, marketing communications, HR, and IT services.
Key information extraction: Generative AI can automatically query and extract key data from large bodies of unstructured information. This can be used to extract order numbers, tracking numbers, customer information, and product codes from emails and other communications. This makes it possible for bots to look up this information from the underlying systems like a CRM or ERP and automate the responses.
Data summarization: Generative AI can summarize long-form information like help and knowledge articles. You can combine these insights with bots to automate customer service responses and reply with the answer instead of a knowledge article or case study.
The future of Google + Automation Anywhere + you
For the last two decades, Automation Anywhere has had a founding belief: we believe there is a better way to work. Together with Google, we are excited for that vision to take shape and for companies to determine what they will automate next.
About Mike Micucci