RPA Solutions for Covid-19 Response
RPA was made for this. Use the power of automation to respond to COVID-19.

Accelerated Digital Transformation

Ability to scale
Automate processes to reserve humans for high-value work

Business insights
Digitize and automate access to real-time data

Workforce
Increase remote workforce, converging human and digital

Capacity
Utilize bots to buffer workforce capacity and manage supply chains
Don't just keep systems running. Improve and accelerate by automating with RPA+AI.
Automating with AI-powered RPA gives enterprises newfound agility to pivot business processes, adapt existing workflows, and empower employees to get work done across applications and systems—with efficiency and effectiveness you never thought possible.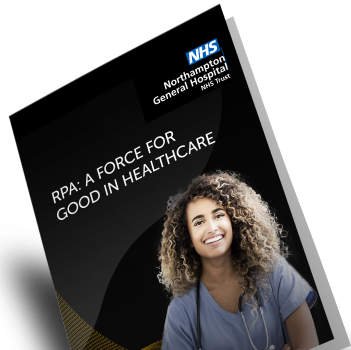 Automation as a force for good in healthcare
Read how NHS is leading the charge to help healthcare organizations worldwide expedite digital transformation post-COVID and how RPA allowed repurposing of valuable staff time. In this report you'll find a detailed plan of action for Intelligent Automation that healthcare organizations can easily adapt to reimagine the workforce.
ACCESS WHITE PAPER
Think quick. Apply RPA+AI to realize the benefits of automation right now.

Pivot and invent processes. RPA bots are flexible and easy for business users to apply across all applications, including legacy systems.

Automate complex processes. Use intelligent bots to extract unstructured information to drive end-to-end process automation.

Adapt and respond right away. Leverage pre-built bots that have already been field tested to address COVID-19 business challenges.

Improve accuracy and compliance. RPA+AI delivers 100% consistent execution, making it ideal for highly regulated processes.
Reduce manual touch points. Eliminate errors and future-proof adaptability by automating business processes.

Immediate business insight. Rely on Digital Workers to provide timely data for critical business decisions.
NHS eliminates oxygen supply risk with rapid application of intelligent automation
Quick collaboration meant an RPA bot was ready to automate the manual oxygen supply monitoring process within just 12 hours of the initial kick off meeting.

Automating the collection and sharing of data has given valuable hours back and increased confidence that we can offer the best level of patient care.
– Hugo Mathias, Chief Information Officer

24/7
monitoring of oxygen levels without human intervention
1,500
hours of capacity redirected to value-added services
100%
data input accuracy, eliminating clinical risk
Where is business applying RPA today?
COVID-19 brought once far-off strategic business initiatives into stark focus. Powerful yet simple intelligent automation tools make them easy to tackle.

Expand automation across the value chain
RPA is immune to digital siloes. Digital Workers move seamlessly between systems, applications, and employees—eliminating the barriers between front and back office.
Get real-time analysis and AI-driven decision-making for smarter supply chains
Collate data from multiple sources, including unstructured information like in PDFs
Handle high order volume with 100% accuracy as well as track orders and delivery dates to manage inventory

Let cloud + AI eliminate your business process backlog
Power through business processes with cloud-native hyperautomation that combines intelligent automation with the flexibility and access of cloud. Start instantly and discover what and how to automate on the spot.
Gain new workforce capacity by automating manual processes
Optimize legacy resources and relieve technology infrastructure strain
Automate as much as possible by empowering business users with RPA

Speed up non-negotiable digital transformation
Intelligent Digital Workers make it possible for data and systems that have never met to communicate seamlessly and cooperate for end-to-end automation—instantly.
Automate access to real-time data and enable rapid impact and risk assessments
Digitize data across business processes and functions
Gain complete visibility into system performance with process-level insights
COVID-19 RPA tools and resources for everyone
Automation Anywhere bots
Take advantage of free RPA bots to help you navigate COVID-19 business challenges.


Automation Anywhere bots
Webinar
Find the right intelligent automation tools to compete in a redefined global market.


Webinar
Automation Anywhere COVID-19 response
Hear what we are doing to support our customers and the community during COVID-19 and beyond.


Automation Anywhere COVID-19 response