Meet the A-lister from Webpt - Russell Olsen


I'm the type of person whose creativity knows no bounds. I look forward to seeing how intelligent automation solutions expand the scope of innovation in the workplace — and I'm excited to be a part of it.
- Russell Olsen SVP of Innovation and Product Management






Tell us about your career journey to date and what sparked your interest in Intelligent Automation.


Throughout my career, I've been most interested in solving big problems and breaking down barriers in health care. I've mainly done that through unearthing cutting-edge, financially viable technological solutions that solve the healthcare industry's most glaring inefficiencies—thus empowering care teams to improve patient care while lowering overall healthcare costs.
My first foray in the healthcare industry was at MDdatacor (now Symphony Technology Group), where my team uncovered new ways to use natural language processing to transcribe physician notes. This helped reduce variations in care, thus improving the quality of care delivered. From there, I went to Phytel, where my team founded a methodology that leveraged automated engagement to extend the reach of care teams and improve population management. After that, I transitioned to IBM to lead the development and launch of Watson Care Manager, which used AI and machine learning technology to better equip care managers to provide personalized care at scale.
Intelligent automation is yet another innovation I foresee having a major impact on the healthcare industry. In my current role at WebPT, it has played an integral role in bringing efficiencies to otherwise manual processes, thus freeing up our employees to focus on more complex support issues, enhance the customer experience, and deepen customer loyalty. Implementing intelligent automation has also lifted the need for our customers (rehab therapy providers) to perform repetitive tasks that can take them away from spending time with patients. This, in turn, fuels a better patient experience and ultimately drives better healthcare outcomes.


What was behind the need to change/implement the AAI automation solution?


In 2018, WebPT acquired BMS Practice Solutions, the largest and most-tenured billing and collections company serving the rehab therapy market. Our goal with this acquisition was to round out the revenue cycle management (RCM) capabilities of our integrated, end-to-end business solution, which empowers rehab therapy providers to attract and retain patients; streamline workflows; defensiby and electronically document; remain compliant with healthcare regulations; obtain payments more efficiently; and ensure consistent delivery of high-quality care. However, following the acquisition, we faced one major hurdle: transferring patient data that was housed in BMS's legacy electronic medical record (EMR) system to our own.
Switching EMRs is already an incredibly laborious undertaking for providers—one that requires a lot of time spent on mindless tasks. Knowing this—and also considering the sheer size of the project at hand—we decided to look into automated solutions that would seamlessly transfer our customers' data for them, thus eliminating the manual tasks and errors that often cause customer frustration. Automation Anywhere's cloud-based A2019 platform soon became the clear choice.


How does it feel to be named an A-Lister and what does it mean to you?


I am incredibly passionate about identifying the point where art, technology, and business intersect, as innovation often lies at this intersection. Being named an A-Lister gives me a platform to help guide others on how to identify innovation opportunities. More specifically, it provides me with the opportunity to influence the Robotic Process Automation (RPA) movement and inspire others to tackle problems of all sizes with automation.


Intelligent Automation is one of the fastest growing technologies. What do you think about it and how do you feel it will affect how people will work in the future?


I believe intelligent automation will completely transform how people think, and therefore, work. It allows people to extend their capabilities beyond mundane tasks, thus increasing innovation and productivity tenfold. When people spend less time on repetitive tasks, they are able to focus more on cognitive reasoning, problem solving, and emotional engagement. Ultimately, this will forever change how, where, and what "work" means.


What are some of the biggest misconceptions about RPA and why do you think people think that?


When it works, RPA can eliminate hours—even days—of work spent on certain tasks; however, you can't just set it and forget it. That said, I think one of the most common misconceptions about RPA is that it's some kind of magic, autonomous creation that requires zero upkeep. These platforms have problems, can break, and require general maintenance—just like everything else.


If you could, what are the bots would you like to create to help you in your personal and work life?


In addition to the bots we've created to help transfer patient data from the legacy EMR platform to our own, I've created approximately 20 other bots to help automate some of my own personal reports and repetitive tasks. This has freed me up to knock out more judgement-intensive problems. Plus, it allows me to carve out more time to strategize my next plan of action. There's one bot in particular that I'm excited about: my CEO autoresponder bot. Although still a work in progress, it responds to certain emails and other internal messages with phrases like, "I got this" or "I'm on it." I'm excited to see the final product!
WEBPT USES CLOUD-BASED RPA ENTERPRISE A2019 PLATFORM TO INCREASE DATA PROCESSING BY 5X, SAVING OVER $700K ANNUALLY

RPA has given valuable time back to our team, allowing them to focus on higher priorities like delivering on a seamless customer experience. As we progress, it will only get better.
— Kellie Cohen, RPA Developer/Data Integration
5x
Increase in data processing
$700K
Saved in labor costs
15K
In-network customer records managed through automation
MEET MORE A-LISTERS
Global customers who exemplify exceptional leadership and vision in progressing the Intelligent Automation initiatives at their organizations
Yasmine Rodriguez SVP, GM Tax & Compliance
The future is now, just look around you. If you have not joined the AI revolution, you will be left behind.

Read more


Yasmine Rodriguez SVP, GM Tax & Compliance
Lee Patsel Manager, Robotic Process Automation Global Technology Team
I believe process automation technology will be so mainstream that it will be in every process. Compressing the...

Read more


Lee Patsel Manager, Robotic Process Automation Global Technology Team
Alexander Park Head of Smart Automation (RPA)
RPA bots has helped in various ways during the ongoing COVID-19 pandemic. It helped increase employee...

Read more


Alexander Park Head of Smart Automation (RPA)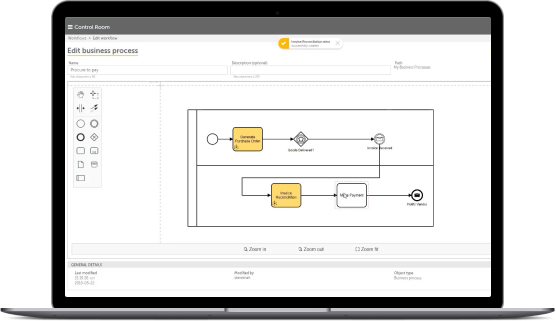 WHAT CAN RPA DO FOR YOU?
Get a personalized demo of the world's most-deployed RPA platform. Consult with our team of RPA experts on your specific automation needs. During your live demo, ask all your RPA software and intelligent automation questions and we can help you accelerate your RPA journey.