Blog
Virtuous Cycle of Automation: The Spaghetti-Marshmallow Challenge
December 8, 2020
4 Minute Read
If you went to a business school, you are probably familiar with the Spaghetti-Marshmallow challenge. If not, here is a brief description of the exercise so that you can try it at home. The goal is to build the highest tower of 20 spaghetti strands, 1 yard of tape, and 1 yard of string in 45 minutes. Then, you put a marshmallow on the top, and the structure needs to stand for at least a few seconds to pass the test.
This is a great design-thinking exercise. And what's interesting, kids do it better than adults. Adults tend to spend most of the 45 minutes designing the perfect tower, utilizing all the spaghetti, and when the time is almost up, they put on the marshmallow. At this point, the tower typically folds and breaks apart. There is no time to build a new tower, so the adults do quick fixes with more tape and a string and hope for the best. This is what happened to my team; the construction couldn't hold the marshmallow.  

How kids approach the challenge
Kids usually don't know how to design perfect towers, so they build a simple one, put the marshmallow on top, see if it stands, and if not, they make corrections. Then they add more and more levels until no spaghettis left. Since they continuously test the tower's strength while building it up, the construction stands strong.
The exercise teaches you to design and build a solution through the iterative process of implementing and testing incremental improvements while ensuring that the entire system continues to function. This approach may not lead you to a revolutionary invention in science and technology, but it is a proven method to address process challenges and improve business results. This is why they teach it in business schools. 

How Robotic Process Automation relates
Robotic Process Automation (RPA) technology implements a similar approach. Rather than reengineering the entire operational structure of your business, designing and building fully optimized and automated processes, RPA allows you to add incremental automations and ultimately achieve transformation through continuous improvements.
Yet, the obvious challenge here is to create an environment where you can continuously find opportunities, implement automations, and measure the results. At Automation Anywhere, we have addressed this challenge by creating an intelligent automation platform that supports the entire automation cycle: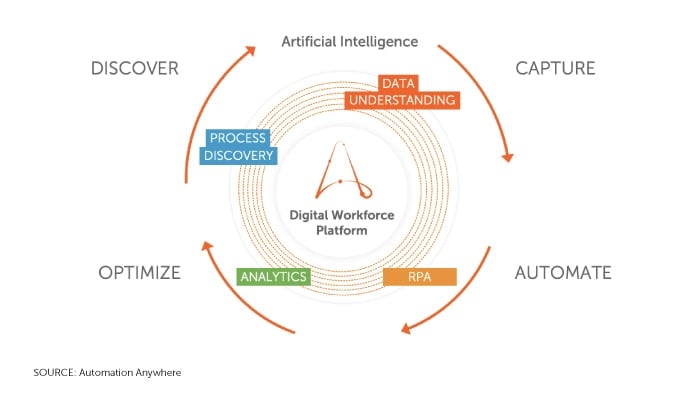 Discover. First, you want to find the process areas, which could be improved through automation. The natural way of doing this is to observe, document, measure what users are doing, find inefficiencies, and then identify automation opportunities and assess the business outcome from automating them. Automation Anywhere Process Discovery does precisely that—helps to detect automation opportunities, estimate their value, and build the automation pipeline.
Capture. Some processes could be defined by simple rules and operate with structured data, while others may require processing and analyzing unstructured data. Quite often, data from documents need to be extracted, analyzed, and transformed into structured data before it could be used for automation. At Automation Anywhere, we have introduced IQ Bot, an intelligent document processing solution that helps to prepare unstructured data for RPA.
Automate. The core RPA platform creates automations for attended and unattended environments. RPA can access any system in a single universal way—through the user interface—and allows extracting, transforming, and transferring data across various systems, creating a single automated environment.
Optimize. The final and possibly the most critical step in automation is measuring automation results. We met that challenge with Bot Insight dashboards. Operational and business analytics can be collected to assess the success of automation. Most importantly, they can find the next level of inefficiencies and return to the discovery step.
This launches the virtuous automation cycle, which transforms the entire company and helps you to make sure that your "spaghetti tower" can withstand the weight of the marshmallow.
See How the Virtuous Automation Cycle Can Benefit You.
About Semyon Sergunin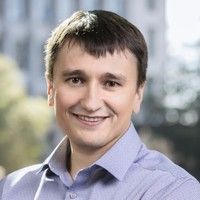 With a background in software development, B2B marketing, and sales, Semyon Sergunin has worked in automation technology for more than 15 years. He drives the global adoption of intelligent automation solutions, including IQ Bot and Discovery Bot.
Subscribe via Email
View All Posts
LinkedIn