Blog
Removing IT Challenges with RPA and Cloud
March 24, 2021
5 Minute Read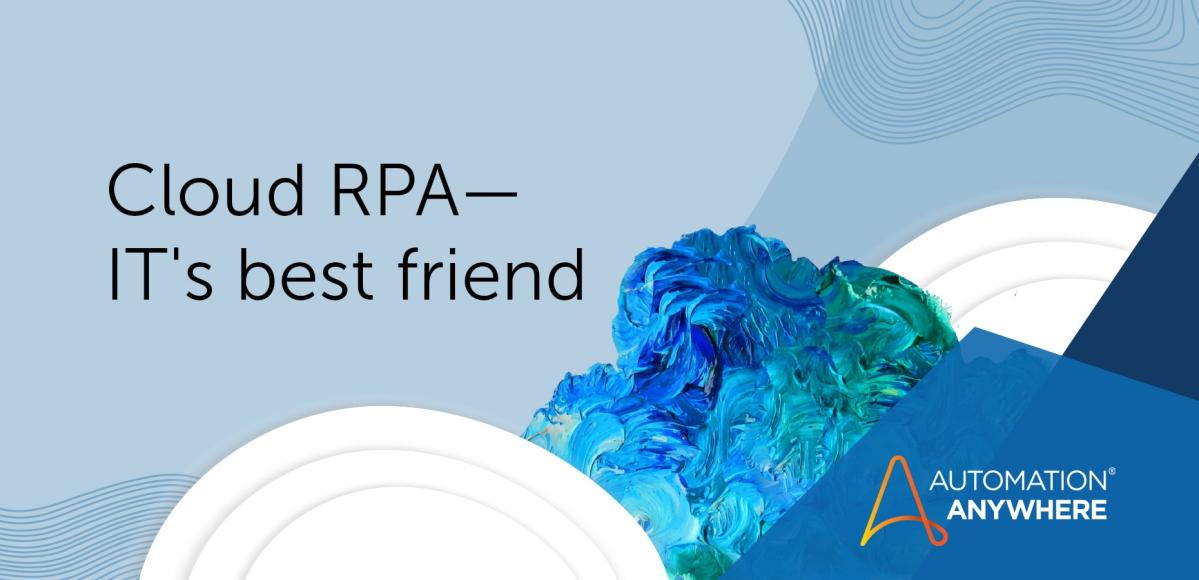 Time and resources—those are two of the biggest challenges when it comes to fulfilling IT duties no matter the industry, enterprise, or location. Users want their requests for applications, passwords, permissions, and repairs—to name a few typical requests—resolved as quickly and efficiently as possible.
Corporate executives look to their IT team to provide the highest quality user lifecycle support and play a key strategic role in technology initiatives such as digital transformation. IT teams strive to meet user and executive goals while often being hampered with limited time as well as resources in terms of staff and technology—in particular, working with legacy systems and manual processes. And that's where cloud automation—combining the benefits of cloud computing and Robotic Process Automation (RPA) with intelligent automation—can be an IT team's best friend. 

Helping a team stay ahead of the game
With RPA, IT teams can automate processes to accelerate and streamline work and reduce errors from manual handling. Add in cloud, and the team, along with an entire enterprise, can gain the benefits of any time, anywhere access to data and processes, increased flexibility and scalability, decreased total cost of ownership by minimizing infrastructure expenses, reduced risk, and improved control, resiliency, and business continuity.
Plus, cloud RPA can free up IT resources and time that have been devoted to handling their repetitive, manual tasks—whether it's processing tickets or monitoring operations and security. And that means a team can focus more on higher-level tasks and activities such as boosting user satisfaction by making improvements to the ticketing process or enhancing the team's position as a business partner, playing a bigger role in enterprise-wide initiatives.
For the Automation Anywhere IT team, our cloud-native, AI-powered RPA platform has helped us improve our operation in a variety of ways.

The roadblocks
Handling onboarding and triage tickets represent a significant portion of our job. In the past, those tasks and others were done manually for the most part:
Onboarding
An IT team member sets up a new hire with access and the tools, or applications, to fit the position. With manual processing, it was a multi-step experience of logging into multiple systems, entering a potential user's information, and establishing privileges. Depending on the level of access and number of applications, the process could be long and involved, opening the door to errors at each step.
Triage
Handling triage tickets could also be a long, multi-step process. To start, a ticket would be sent to our global service desk. A human service representative would review the ticket and assign it to an IT engineer, which could take up to two hours if the representative was busy. With the ticket in hand, so to speak, the engineer would go to the endpoint and the respective application(s) to resolve the issue.
Audits
IT is also tasked with ensuring only approved employees have access to the Automation Anywhere enterprise systems and apps. With manual processing, the audit required logging into our human capital management (Workday), user authentication (Okta), and productivity applications (Office365) to extract reports to confirm suspensions—the more names to check, the more time devoted to the task.
Those are just a few of the areas where our manual processes were slowing us down.

Creating bots for the tasks
With Automation Anywhere being an almost 100% SaaS organization, the team was given the opportunity to leverage the benefits of cloud with bots—for cloud RPA. Embracing a "Bot First" approach to go fully automated, we created two programs to encourage our team members to use their creativity in developing bots to solve the challenges we faced. In addition, our cloud platform is designed with users and citizen development in mind. So, it was easy to train our team members to build their own bots. And they came through. To date, they've created more than 45 bots for 25 processes that offer many benefits.

Increasing efficiency and operational excellence
With RPA bots, cloud, and our digital assistant, Automation Anywhere Robotic Interface (AARI), onboarding, changes and repairs, suspensions, and other processes that were formerly handled manually can be accomplished with intelligent automation anytime, from any location with our cloud-native platform and tools along with appropriate credentials.
For example, an IT engineer can access AARI, call up a screen with the ticket, and trigger a bot to handle the ticket—without switching to another interface or application. Tickets can be assigned directly to an IT engineer, and suspensions can be checked—all without human intervention.
With cloud RPA, we've streamlined and accelerated our processes, improving the efficiency and productivity of our operation, which has also boosted user satisfaction for our services. 

From implementation to resiliency to cybersecurity and compliance
Cloud RPA has helped us complete projects faster and easier, eliminating manual tasks for the design, build, and deploy phases. By moving our implementing an RPA-as-a-service approach, we've become less vulnerable to natural disasters and other disruptions. For example, prior to cloud RPA, say one of our servers hosting bots went down, when it came back up, we would've had to manually inspect each bot to make sure it was running again. Now, cloud RPA can automatically handle that task and quickly fix any issue.
Cloud RPA has also helped us offer our employees and customers enhanced cybersecurity. Bots can provide around-the-clock security coverage, error-free. They can automatically monitor and quickly detect, analyze, and remediate incidents and attack vectors, including vulnerabilities. They can also help with the rollout of security upgrades, eliminating risky delays.
We've designed audit bots to provide greater insights for enhanced compliance. Cloud RPA has also given us the flexibility to easily scale our operation to fit demand. And now, we have more time to be a strategic partner in the business. The benefits go on.

A better solution
Our time and resources have never been better utilized than with cloud RPA. Every month, we save an average of 800 hours over manual processing. And the best part? Our internal customer satisfaction is through the roof.


Empower Your IT to Power Your Business.
About Kapil Vyas
Kapil is the head of IT and Information Security at Automation Anywhere, where he manages a team responsible for internal digital automation, core IT infrastructure, corporate information security, and IT support.   
Subscribe via Email
View All Posts
LinkedIn